Five stages of David Beckham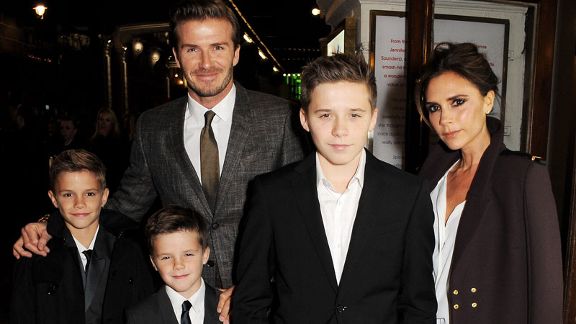 GettyImagesDavid Beckham has gone from starry-eyed teenage footballer to a global brand over the past 20 years.
King of all Cockneys

Despite coming from Chingford in east London, David Beckham had Manchester United in his blood. His father, Ted, was, and remains, a match-going Cockney Red. Having won a Bobby Charlton Soccer Schools award, David achieved father and son's dream with a schoolboy contract. A lone Londoner in United's "Class of '92," Beckham was mocked for his Brylcreemed hair and overprotection of the leather seats in his club car. Eventually, he joined his mates in the backbone of Sir Alex Ferguson's second great United team, eventual 1999 treble winners.

When 2 Become 1

Goals were flying in, but Beckham was about to be exposed to a world beyond football. When the Spice Girls' Victoria Adams attended a United match at Chelsea in 1997 with bandmate Mel C, love at first sight resulted. The pair became an instant item, and Beckham hit the front pages, becoming a metrosexual pioneer as he wore sarongs and leather suits with "Posh Spice" on his arm. Sir Alex never approved, still doesn't, in fact, but David and Victoria remain together to this day.

National statesman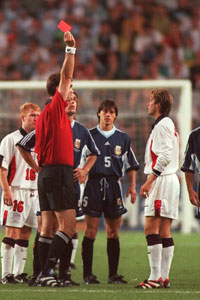 GettyImagesDavid Beckham was ridiculed for his red card against Argentina at the 1998 World Cup but came back fighting.
"Ten brave Lions, one stupid boy," thundered the Daily Mirror after Beckham's Saint-Etienne sending off at France '98. Four years later, an entire nation was agonising over the health of his broken foot. Now, despite the tattoos and the continuing tonsorial experiments, he is an establishment figure. Seemingly each year ends in amazement that he will not be knighted in the New Year Honours list. When England wanted the 2018 World Cup, it called for Beckham, even using him as an executive cheerleader with bench access at the 2010 finals. He looked better than anybody else could in that gray Marks & Spencer waistcoat, after all.

Hasta la vista, Becks

Manchester could no longer contain Brand Beckham's glamour and ambitions. The Beckham empire was taken continental with what now looks a bargain deal for Real in the summer of 2003. Just £20 million and they had a merchandising man's dream in their midst. Beckham the player converted himself into a willing workhorse to serve the likes of Zinedine Zidane, Luis Figo and Raul, always leaving his stardom outside the sideline. And in true redemptive style, his return after being put out in the cold by Fabio Capello inspired a title in his 2006-07 sign-off season.

Coming to America

Even when cleaning boots and toilets as a teenager at United's training ground, The Cliff, there was always something rather Hollywood about Beckham. He probably always wanted to conquer the Galaxy, too. Beckham and family certainly seemed to enjoy their L.A. lifestyle, even if the football career seemed somewhat unfulfilled at times. Euro-snobs think he emigrated too early, while MLS loyalists did not appreciate his desire to keep returning across the Atlantic and play on loan at AC Milan. Then there was that controversy over whether he should pick the tab for his teammates' steaks or sit up in first class while they cramped up in coach. Still, he signed off with two straight MLS Cups and will be back over soon to helm his Miami franchise.