David Beckham: Five most memorable goals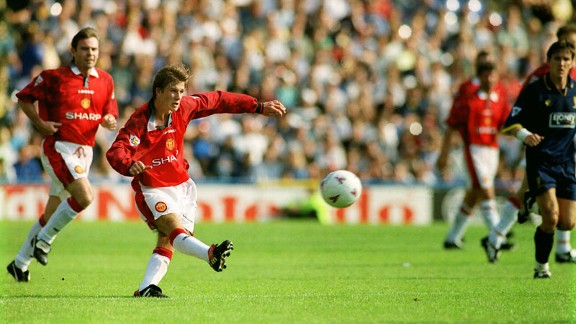 ActionImages / Tony O'BrienManchester United's David Beckham scores the goal that defined his career against Wimbledon on the opening day of the 1996-97 season.
Halfway line to headlines -- vs. Wimbledon, August 1996

There had been plenty of advanced notices, but the moment that announced Beckham to the world at large came in Manchester United's season opener at Selhurst Park. Dons keeper Neil Sullivan jumped in vain, arms by his side, after Beckham, from his own half, and right of the centre circle, faded the ball into an empty net. A 21-year-old Beckham, with long hair flopping, celebrated with arms wide and a gob of spittle -- these days, TV cuts that bit out. Stardom was his with one stroke of a blessed right foot.

A forgotten classic -- vs. Arsenal, April 1999

For all his love of the limelight, Beckham had a habit of scoring less well-remembered goals. His whipped finish took United back on level terms in that year's title decider with Tottenham before Andy Cole later chipped the winner. Before that, in an FA Cup semifinal replay, he scored a classic at Villa Park. Teddy Sheringham's reverse pass set the ball up, and, hitting across the ball, Beckham bent his shot beyond David Seaman's desperate dive. Later, much later, in extra time, came Ryan Giggs' legendary solo run.

Arise, Sir David -- vs. Greece, October 2001

Sven Goran Eriksson simply adored David Beckham. His skipper was the inspiration behind the rescue of England's World Cup 2002 qualification campaign. This, in the dying moments at Old Trafford, was the moment Beckham annexed national hero status. Faltering England needed a draw. Beckham's free kick was perfection borne of his having missed several previous sighters. Greece keeper Antonios Nikopolidis barely moved a muscle; England were going to Japan.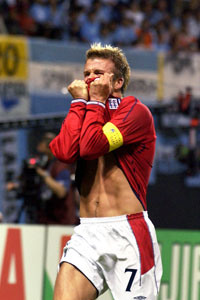 GettyImagesDavid Beckham's goal against Argentina at the 2002 World Cup was sweet redemption after his red card four years earlier.
Redemption song -- vs. Argentina, June 2002

Beckham was English football's comeback kid. His dismissal at France '98 for an angry kick at Diego Simeone made him a national pariah. By 2002, he carried the hopes of a nation but in truth, was hampered by a metatarsal shattered by Deportivo La Coruna's Aldo Duscher in April. Still, Sapporo provided a slice of vindication, after Michael Owen had been fouled. The spot-kick was struck just inches to Pablo Cavallero's left, but with a power generated by Beckham's sense of vengeance.

Daddy's special night -- vs. Real Madrid, April 2003

Beckham and Sir Alex Ferguson were not getting on. Madrid was always the most likely next destination. As United sought to overturn a 3-1 first-leg Champions League deficit, Beckham was benched in favour of misfit Juan Sebastian Veron. When he eventually came on, United were all but lost to a Ronaldo hat trick, but Beckham inspired a 4-3 win, scoring twice, his first coming from one of his patented looping free kicks. As he later related in his autobiography, he went home to tell sons Brooklyn and Romeo of "Daddy's special night" after his future teammates had congratulated him on his performance.