As proven by Laudrup, time is not a manager's best friend
Pep Guardiola always said a manager had three or four years and that was it. He did not -- does not -- believe in dynasties, in empires, in building monuments more everlasting than bronze. He said that after three or four years of the same face, the same voice, the same ideas, the words started to lose their impact.

"After that, with the same players, it is more difficult," the Bayern Munich coach said in Guillem Balague's wonderful book "Another Way of Winning."

At that point, the manager has two choices. Either he goes or the players do. Because option A is considerably easier to effect than option B, that is the path better trodden. All things come to an end.

Guardiola's belief echoes the thoughts of many of the great and good of continental management. Most clubs in Europe see three years as a pretty good stint in the dugout; the news that Antonio Conte could sign a contract to keep him at Juventus for six years was greeted by the Corriere dello Sport with the headline "Conte forever." Received wisdom tends to have it that managers have a useful life span, after which -- good or bad -- they have to be replaced to keep things fresh.

In England, though, such logic is anathema. Here, time is king. If only a manager can be given time, then he is all but guaranteed to succeed. Look at Sir Alex Ferguson, Arsene Wenger, Sir Matt Busby and the rest. They all had time, and they all delivered. So give everyone time and you are on a sure path to success.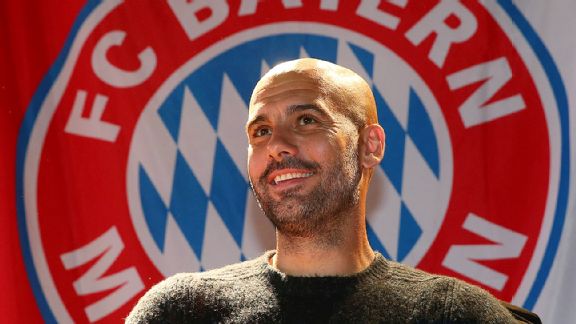 Alexander Hassenstein/Getty ImagesPep Guardiola might be right that three years in charge at one club is more than enough. Beyond that, more time doesn't help.

It hardly needs saying that this is deeply flawed. It probably insults your intelligence to go through quite what the holes in it are. Still, though, let's give it a go.

Ferguson and Wenger did not succeed because they had time. They had time because they succeeded. Wenger did the double in his first full season in England. Ferguson famously needed that Mark Robins goal to save his job, but what is rarely mentioned is that he had finished second in the league the season before; two years before that, he had come in fourth.

The Manchester United he inherited had been mired in mediocrity for more than a decade. Those results were certainly enough to suggest the club was moving in the right direction, even if the journey was not entirely smooth until the FA Cup win in 1990.

It is the same with Brian Clough. He was promoted with Derby in his second season and then led them to fourth place in Division One. He went even better with Nottingham Forest: promoted in his second full season then champions of England at the first time of asking. Busby finished second with United in four of his first six seasons in charge; they won the FA Cup in 1948 and then the title in 1952 for good measure.

All of them had success almost instantly. That is why they were afforded time -- because they had earned it, proved that they were worth it. Time is no guarantee of success. It is a consequence of it.

Besides, the logic that these men won trophies simply because of the patience they were shown -- a line wheeled out by the League Managers Association and various branches of the commentariat whenever someone is sacked -- is, when properly examined, deeply insulting.

It is to reduce their role in their achievements to that of a mere passenger of the remorseless march of time. It is to play down their actual contribution. It is to take a genius and make him a statistical inevitability. It is to say that Wenger, Ferguson, Clough and Busby were not special, that anyone could do what they did if given enough time.

These cases do not prove that all managers can succeed given time. They prove that the very best managers can find a way of keeping their message fresh, their impact seismic.

Perhaps Guardiola is right. Perhaps three years is a manager's natural life span at a club. Ferguson, though, is unnatural. He does not subscribe to the rules that apply to the rest of us.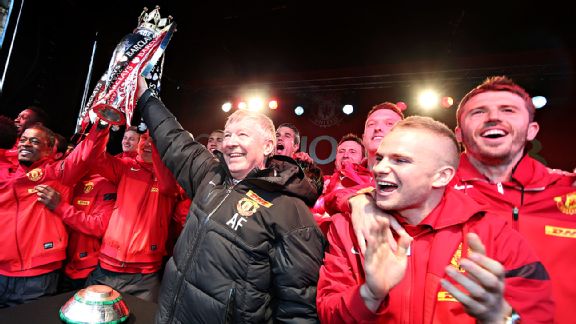 John Peters/Getty ImagesSir Alex Ferguson is truly an anomaly when it comes to the idea of managers and time. He adapted and evolved where most do not.

He always had something fresh to say, and whenever he sensed he was losing his impact, he had the nerve to take option B. The players went, the ones who challenged his iron-fisted authority, and he stayed. That is the measure of his greatness. It is not that he succeeded because he had time. It is that he could deny time the chance to compromise his success.

Not all managers possess that quality. It may be that only one or two do every generation, if that. Most managers, most mere mortal managers, lose their way, their voice and their impact in inverse proportion to the amount of time they have been afforded.

Michael Laudrup, dismissed Tuesday night as manager of Swansea City, is a case in point. There has been a distinct narrative surrounding the Dane's departure from English football. It is one that has its genesis in his wonderful playing career, his laid-back demeanour and in the vague sense that life is pretty easy for Michael Laudrup.

Want to go from Barcelona to Real Madrid? Sure, why not. Want to go see your daughter in Paris after you've been beaten by West Ham? Yeah, OK, crack on. Want to win the Capital One Cup without so much as a hair out of place? Oh, if I have to. Want to be feted by the king of Spain? Give me a minute, Juan Carlos, I'm finishing my soufflé.

Laudrup is not one of those managers, like Guardiola, who has a vision. He is not like a Jose Mourinho or Rafa Benitez, trying to prove his wisdom from the bench because of a playing career that never took off. He does not need to manage. He just does it because he's quite good at it.

- Hicks: Laudrup exit leaves Swansea in tough spot
- Report: Swansea fires Michael Laudrup

That impression has been used as a stick to beat the Dane for much of the past 24 hours. His lack of hunger is why -- Brondby apart -- he has never lasted much more than a year in any of his managerial jobs, a lack of appetite that explains the sojourn to Paris, the lack of intensity in his training sessions and the indiscipline which was rife in Swansea's squad.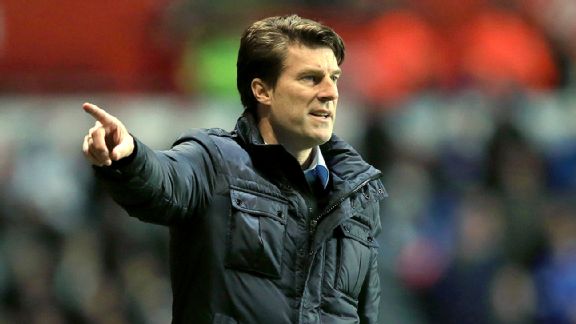 Richard Heathcote/Getty ImagesTime wouldn't have helped Michael Laudrup at Swansea. If anything, more time would have made things worse.

But none of these things was a problem last season, when Laudrup was just as relaxed, just as laissez-faire, just as, well, Laudrup. None of his failings are unique; Rudi Garcia, the Roma manager, runs pretty laid-back training sessions while Brendan Rodgers will give his players a day off after a victory or a defeat. It hasn't done either of them any harm. None of the issues stopped Swansea from winning a trophy last season or generally dazzling the Premier League for six months.

What changed? Simple. Time. Laudrup had too much time. After a year or so, players who have enjoyed the dose of freedom they have suddenly been afforded start to take advantage. The trips to Paris -- once proof of a manager who trusted his squad -- are now seen as a dereliction of duty. The steadfast loyalty to one playing style is painted as inflexibility.

Laudrup would not have succeeded if he had been given more time. Things would just have gotten worse. And that is true of most of his peers too. Sooner or later, unless you are one of the true greats, the masters of the craft, time will catch up with you and cost you your job.

We have got it wrong. Time is not a guarantee of success. It is a promise of failure.