Arsenal prepare to face their toughest tests for the title
Arsenal's title challenge faces the acid test in the next few weeks, starting with Saturday's trip to Anfield.

In the next two months, the Gunners also meet Manchester United and Manchester City at home and have tough away games at Chelsea, Spurs and Everton. As if that was not hard enough, those huge assignments are mixed in with the little matter of dealing with European champion Bayern Munich over two legs in the Champions League.

That daunting run of fixtures will tell us whether Arsene Wenger's gamble in not buying a backup striker and central defender in the January transfer window will come back to haunt him. But Wenger is right when he says his team deserves the right to be taken seriously, having stayed in front this long.

Critics keep saying they will fade. They haven't yet.

The Gunners kept a clean sheet when they overcame a tepid Liverpool at the Emirates, but containing Luis Suarez and Daniel Sturridge at a raucous Anfield will be a different matter.

Liverpool, with home advantage in this and some other big games against close rivals still to come, might feel they have an outside chance of winning the title. But a top-four finish and a return to the Champions League is the more realistic aim.

The deadly duo of Suarez and Sturridge give the Reds a big chance in any game while Raheem Sterling has matured into a real England World Cup contender.

More worrying are a defence that cries out for a new Sami Hyypia-type figure to take command and a midfield missing the organisational skills of Lucas. The careless error by Kolo Toure, which cost two points at West Bromwich Albion on Sunday, was reminiscent of the erratic Liverpool of last season.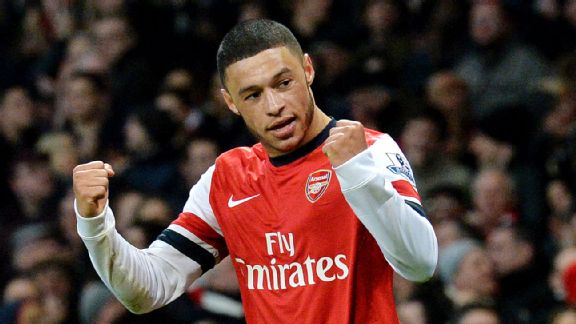 BEN STANSALL/AFP/Getty ImagesThe return to form and fitness of Alex Oxlade-Chamberlain will give Arsenal a boost, but will they pay for not signing another striker?
At the Emirates, Brendan Rodgers played three at the back and found his team overwhelmed by Arsenal's runners from midfield. That lesson will have been learned, but despite Liverpool's 4-0 thrashing of Everton, you wonder if Rodgers' side is quite ready to deal with an Arsenal team made of far sterner stuff these days.

Long-term injuries to Theo Walcott and Aaron Ramsey have cut down Wenger's options, though the return to form and fitness of Alex Oxlade-Chamberlain is a bonus. If the central defensive pairing of Per Mertesacker and Laurent Koscielny can remain in miserly mood, Arsenal have a good chance of maintaining their title challenge.

But if either gets injured, the out-of-favour and rusty Thomas Vermaelen has to come in. Likewise, there is only Nicklas Bendtner to cover for Olivier Giroud up front (though Lukas Podolski could fill in if absolutely necessary).

Wenger might have to wait a long time for a title chance as good as this one again, so it is surprising he did not splash the cash a little more to add some insurance in key areas.

Similarly, Liverpool might have been better served by going for a top defender in January rather than get involved in a fruitless pursuit of Ukrainian Yevhen Konoplyanka.

No prediction for Saturday, but Liverpool have the greater firepower and Arsenal the better defence. Fascinating to see which team passes the test.

Swans drowning?

I'm not totally shocked that Michael Laudrup has left Swansea. Something was clearly wrong, and he carried an almost disinterested air at Upton Park on Saturday.

A year on from the glorious League Cup win, a light has gone out. Since then, Swansea have lost more than double the number of games they've won in the league. Their once-zestful passing game has been replaced by a lacklustre team sleepwalking through games. The Swans were brushed aside with embarrassing ease by struggling West Ham and looked like a dispirited outfit going through the motions.

Even when West Ham had Andy Carroll sent off, the Swans failed to create a single chance. After one win in 10 games, they are in big trouble and something is wrong. It would be a shame if one of the Premier League's feel-good stories has a nasty ending.

Perhaps the fierce derby against Cardiff City will wake them up this weekend.