The other side of a quiet transfer market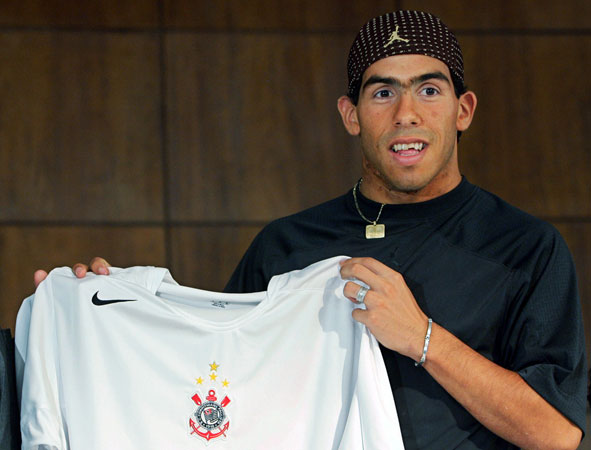 AssociatedCarlos Tevez's move from Boca Junior to Corinthians in January 2005 remains a record fee between South American clubs.
BUENOS AIRES -- It's sometimes remarked that a successful January transfer window is one in which your club managed to hold on to all of their best players. As with so many things, though, Argentina is a little different in that respect. Economic factors and the pull of Europe for Argentina's best players have tended to see plenty of players crossing the Atlantic to head for "The Old Continent," but recently that exodus has slowed to a trickle, with consequences for the bank balances not only of Argentine footballers but the clubs themselves.

Once upon a time, the transfer window in the summer -- as it is in Argentina -- was lucrative for Argentine clubs. In December 2006, the transfers of Fernando Gago and Gonzalo Higuain to Real Madrid were confirmed. Boca took 20.4 million euros for Gago, while River Plate received 12 or 14 million euros for Higuain. A year and a bit later, in January 2007, Boca took 26 million US dollars -- about 19.2 million euros at today's exchange rates -- from Valencia for Gago's replacement, Ever Banega.

At the start of 2005, Boca had also received a huge fee -- 19.5 million US dollars -- for the January transfer of Carlos Tevez to Corinthians in Brazil. The figure remains a record for a move between South American clubs.

Since then, however, the fees have diminished, and this January has been the least profitable in a long time for Argentine clubs. Only a handful of moves have seen a fee change hands. Lucas Mugni has left crisis club Colon de Santa Fe to move to Flamengo in Brazil, for a fee of 1.25 million US dollars (plus 10 percent of any future transfer fee); Pablo Perez moved from Torneo Final 2013 winners Newell's Old Boys for 1 million US dollars, to Malaga, who have also signed young forward Ezequiel Rescaldani from Velez Sarsfield for 300,000 euros, after he told Velez he wouldn't sign a contract extension, with just six months left on his existing one.

Pretty much all the rest have been fee-paying loans: Boca have sent Leandro Paredes to Roma for 18 months, San Lorenzo have loaned Alan Ruiz to Gremio with an option to buy for 5 million US dollars, and River Plate have managed to offload Rodrigo Mora, who's been largely wretched for them for the last year, to Universidad de Chile, where he instantly rubbed salt into the wound of his poor River performances by scoring a spectacular bicycle kick on his debut.

Meanwhile, Gaston Fernandez has touched down in the United States, where he's now a Portland Timbers player, and Santiago Vergini has joined fellow rioplatense Gustavo Poyet at Sunderland. Both players arrive from Estudiantes de La Plata, but Juan Sebastian Veron's club won't be seeing much of a profit from their exits; both had negotiated the rescission of their contracts with the club, and as such Estudiantes will get less than 1 million US dollars in total for the two players, a sum below their market values.

Those moves aside, Juan Antonio Pizzi's decision to take the Valencia manager's job after winning the Torneo Inicial with San Lorenzo sees some compensation go San Lorenzo's way, but it's been a remarkably quiet window for outgoings, all in all -- less than 5 million US dollars has been made on sales and compensation.

This is a huge problem for Argentine clubs because most, even in the top flight, live a hand-to-mouth existence. Television money is often held back by the Argentine FA until clubs meet certain "requirements" (in a TV sting conducted a few years back, AFA head Julio Grondona all but admitted this was a good way of keeping the clubs, who vote for the AFA presidency every four years, in his pocket). Security problems leading to the banning of visiting fans from stadia mean match day income isn't what it should be, and rampant inflation and a protectionist stance by the national government regarding the value of the peso against foreign currencies make it hard to give satisfactory contracts to players who know a move abroad could see them earning in a much more meaningful currency (there's a healthy black market for currency exchange in Argentina that many feel more truly reflects the value of the peso, but football clubs are explicitly banned from paying player contracts at anything other than the official exchange rate).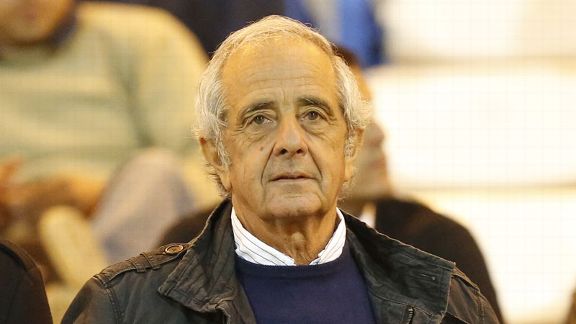 GettyImagesRodolfo D'Onofrio says he found River Plate's finances to be in a terrible state when taking the club presidency in December.
Club debts don't sound huge to European ears, but they are crippling in the local context. After taking over the presidency of River Plate in December, Rodolfo D'Onofrio's team discovered that the previous administration, led by Daniel Passarella, had left the club in even worse shape than thought, with a debt approaching 500,000,000 Argentine pesos. "Economically," D'Onofrio told the media recently, "we're a fourth-division club." D'Onofrio's team have insisted they will attempt to get the debt under control without selling players, but with the likes of promising centre-back Eder Alvarez Balanta attracting interest from Barcelona, among others, it's hard to see how a multi-million-euro transfer offer would be possible to turn down.

The situation has come to a head at Colon. First, in October, FIFA demanded that the AFA deduct six points from the already struggling side as punishment for an unpaid transfer fee to Mexican club Atlante from 2007. Shortly afterwards, Colon's players, who hadn't been paid for as long as a year in some cases, refused to turn up for their league game against Atletico de Rafaela, leading to the awarding of the match as a victory to Rafaela.

The 1.25 million US dollars Colon received for Mugni is almost laughably inadequate compared to the income they need to sort themselves out. But at least it's something -- other players have exercised their rights with the players' union to cancel their contracts and leave for free. Colon might be the most extreme example, but Argentine football as a whole needs to find a way of working toward being less dependent on outgoing transfers for income, because if the current trend for only modest sales abroad isn't reversed, more and more clubs could struggle.