Transfer deadline day is ruining us all
It's Feb. 1: the day after. Many fans are nursing a severe transfer hangover, their appetites for big-money signings and cheerful shirt-clutching PR photos going largely unfulfilled.

This was a window in which the glossiest of business was wrapped up days before the ticking clock became both distraction and entertainment.

The grim specter of financial fair play -- I know, right? Sports aren't supposed to display restraint -- also hovered over the market, arguably denying teams from WAG-in-Baden-Baden-level spending that would mollify supporters but cripple the ledger.

As such, we sat around, Waiting for Godot. (Or, in one notable, embarrassing case, Waiting for Yehven Konoplyanka.)

Which begs the question: Why on earth do we get so wound up about transfer deadline day? Why do we treat an otherwise benign 24-hour period as if it's the difference between a glorious season and a disappointment, between trophies and despair, between joy and relegation?

Shouldn't we know better? Why does this keep happening? Why do we spend our day caffeinated and angry when, in reality, the most glamorous deal of the day will invariably involve Philippe Senderos (Fulham to Valencia, loan), Joe Ledley (Celtic to Crystal Palace, 450,000 pounds) or Thievy Bafouma (Espanyol to West Brom, loan)?

- Delaney: Six transfer window takeaways
- Walsh: Premier League clubs assessed

1. Modern football has ruined us

In some respects, the window margins for error are thin, like in the Premier League. There, you're closer to relegation in ninth place than you are the summit.

When you look at it that way, those 11th-hour splurges can first seem crucial to determining how a year ends. They somewhat justify the mass angst on social media about the failure to secure a loan for Darren Bent or an inability to agree on personal terms with that feisty, Opta-approved Albanian holding midfielder you've spent the entire month linked with.

Arguably, the best business took place away from the glaring cameras and contrived Twitter hashtags. Small clubs stocked up quietly on needs, not wants. Depth was acquired, options arranged, potential given the opportunity to be realized.

Good business, but lacking in sex appeal and the chest-beating delirium of that 40m-rated striker or the German starlet with a buyout clause equal to Apple's third-quarter earnings.

When we watch soccer, we can't help but be excited by the big names, the glitz and glamor. That's what sells TV rights. In that heightened state, only the hardiest souls retain a sense of perspective. A procession of oil barons and potash billionaires with their video-game budgets and limitless potential have skewed our reality.

It's also tempting -- and social media-friendly -- to think that one signing is the be all and end all. For example, Juan Mata single-handedly solves Man United's pallid midfield. Yohan Cabaye is the deep-lying playmaker PSG lack, not that the French giants are really hurting for anything while Zlatan Ibrahimovic is leading the line. Grant Holt (don't laugh) will fix Villa's scoring woes. Bafouma's just really, really … fast.

But soccer isn't that simple. Nothing is. The sheer breadth and depth of possibilities mean that if your team's in the market for one player, it's probably in need of four or five. Further proof that staking our hopes on a successful fax at 10.59pm GMT is energy better used elsewhere.

2. The market is a complicated beast

It's easy to view the transfer market as a forgiving, happy place. After all, this business is binary, right? I offer you something, you give me something in return. If I'm a Premier League club (ahem, Fulham), I simply expect my status and wage structure to cow you into folding (welcome, Konstantinos Mitroglou).

And so when this well-oiled machine fails, we rage. Why didn't Club X simply spend Y dollars more to secure player Z? If negotiations are stalling, simply up the price. Come on, Arsene! Wake up, Ian Ayre! Purge your savings, break the bank, give us what we demand!

Forgetting that there are myriad complications in every transaction, from agents to personal interests to contract fine print to exaggerated spending power to pure human emotion, we should know better.

Given the nuances of the market, clever teams and savvy owners do their business early, far removed from the artificial panic of the deadline. It adds a faint air of decorum, of professionalism, of business. In Mata's case, there was a helicopter and an tweed-esque blazer three sizes too big.

As such, the final hours of any transfer window are reserved for the most rarified of maniacs who insist on finagling, wrangling, haggling and gambling on their team's future. Desperation adds a ferocious odor to what should be a simple transaction, right?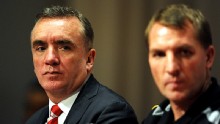 Andrew Powell/Liverpool FC/Getty ImagesLiverpool managing director, Ian Ayre, left, has probably had better weeks.
Liverpool's managing director spent three days in Dnipropetrovsk, Ukraine, and came home with little more than some extra air miles and, possibly, a recipe for kapusniak.

In his case, the Konoplyanka deal was reportedly done, pay installments were calculated and personal terms agreed … until Dnipro's billionaire owner refused to sign the essential piece of paper. This is not a situation you can plan for. Here, negotiation is little more than an 11-letter word.

A player's not been signed until he's holding up a shirt and, in Emmanuel Frimpong's case, looking supremely un-#Dench about it.

There's no deal until that highly touted Swiss U17 center-forward is parked on a subs' bench in North London. The rest is noise.

3. The transfer window is terrible to begin with

Arsene Wenger would prefer a utopia of free movement, relaxed negotiations and a lifting of such restrictions as contrived as a window. He's been saying it for years, and with good reason. The midseason period brings unnecessary agita for all parties.

Unhappy players can revive their careers with a phone call. (You can bet Dimitar Berbatov's next Gauloises will taste a little bit sweeter having lolloped from Craven Cottage to AS Monaco.)

Commission-seeking agents can engineer a quick post-Christmas 15 percent with some well-timed media mischief. Clubs suffering poor campaigns can revive their seasons (and outspend their means) without batting an eye.

Similarly, clubs firmly in the mix for end-of-year glory can strategically retool in a bid to firm up their chances. Leeds United's Champions League obsession a decade ago remains an enduring, depressing example.

It's all a bit forced and fussy, and its mere existence has destroyed us. We've come to expect excess and new faces at our beloved clubs the same way we awaited Christmas because it was supposed to signify a shiny new bike every 12 months.

Whereas some of these gripes are legitimate -- seriously, did no one at Anfield realize that a winger was the last thing needed on the shopping list? -- there's also an unfair burden of expectation caused by deadline day.

And while it might be folly to expect the system to change any time soon -- FIFA doesn't seem to care much, to the surprise of no one -- we can at least change how we react.

So, I propose we try something new on Aug. 31: treat every transfer rumor with supreme skepticism. Question all of it. Ignore ITKs. Acquiesce to the truth that Lionel Messi's not en route via jetpack to sign a quadrillion-year deal.

If your club does make some late deals -- well done, Crystal Palace, seriously, you did well -- then celebrate them well after the fact. But above all things, embrace the absurdity.

Enjoy the ride. Just don't get taken for one.