Playing the numbers game at the Asian Cup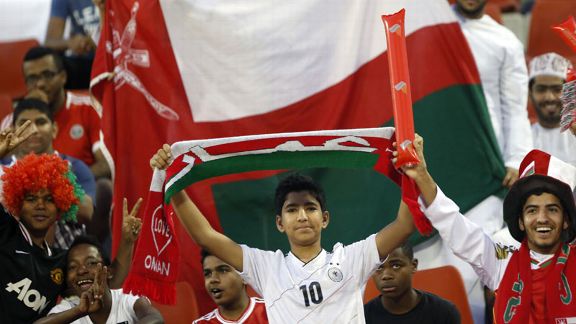 GettyImagesSupporters tend to take an active interest in the Asian Cup only when their country qualifies.
Expanding the European Championship by 50 percent for the 2016 tournament is seen as folly by many, unnecessary tinkering with a competition that is regarded as being as perfect as it is possible to be.

Asia, however, is different -- no matter how much it wishes it were like Europe in football terms -- and expanding the Asian Cup by the same number from 2019 onwards makes much more sense, even if the proposal has largely been greeted negatively.

Unlike Europe, it is not yet a done deal: The January proposal from the confederation's competition committee is just that at the moment. It needs to be ratified by the executive committee, but it would be a surprise if that did not happen; self-interest will see it through.

Furthermore, unlike in Europe, the critics are wrong. The European Championship is probably the third-biggest sporting tournament in the world, an event with genuine global appeal and guaranteed international, wall-to-wall coverage. Messing with a successful format is dangerous.

If the Asian Cup had a similar standing, or even anything close, it would be easy to say the same, but it does not. If the tournament were played out in front of full stadiums and watched avidly from Sana'a to Shanghai, it would be different. If Asia loves the Asian Cup, it should have taken better care of it, and there can be no complaints if there are moves afoot to shake things up.

Most fans in Europe (and plenty in Asia) watch the Euros regardless of whether their team has qualified or not. The same does not happen to anywhere near the same extent in the east. Apart from a hardcore few, no team generally equals little interest. This can create issues, or at least major missed opportunities, in terms of profile, sponsorship, exposure and broadcasting.

For the 2015 tournament, to be held in Australia, there is a real chance that there could be no representative from south or southeast Asia -- two regions that account for more than 2 billion people and plenty of football fans who would love nothing more than to see their teams take part -- and just one from central Asia.

Add China to the absentee column (and that could happen should the team lose to Iraq in March) and there could be well over 3 billion people without much interest in what is going on.

For a continent that is still largely developing, that is an awful lot of people not following, watching or talking about its flagship tournament. It's a huge amount of people for sponsors and broadcasters to struggle to reach, a huge source of potential excitement that goes untapped and a huge potential well of stories and articles that go unused.

Asia's strength and influence comes, in large parts, from its sheer size and weight -- yet the Asian Cup does not always reflect this. Most supported the expansion of the Asian Champions League from 10 to 19 participating nations in 2014 in order to increase the competition's relevance and profile in the continent. The philosophy is the same.

The argument against is also the same: Expansion equals a reduction in quality. In Europe, it is a solid case to make. In Asia, it is more complex. The vast majority of people don't watch the Asian Cup for the quality and they never have. It is not, rightly or wrongly, perceived to be a tournament to get purists purring either at home or overseas.

The majority of fans watch to see their team, with perhaps a little look to the likes of Japan, Korea, Australia and a couple of others. If the quality of football was a major factor in Asia, then Al Shabab of Saudi Arabia would have been almost as celebrated in the 2013 Asian Champions League as winners Guangzhou Evergrande, yet finding a mention of the Riyadh team's sophisticated passing game outside the kingdom is not easy. They sank at the quarterfinal stage, unnoticed and unmourned.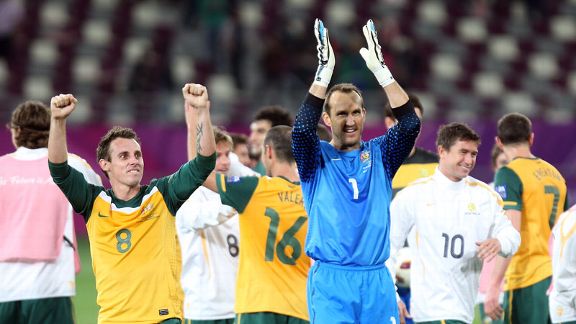 GettyImagesAustralia thrashed Uzbekistan 6-0 in the 2011 Asian Cup semifinal.
Logic suggests there should be a dip in quality, but it will not be major: There's not a great deal of difference between the 16th-and 24th-ranked teams in the AFC. A nation with a decent coach, decent support from the federation and some decent players can make huge strides.

There could be one-sided games, but that already happens. For example, the semifinal (yes, semifinal) of the 2011 edition produced a 6-0 mauling of Uzbekistan by Australia. Japan also thrashed traditional continental giants Saudi Arabia 5-0.

In the long term, greater access should equal greater development in more regions. More exposure to the top teams in a competitive environment can only be good for the smaller nations.

The present Asian Cup is not a winning formula never to be messed with. Having more teams equals more diversity and interest, profile and money. A west-versus-east tournament is not that exciting, especially when the two ends of the continent have little interest in each other.

Yet throw India, Afghanistan, Palestine and Pakistan in there, and suddenly everything gets much more exciting. At the same time, Indonesia, Malaysia and Thailand would bring their own colour and passion.

The Asian Cup needs as much media exposure as it can get, and while expansion is not the most sophisticated way to deliver such results, it is the most effective in the short term.

Of course, it is not perfect. Those nations planning to bid for the 2019 edition may have second thoughts if they are suddenly expected to host 24 and not 16 teams. And there is the fact that 16 fits a tournament format perfectly while 24 is awkward.

When a major change is proposed, it is right that there should be a debate, but it should also be a realistic one about what the Asian Cup actually is instead of what people wish it was. This is no time for the "if it ain't broke, don't fix it" mantra that can be used in Europe.

The Asian Cup isn't broken, but it could be rebuilt in a much bigger and stronger way.