What did we learn from the January transfer window?
1. Proof that January is really about the bottom-half clubs
Two figures perhaps sum up what the winter window is all about, and neither are transfer fees. By 11 p.m. GMT on Friday, the top seven clubs in the Premier League had purchased six senior players; the bottom seven 28. There is undeniably an element of desperation to that, which the elite sides simply can't afford to display. Of course, there's also the obvious difference in margins. The aims of the top clubs are more exacting, and as a result it's always going to be harder to sign precisely the right player at precisely the right price, as a lot of managers have publicly complained. By contrast, struggling sides often have so many issues that they must take more punts. The net effect, however, is that the bottom clubs have addressed obvious problems.

2. The top end of the table has not been tilted
At the start of January, it was fair to say that each of the Champions League-chasing sides had at least one issue that immediately required solving. With Manchester City, it was a starting centre-half quicker than Martin Demichelis. With Arsenal, it was an alternate striker to Olivier Giroud. Chelsea could have done with a premium forward of their own, if also a midfield controller, while Liverpool needed more defensive protection both at the back and in the centre of the pitch. It was that entire middle area that has long posed Manchester United's greatest quandary, but the club also needed some kind of a psychological lift. With Tottenham Hotspur and Everton, the main issue was depth. Other than Chelsea bringing in Nemanja Matic, and David Moyes signing Juan Mata, however, none of those questions have been answered. In short, there was no single purchase that feels as if it can sufficiently divert the title race. The major play never quite came; every top club still has an issue...

3. Brendan Rodgers clearly feels his side can outscore enough teams
While so much was made of Liverpool's failure to sign Mohamed Salah and Yevhen Konoplyanka, those complaints seem more to do with offering a necessary statement rather than the state of the team. Attack, after all, is not their main problem. With 57 goals in 23 games, Liverpool currently enjoy the eighth highest scoring ratio in English football since World War II. By contrast, they have the worst defensive record in the top nine. As such, it remains remarkable the Anfield club diverted so much energy to the pursuit of those forwards, rather than the defensive midfielder that would have provided some insurance in the inevitable fixtures when the attack isn't firing so well. The side still feels lopsided. To some degree, it is admirably adventurous from Rodgers. Rather than occasionally resort to a more restrained approach, he has faith that both his team and the devastating Luis Suarez can maintain this scoring form.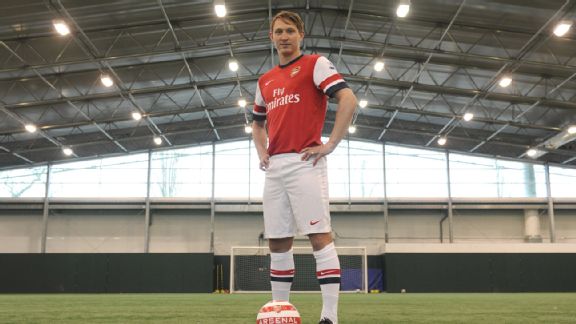 Stuart MacFarlane/Getty ImagesSwedish midfielder Kim Kallstrom will give Arsenal a boost, but they still need a striker.
4. Arsene Wenger's adventure on the pitch remains offset by a conservatism off it
The record-breaking purchase of Mesut Ozil in the summer window didn't signal that much of a change in the Arsenal manager. It was not followed by another premium transfer in January that would have fully pushed the side up another level. In refusing to gamble, though, Wenger might be taking a bigger risk. You only have to look at the pattern of the team's season. Although they are still sustaining a superb points return, the lift in performances that Ozil's purchase led to from September to November has already started to drop, and that has been reflected by a decline in Giroud's own scoring rate. It seems clear: both the team and the French striker needed an alternative option to offer something different. Wenger will, of course, point to the difficulty in finding the right option at this time, but there is one eternal truth to any window: virtually every player is available for the right price. It ultimately depends how much you want him. With a title potentially on the line for the first time in a decade, it is surprising Wenger didn't want it that much.

5. David Moyes is relying on lifting his team rather than laying foundations
There can be absolutely no disputing the need Manchester United had for a high-profile signing like Mata, nor the benefit the team will reap from a player of such talent. The remaining concern, however, is that it wasn't the side's most significant issue. We've known what is for as long as two successive United managers have complained about the absence of value in the market: central midfield. Mata's debut actually encapsulated the issue. For all the increased ingenuity of touch further forward, an outfit as low in the table as Cardiff City were still able to consistently force their way through the centre. That is also the problem with "value," and why Moyes may be suffering from the same issue as Wenger. It is all relative, and potentially a false economy. United were always going to be reluctant to pay the 50 million pounds it would have taken to force another club's hand into releasing someone like Arturo Vidal. That may seem justified but, ultimately, it is not about the market value but how much the player is worth to you. Signing Vidal would have transformed their team, and their season. As it stands, United are now going to wait until the summer to do their main business.

6. The bottom looks set to be overturned
Given the amount of purchases at the bottom, statistical probability suggests at least one of them will distort the dynamics down there. The three struggling London clubs of Fulham, Crystal Palace and West Ham United -- which have all at different stages looked doomed -- seemed to have particularly strengthened. That may well suck into the relegation battle some of those well above, including West Brom. Fulham, for example, appear to have addressed virtually every problem they had: defensive structure, youth, more urgency, goals. Lewis Holtby looks to be a game-changing signing in more ways than one. Crystal Palace, then, have added proper Premier League-standard players to Tony Pulis's improved structures. Then again, it depends on how quickly these players gel, but it's not as if the relegation battle has been in anything like a stable state.