Chelsea and Tottenham put on a thrilling match at the Lane
It was always going to take a lot to make us forget about the nonsense going on off the pitch before Spurs vs. Chelsea. JT, the captaincy, T-shirt statements, AVB wanting to restore his reputation against his former club and - at the 11th hour - Gareth Bale bailing on his side to be with his partner as she awaits the birth of their child. But sometimes the footballing gods decide enough is enough, and thankfully Chelsea and Tottenham put on the most entertaining match of the nascent Premier League season, an open, seesaw affair that saw the Blues end Spurs' 20-match unbeaten run in London derbies played at White Hart Lane with a 4-2 win.

This was a big result for Chelsea, make no mistake. Not just because they remain unbeaten and atop the league (it's still early, after all) but mostly because of how Roberto Di Matteo's players responded in the second half. Let's review: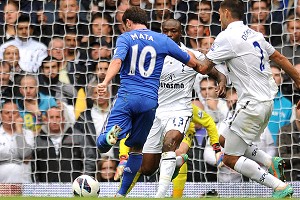 Press Association/AP Images / Juan Mata was an unstoppable, creative force in the second half as Chelsea came back to defeat Spurs 4-2.
Chelsea had the better of the chances in the first half, and ironically enough, it was the player filling in for suspended John Terry - still captain of the team, by the way, despite being disgraced - Gary Cahill, who lashed an un-savable volley over Brad Friedel. It was made possible, of course, when William Gallas headed Eden Hazard's corner out toward the top of the box where Cahill was ready to pounce.

Still, for all of Chelsea's creativity thanks to their brilliant playmakers Hazard, Juan Mata and Oscar, the Blues lacked the cutting edge for the rest of the half. They kept Tottenham off the score sheet, fair enough, but Spurs had a late-half surge inspired by Clint Dempsey tucking in behind Jermain Defoe and Gylfi Sigurdsson moving wide left.

Unfortunately, we weren't a fly on the wall at halftime, as it seemed AVB gave his players the proper kick up the backside while RDM perhaps was handing out the chamomile tea. At the resumption of play, all hell broke loose, starting with nine minutes of mayhem in which Spurs scored two unanswered goals. First, David Luiz did what David Luiz does - a mind-boggling play in which he unnecessarily barreled through Dempsey to earn Spurs a free kick. After Tom Huddlestone's set-piece delivery bounced inside the box, Jan Vertonghen did an amazing job getting his leg up high to redirect the ball across the face of goal, allowing Gallas to get the last touch. (There was some debate as to whether Gallas handled the ball en route to goal, but it was inconclusive on replay.)

It was the first time Chelsea had conceded in the second half so far this season and it was déjà vu minutes later when Spurs - playing as slick a passing sequence as Chelsea can manage - went ahead. Aaron Lennon threaded the ball between Ramires and Ashley Cole to find Defoe for a sweeping finish in the middle of the box. With that classic poacher's goal, Defoe celebrated his 200th career tally in 480 appearances.

AVB's celebration - fists clenched, shouting in Portuguese - left no doubt at how much this match meant to him.

But it's what happened after Defoe's goal that mattered most. Di Matteo's men showed impressive fight-back - it's almost as if they can just turn it "on" when they need to, always the mark of a champion - and with Mata once again leading the way, the Blues continued to make their razzle-dazzle game look routine. Slick passing and thrilling fluidity across the front four (yes, let's include Fernando Torres there, if only for his runs and hold-up play) conspired to undo Spurs and put the game to bed.

In the 66th minute, Oscar crossed the ball from the right and Gallas, oh, Gallas, cleared the ball right to Mata, who finished with a worm-burner to the bottom right, at that point his fifth goal in five games. Mata, who missed a gilt-edged chance in the first half, wasn't going to miss this time.

Four minutes later, Mata ginned up another sequence, passing the ball to John Obi Mikel, who quickly dished to Hazard. His one-touch through ball might have been meant for Torres, but it found its way to Mata in the box. With Gallas deciding it was the right time for a catnap, Mata opened up his body to put Chelsea ahead. (On another note, will AVB start to consider bringing Michael Dawson back into the side? The manager has shown great faith in Gallas, especially with the captain's armband, but this game was a doozy for him.)

Ruthless, clinical, and aesthetically pleasing - that was Chelsea in the second half. Just look at the way itty-bitty Mata dispossessed Kyle Walker toward the end, pushing him off the ball with little trouble to eventually get the ball across the face of goal for an easy-as-you-like finish by Daniel Sturridge.

Spurs fans can take heart that there were some slick interchanges of passing, while also commiserating that Dempsey struggled, tired of mind and body after the international break, and without injured Moussa Dembele. Fans can take heart in their comeback in the second half, as well as toward the end when they created a few more chances, including a swerving shot by Walker that forced Petr Cech into a tough save. And they did all this without their best player, Bale, who came to the grounds, then left because his mind wasn't on football. No doubt that'll be more grist for the tabloid writers, as his absence robbed Tottenham of its usual pace down the left, with Vertonghen not able to fill those shoes and Lennon not getting into the game nearly enough on the right side.

But credit, mostly, to Chelsea for putting Spurs to the sword. The front four are tough to contain, and we saw Branislav Ivanovic get into dangerous positions, as well. Throw in the occasional bursts forward by Ramires, and the opposition is going to be hard pressed to know whom to stop, let alone to actually prevent goals.

Another note: Chelsea has now beaten Spurs and Arsenal away from home, and the last time the Blues did that, they won the league.

The result at White Hart Lane was certainly enough to give the traveling fans something to sing about: "We know what we are, champions of Europe." If Di Matteo's side continues to play like this, they'll need to update this ditty in May.