Could Thorgan Hazard become better than Eden?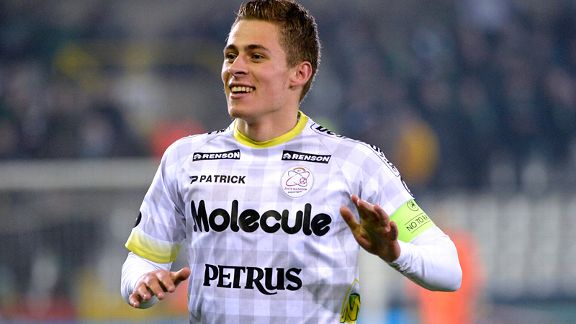 GettyImagesChelsea's Thorgan Hazard is all smiles at Zulte Waregem.
Zulte Waregem coach Francky Dury worked as a police detective for many years, but there was no in-depth investigation needed to arrive at this conclusion.

"He is no longer Eden's brother. He is Thorgan Hazard in his own right," Dury said last week.

Chelsea star Eden was twice voted Ligue 1 Player of the Season during his time at Lille, and now his 20-year-old sibling has been crowned Belgian Pro League Footballer of the Year 2013, receiving the traditional Golden Boot at the ceremony last week.

When Chelsea signed him from Lens, alongside Eden, nobody really knew who he was, but Thorgan swiftly made a name for himself once a loan move to Zulte Waregem was secured.

The modest Belgian club finished 13th in the league in 2011-12. With Thorgan in the ranks, it fought for the title until the last second of the 2012-13 season, dramatically losing out to Anderlecht and participating in the Champions League qualifiers for the first time in its history.

Hazard, mostly operating on the wing, was impressive -- technically sublime, quick on his feet, inventive and hard working -- even though he wasn't the biggest star of the team. His final stats were rather modest: five goals and four assists in 34 matches.

But since August, things have changed. Having moved into a more central role and taken over as playmaker from Franck Berrier -- the balding Frenchman who was forced to leave to club following internal conflicts -- Thorgan has taken his game to another level.

In 23 league games, he has scored nine times and provided 10 assists; he has been directly responsible for nearly half of Zulte Waregem's goals. Despite the distraction of participation in Europa League, Dury's team is on its way to qualify for the championship playoffs for the second consecutive year. A 1-0 defeat at OH Leuven on Saturday was only its third loss this season, and even then Hazard produced some outrageous Zinedine Zidane-esque dribbling skills.



Not everything is rosy, however. Enter John Bico, the Cameroonian agent who has represented the Hazard brothers, including 18-year-old Kylian Hazard, for a lengthy period.

Bico is a curious character who prefers to stay behind the scenes but was briefly in the spotlight in 2005, when Franck Ribery reported him to the police for threatening behaviour. According to the Frenchman, who was still relatively anonymous back then during his spell at Galatasaray, Bico and some representatives of his former club came to his home armed with a baseball bat.

The agent's influence on the Hazard family appears to be significant. Following Thorgan's impressive first season in Belgium, at least two bigger clubs tried to sign the midfielder on loan from Chelsea in the summer. Anderlecht wanted to get an option to sign him permanently while Genk tried their best to persuade him to join their ranks. The saga went on for weeks, making big headlines, but eventually Thorgan stayed at Zulte Waregem.

It was widely reported that the cost of him staying was that Bico demanded Hazard be given the captain's armband at the expense of veteran defender Davy De Fauw. It came to pass and led to a revolt, both in the dressing room and among fans, while Dury didn't like the decision either. A week later, Thorgan gave the armband back to De Fauw, and peace was restored. There were no hard feelings between the players, as the duo could be seen singing and dancing in front of home supporters after the win over Kortrijk in August.

Anderlecht never forgave themselves for missing out on Hazard, especially after their 4-3 loss at Zulte Waregem in September, during which Thorgan scored a screamer and assisted three goals for his teammates with a couple of corners and a free kick while also missing a penalty in an extremely eventful game. Thus, in January, they came back, with the midfielder advised by Bico to move.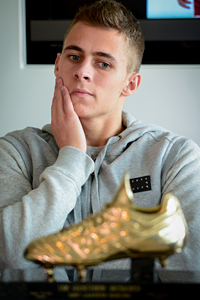 GettyImagesThorgan Hazard with his POTY Golden Boot award.
Advised is the key word here. Bico took over as a general manager at second-division White Star Brussels, who have Kylian Hazard on their books. As such, he can no longer act as an agent. Therefore, he is now an adviser to the family, as Thorgan put it.

Anderlecht opened negotiations with Zulte Waregem and Chelsea in order to finally sign the young prodigy on loan and significantly weaken their direct rival, starting a saga that made hundreds of headlines in Belgian press.

The player stated that Zulte Waregem had let their ambitions slip, as leading striker Habib Habibou was allowed to sign for Gent and highly promising holding midfielder Junior Malanda left for Wolfsburg. That was Thorgan's reason for wanting a move, and he also believed that playing for Anderlecht might improve his chances of making the Belgium World Cup squad.

There were days when the deal looked imminent, and Anderlecht, rather weirdly, desperately pushed for it to be completed before the Golden Boot ceremony so that it would be "their" player who received the prize. However, Zulte Waregem stood firm. Dury stated countless times that he didn't want his star man to leave, and in the end, Anderlecht failed again.

Hazard will remain at the club that enabled him to flourish for four more months, but he will certainly leave in the summer. His destination is fast becoming an extremely interesting issue.

It is possible that Chelsea could give him a run-out alongside his brother. Since Eden likes to play on the wing and Thorgan is better in the middle, they could easily operate in the same lineup. Such a prospect would be hazardous indeed for opponents. As Thorgan's contract at Stamford Bridge runs until 2016, it's hardly logical for the club to loan him out again next season, unless they plan to sell him.

Before that decision is made, the brothers would love to go to Brazil together, and Eden stated in a recent interview to Het Laatste Nieuws that he has asked national team coach Marc Wilmots to consider his brother, who made his only appearance for the Red Devils in May. It remains to be seen whether the dream will come true, since the competition for places is immense among Belgium's golden generation.

Eden has said in the past that he believes Thorgan is better than him, and his words could be prophetic. The man who signed as a "little brother" seems to be on his way to becoming a major star. As his career moves on to a new level, though, he will be wise to hold his own council. And he shouldn't expect to become the captain of Chelsea in the near future.