Plenty of value to be had in January
Brendan Rodgers has been at it. "It is hard to bring in any players who can improve the team, especially in this window," said the Liverpool manager, whose first team sometimes includes Aly Cissokho. "It is a difficult market."

He is not the only one. A few days before breaking Manchester United's transfer record on Juan Mata, David Moyes was busy telling all and sundry that, while there was an "urgency" about his attempts to find squad reinforcements, "those players are probably not available in January."

They are not the only ones, of course. Jose Mourinho has expressed exactly the same sentiment -- "the right time is not now; the market is easier in the summer" -- and so has, in one form or another, pretty much every single Premier League manager as they survey the January transfer window.

They have bought into the idea completely. The January market is a viper pit, rife with danger, and best avoided. Anyone with even a soupcon of common sense would stay well out of it.

All of this, then, makes it slightly odd that, when Arsene Wenger raised the suggestion last week that it be abolished -- a sentiment supported relatively quickly by Manuel Pellegrini, his Manchester City counterpart -- he was roundly derided, by those within the game and those who observe and, ultimately, finance it.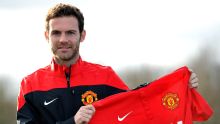 Paul Ellis/AFP/Getty ImagesOut of favour at Chelsea, Mata's move to Man United made sense, regardless of the month.
The Arsenal manager's point was a simple and logical one, although it was confused a little by the context in which it was raised. Wenger, at his weekly press briefing, was discussing Mata's transfer and suggested that, because Chelsea waited to do a deal until after they had faced United twice this season, they were manipulating the rules of the game a little.

They won't have to play against Mata this season, but Manchester City and Arsenal -- Chelsea's likely rivals for the title -- will. An agent from Stamford Bridge has effectively, Wenger said, been sent to Old Trafford and, in that sense, Mata is still working for Chelsea's advantage.

It all sounds, in this context, a little obtuse and paranoiac, but the theory is sound. Here is a better example: Yohan Cabaye is leaving Newcastle (and the Premier League altogether) for Paris Saint-Germain. This is a blow for Newcastle, because when Cabaye plays, their chance of winning is 47 percent. When he does not, it is 21 percent. Newcastle are a much better team with Yohan Cabaye than without him.

Because of the vagaries of the Premier League fixture list, there are some teams who have played Newcastle twice already. Other teams, who have played them just once, thus have a better chance of taking points off Newcastle, because Cabaye will not be playing. This could make a crucial difference, at both the top and the bottom of the table.

Here, Wenger's argument makes a lot more sense: The January transfer window does damage the integrity of the league.

- On The Move transfer blog

There are two ways of combating this. The first -- and easiest -- is to leave the transfer window as it is, but to change the way the Premier League calendar is constructed. In almost every other major league in the world, the fixtures for the first half of the season are drawn; the second half simply mirrors them.

So in Italy, if Milan play Atalanta on the first day of the campaign at San Siro, they will face them in Bergamo when matchday 20 rolls around. Home, away, home, away, throughout the season. There is a rhythm to everything.

In England, for reasons nobody has ever really cared to explain, that does not happen. In England, not only do some teams play each other twice before December, but sides are also given little runs of home and away games -- two or sometimes three in a row -- at various points in the campaign.

Why this should be is anybody's guess, but the impact is pretty clear: A team that has a run of away games is much more likely to fall down the table, and a team with a sequence of home fixtures will find it easier to clamber up a few places.

Now, the league table never lies, obviously. But that does not mean it is always telling the whole truth. A team who has a sequence of difficult fixtures -- as Southampton did this winter when, in four games, they faced Arsenal and Chelsea away and Man City at home -- may find their whole season altered simply by the vagaries of the fixture list.

Narrative is woven into the very fabric of the campaign. In that sense, the way the season is constructed imperils the integrity of the Premier League.

Altering would solve Wenger's issue with the January transfer window easily. If the market opened when everyone had played each other once and closed pretty quickly afterward -- he suggested a fortnight of trading, which could possibly be held in the period when FA Cup ties are being played -- then the impact is minimised.

Or, more radically, you could shut down the January window and leave all wheeling and dealing until the summer. The difficulty here, of course, is that not all leagues run according to the western European calendar.

In quite a substantial portion of the globe, the January window is the summer one, the preseason one. Closing the western markets to them would be deeply unfair: They could not sell players, and would find it considerably harder to buy, too.

Still, given how famously appalling the value in the January transfer market is, it's a surprise so few managers took Wenger's cue and started banging the drum to see the damn thing abolished.

Perhaps that is because they recognise it is a useful little tool for offloading players who are no longer required, or rectifying the imbalances in your squad that have become clear over the first five months of the season. Perhaps there are times when you need the viper pit. Or maybe, just maybe, the dogma that there is no value in the January transfer window is nonsense.

The logic that is always espoused to defend this line of argument is that the very best players do not want to leave their clubs in January, and the very best clubs do not want to sell. That is true. But that does not mean there is no value. Indeed, in some senses, it might mean there is more.

There are huge numbers of players available in the year's first month. There are the ones having fine seasons for lesser clubs, who could be persuaded to move to a grander stage for a maximized fee that their current side cannot turn down. That is what took Jorginho from Verona to Napoli, for example.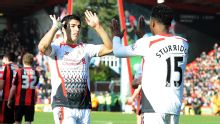 John Powell/Liverpool FC via Getty ImagesSuarez (2011) and Daniel Sturridge (2013) both signed for Liverpool during January windows.
There are those, like Luis Suarez, David Luiz, Patrice Evra and Nemanja Vidic, who moved in January from one of Europe's lesser leagues for a similar sort of fee to that which might have been settled for in the summer.

There are the players, like Mata or Tottenham's Etienne Capoue, who have fallen out of favour for some vaguely unfathomable reason. That is what took Javier Mascherano from West Ham to Liverpool in the winter of 2007, and he ended up playing in a Champions League final.

There are those, like Antonio Nocerino and Marco Borriello, who need first-team football, a trend that always becomes substantially more pronounced in seasons which end with major tournaments.

There are players who want to be in the Champions League, like Cabaye, or those whose clubs have fallen out of the competition, like Chelsea-bound Mohamed Salah.

Of course, there have been some bad buys -- Andy Carroll for 35 million pounds -- in Januaries past, but there have been abundantly more in summers gone by.

The idea that there is no value in the midseason window is a theory that has been given credence because more clubs than you would imagine exist in a state of semi-permanent chaos, especially when it comes to recruitment.

All teams, in all leagues, have a welter of agents and middlemen and people who know people offering them players, trying to broker deals, insisting to one side they have a mandate to sell a player and to the other that they have been informed they can act for a club.

Take a glimpse at the figures released on Wednesday showing the amount Premier League teams paid to intermediaries acting on behalf of other clubs. It stands at about $70 million in 2013 alone. It is to football's eternal shame that so many clubs continue to allow these people effectively to conduct their business.

Yes, of course Bayern Munich do not want to sell you Toni Kroos and Borussia Dortmund won't give you Ilkay Gundogan in January. Roma will not part with Miralem Pjanic, nor Atletico Madrid with Diego Costa.

But that just means teams have to do what they should always be doing: look harder, in less familiar places, for players who can provide some of that quality for a fraction of the price.

It means knowing who you want before the window opens. It means crunching the numbers and having a clear plan in mind. It means not relying on the middleman who says he can get you a better deal elsewhere. It means acting like a proper, grown-up business.

There is no value in January? Only if you are not looking hard enough.