Why the big fuss over tweaks to Euro 2016?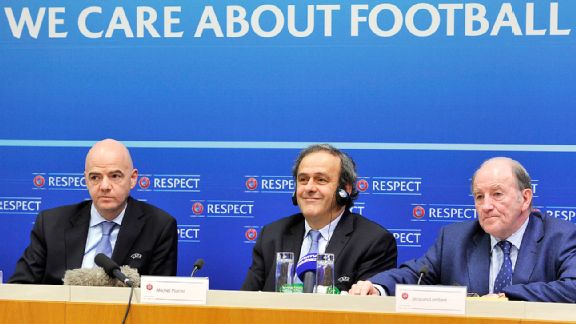 Harold Cunningham/Getty ImagesMichel Platini may be messing with Euro 2016, but with good reason.
Along with death, taxes and the fact that agents Jorge Mendes and Mino Raiola will generally outsmart anybody they deal with, there is another equally universal truth:

Whenever an organizing body rejiggers the format of a tournament or qualifying, the media will complain.

It's automatic. Sometimes, of course, it's legitimate. Such as when the Argentine league decided to determine relegation by taking the average of past seasons rather than simply dumping the bottom clubs. Or when the Italian League, stuck in a legal quagmire, decided to bump Serie B up to 24 teams, allowing Fiorentina to leapfrog Serie C1 entirely.

But other times it's precisely the kind of whining that makes folks resentful of those on the media soapbox. (I know; I've been guilty of it myself.)

Take Euro 2016, which will feature 24 nations for the first time. It has been accompanied by a ceaseless whinefest, most of which is nonsensical, self-interested and provincial.

The football purists sniff and say that it's too many teams and that the "tradition" and "quality" of the competition will be ruined -- or, to use their favorite word, "diluted."

Tradition? The Euros featured just eight teams until 1996, which is less than 20 years ago in case you've lost track. Not sure that qualifies as a long-standing tradition. In fact, before 1980 all you had was a straight knockout tournament followed by a final four. So the simple fact of the matter is the Euros don't really have much history to hang their hat on.

Quality? Sure, having more nations involved means having worse nations involved. There is no escaping that. But so what? Look at the teams ranked 17 to 24 in Europe. Does it really offend your viewing sensitivity so much to have to possibly watch Turkey versus the Czech Republic? Arda Turan versus Petr Cech? Or Armenia versus Serbia? Henrikh Mkhitaryan against Branislav Ivanovic?

God forbid! Better go and claw your eyes out right now!

The folks who complain about this "dilution of quality" are the same guys who will happily sit through a game involving Eintracht Braunschweig, Cardiff City, Livorno or Rayo Vallecano without batting an eyelid. They're often also the ones who get excited by the "magic" of the FA Cup because Kidderminster Harriers face a Sunderland team that is bottom of the Premier League and packed with reserves to the point that Gus Poyet includes his dog and his hairdresser in the starting XI.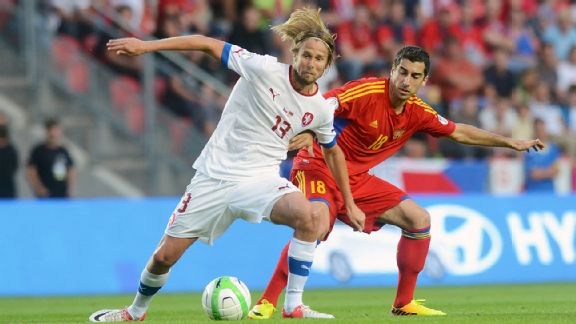 Michal Cizek/AFP/Getty ImagesQuality players like the Czech Republic's Jaroslav Plasil and Armenia's Henrikh Mkhitaryan shouldn't be limited to narrow tournament qualification.

If football is worthwhile only in the presence of evenly matched quality, then sit and watch the Champions League from the quarterfinals onward, the odd Clasico, a few select Premier League games and not much else. Because most of the rest of the time, what you're watching is actually a very good juggernaut of a superclub squashing the rest of the league like Godzilla crushes buildings.

Make no mistake about it, when a game involving a club with three times the wage bill and 10 times the transfer spend of its opponent turns out to be close, it's usually because the superclub is underperforming.

Tournaments like the Euros aren't just about quality. They are about striking a balance between representation and competition. There are 54 nations in UEFA. Thirteen of them get to the World Cup, and maybe half of those have an icicle's chance in Manaus of winning it. Without expansion, most of Europe -- which means football fans from those countries -- will never get to experience a major tournament, except on TV or by adopting another country (usually Brazil).

Is giving more countries a more realistic shot every four years really such a horrible thing? Should we really condemn those folks to second-class status for the rest of their lives simply because they didn't have the good fortune of being Italian, German or Spanish?

These kinds of objections smack of the worst kind of haves versus have-nots mentality. Big, wealthy nations that are good at the game versus everybody else. But UEFA isn't about just England, Italy, Germany, Spain and France.

The other hilarious complaint concerns the format. Twenty-four teams in six groups means that some third-place sides will advance. Sure, it's not ideal, but so what? It's the same format the World Cup had in 1986, 1990 and 1994. Were those World Cups ruined? Do we remember them as rubbish because Belgium finished third in their group and then advanced to the semis in 1986? Or that Argentina did the same in 1990 and reached the final?

Without the best third-place qualifiers going through, this -- Diego Maradona's genius run and pass with his right foot -- would have never happened.

The other upshot is that the tournament itself will be six days longer. Again, such a tragedy. It cuts into those eagerly awaited Asian or U.S. tours that Europe's big clubs seem to love so much.

What about the contention that we'll have more meaningless games in qualifying? Those who argue that don't quite get this whole math thing. Yes, with two of six qualifying and the third-best team heading for the playoffs, the better teams will qualify early. Very early. But that already happens. And there are still seeds at stake, and they do matter -- as Holland and Italy found out at the 2014 World Cup draw.

But what it also means is that the weaker teams will have more to play for. All those nations that find themselves fifth and out of qualifying halfway through the process will now have something to play for. And, besides, who really cares? It's international qualifying. Most of it is meaningless unless you're a team on the bubble anyway.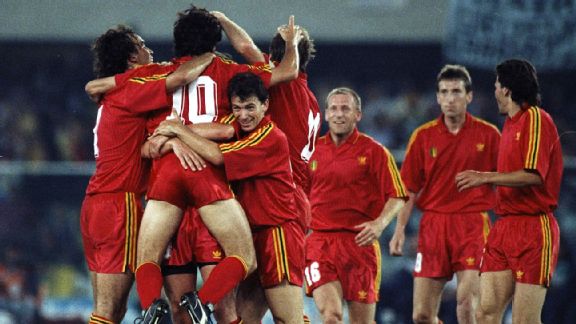 Allsport UK /Allsport/Getty ImagesWithout third-place teams, we would never have seen brilliant Belgium make an impact at World Cups in 1986 and 1990.

There are more inane moans and complaints too. Like this business with France. As hosts, they qualify directly. But they have also been placed into a qualifying group and will play against the other nations in the group, though their results won't count because they will be friendlies. Cue howls of derision.

But why? If you leave France out entirely, they will still need to play friendlies. And the other five nations in France's group will need to play friendlies on those international dates because they won't have qualifying games. So rather than making them try to sort out a game with somebody in South America, Asia or wherever, they're arranged matches for them in Europe. It's a common-sense solution. What's the problem?

Finally -- as if to prove that some will simply foam and moan on command, like Pavlov's dog, whenever UEFA decide something -- there's this business with the "week of football" concept. Stupid name aside, what it means is that rather than having all the qualifiers played on Fridays and Tuesdays during the international break, they'll now be staggered from Thursday to Tuesday with doubleheaders.

Why is this important? Because it means we'll get to see more and better games. You won't have Germany, Spain, Holland and France all kicking off at the same time. We'll get daily doubleheaders and get to see more of the best teams. You would think this would please the quality patrol.

The overarching complaint is that this is all about votes and money. Let's take those in turn, shall we?

If by "being all about votes" you mean UEFA president Michel Platini doing things to help the smaller, weaker countries, then sure, it is about that. They're his constituents too. That's how it works in a democracy. Politicians who run on a platform of "I'm going to look after the rich only, the 1 percenters, because I couldn't care less about the rest" tend not to get elected. Nor should they.

As for money, sure, it will generate a lot more. More games means more TV revenue. And having more countries involved suggests the rights in those countries will be more valuable too. The "week of football" and centralized sale of rights mean broadcasters will have something to show every single night for six straight days. That's very valuable.

Selling them centrally also helps, as we saw in the runaway financial success of the Champions League rights. But it's not as if this money simply gets converted into gold and used to build Platini a 100-foot, 24-carat statue of himself on the shores of Lake Geneva. It gets funneled back to the FAs. What happens to it then varies, of course, but in ones that are properly run, it is then used for coaching, grassroots, development -- all that stuff that we deem important.

The bottom line is that some folks will always complain, especially when they see the world through the lens of big, privileged nations with big, privileged leagues chock–full of big, privileged clubs.