Three Things: Liverpool vs. Everton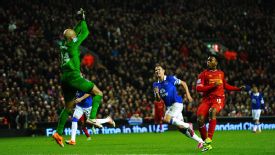 AllsportSturridge now has 13 league goals this season.
Three quick thoughts from Liverpool's 4-0 demolition of Everton at Anfield.

1. Job done for Liverpool

Despite the abstract griping about various frustrations in the transfer market, Brendan Rodgers could be forgiven for feeling smug about Tuesday's crushing home win.

It was the most lopsided victory since Ian Rush scored four times in a 5-0 league win in 1982 and was also the first time either side had managed four in a derby since the 4-4 FA Cup fifth-round tie in 1991 that quickly presaged the end of Kenny Dalglish's storied first reign as Anfield boss.

There's a sense that this canny Reds manager is beginning his own dynastic run at Anfield. Though his side's flaws are well-documented -- a lack of adequate squad depth in midfield and full-back positions, significant questions of central defence and concern about Steven Gerrard's eventual retirement -- Liverpool's prodigious attack can paper over many cracks.

This result needed no chalkboard, no heat map, no passing stats. The quartet of Raheem Sterling, Daniel Sturridge, Luis Suarez and Philippe Coutinho in Everton's half was simply too much for the dreadful high defensive line to bear.

Though the early -- and potentially long-term -- ankle injury suffered by Romelu Lukaku (whose powerful brace nearly earned the Toffees a derby win back in November) was significant, the absence for the visitors of Sylvain Distin and Seamus Coleman was downright decisive.

Without them -- and with teenage John Stones and Wigan crossover Antolin Alcaraz playing instead -- Everton lacked the confident base from which to salvage any pride. Rodgers' Liverpool may be incomplete, but they are ruthless.

Take the goals. Gerrard displayed rare pep in escaping Gareth Barry to head/face in the opener from Suarez's corner after 20 minutes. Stones' lack of discipline afforded Sturridge acres of room to remain onside, calmly collect Coutinho's angled pass and rifle it past the advancing Tim Howard 10 minutes later.

Next came the showmanship, also at pace. Barely 2 minutes after Sturridge's opener, he had another. Kolo Toure's artless hoof downfield was snared by the striker, who showed poise to lob the helpless Howard from the edge of the box. A route one goal, albeit with flair.

The fourth strike was a finger in the eye five minutes after halftime. Everton's carelessness on halfway was punished in full by Suarez, who sprinted comfortably away from Phil Jagielka to convert.

It spoke volumes that Sturridge's skied penalty mattered only to the England striker (although his manager appeared to chastise his profligacy later). Normally, the margins of error are fine in such passionate, brimstone derbies such as these. Not this time.

2. Is the sky the limit?

Such an emphatic derby left the Anfield faithful pleased, but one wonders just how far this Liverpool squad can go. The Reds' pace and self-confidence in attack made the most of a tight first half to take the handful of chances that came their way, offering Rodgers a more relaxed game than he may have expected.

His team is superb with the wind in their sails. With the right conditions and a dollop of luck, the Reds look capable of beating anyone. Crushing victories against West Brom, Fulham, Norwich, West Ham and an on-the-brink Tottenham are testament.

Similarly, their ability to graft is much improved from seasons' past. The recent fight-back against Stoke at the Britannia, the fortuitous momentum swing against Aston Villa, the late equalizer at Goodison Park: It's hard for Liverpool to ever feel down and out with Sturridge and Suarez leading the line.

Yet there's still much work to be done. The overly canny approach to transfers appears the work of a minnow, not a club with visions of the Champions League. Try as Liverpool might to nickel-and-dime their way back to the top, there will be days when the casual touch of Aly Cissokho, the exhaustion of Jordan Henderson and the paucity of full-back options is too great to overcome.

Nights like this one against Everton, routs that allow Luis Alberto and Martin Kelly to slowly ease back into the first-team rotation, will be few and far between for the remainder of the season.

Also, the early going offered good fortune. If Ross Barkley had fired in after 2 minutes instead of narrowly over. If Barry had converted instead of being denied by Simon Mignolet's parry with the game poised at 1-0. If Kevin Mirallas had grazed the inside of the post instead of the outside 30 seconds later ... Liverpool scored their second a minute after that, glister for the glory.

So what's next? Two games against Arsenal -- arguably the team Rodgers wishes most to emulate -- aren't far off, as is a trip to Southampton, where the Reds were humbled 3-1 in March. Plus, there's a visit to Old Trafford in mid-March; David Moyes ought to have perfectly calibrated Juan Mata by then.

They won't all be as simple as this. They can't be.

3. Not the Everton we deserved

Roberto Martinez is known and admired for his alchemy in the face of unyielding pressure. He couldn't escape relegation last season with Wigan, but his ragtag bunch outhustled and outworked mighty Manchester City for a deserved FA Cup win.

Tournament runs are fun but it is the slog of the league campaign upon which managers are ultimately judged. As such, it was unfortunate to see the Catalan look so forlorn and outdone on Tuesday night.

His shortcomings were borne more of circumstance than tactical failure. A litany of injuries to key positions is something few clubs can endure -- look at Borussia Dortmund's failings this season for proof -- but on a budget as bare as Everton's, it's a death sentence.

Being robbed of Distin and Coleman, who are blessed with the kind of positional awareness and intelligence to cope with an attack as Liverpool's fluidity, was the first obstacle. Then came the injury to Lukaku, such a vibrant attacking force and easily capable of unsettling a defense as uncertain as Liverpool's.

Forced to bring on the more diminutive Steven Naismith, the Toffees were not only robbed of their focal point; it somewhat relieved them of their energy. How Martinez responds to the absence of Lukaku will require his brilliance more than anything else this season.

The game's breathless early pace could only be maintained by their unforgiving hosts and only Mirallas and Barkley showed the kind of gusto Martinez would have expected from his side in a game as definitive as this. The pair gamely tried to redress the midfield imbalance, but Liverpool's first-half surge rendered them incapable.

This game will have been earmarked by Martinez and Everton fans as one that could help them assert their top-four credentials. Instead, it has left them as vulnerable as they've ever looked in the past three seasons.