Sherwood ready for Tottenham challenge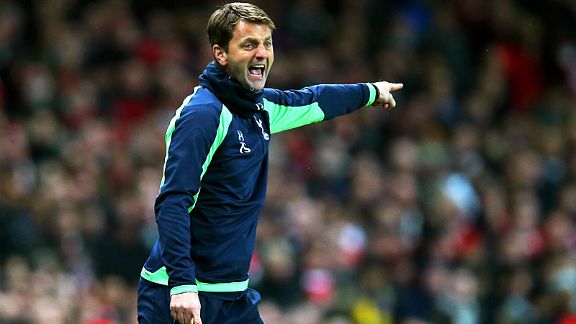 GettyImagesTim Sherwood knows he is expected to deliver results as Spurs boss.
Spending half an hour in the company of Tottenham manager Tim Sherwood confirms that he would not begin to understand the concept of an inferiority complex.

It will matter little to Sherwood that Manuel Pellegrini will have more than a quarter of a century of touchline experience over him as his Spurs side go head-to-head with Manchester City on Wednesday. It will be only his seventh game as a manager in senior football, but Sherwood is keen to prove something to the critics, who have confused his reservoir of self-belief with arrogance down the years.

His success in captaining Blackburn to Premier League title glory in 1995 is a commendable highlight on his CV, yet Sherwood's three senior England international caps suggest he never rose to the heights of which he may have been capable. Such trivialities do not trouble the man, though, and his confidence to attack any new challenge is likely to have been one of the primary reasons he got the Spurs job.

Sacking Andre Villas-Boas and replacing him with a fresh-faced coach who had never sampled life as a Premier League manager seemed to be a curious decision, yet Sherwood's straight-talking approach appears to resonate with Tottenham chairman Daniel Levy. While most observers expected an experienced operator such as Louis van Gaal or Guus Hiddink to take over last month as Spurs boss, the man who eventually got the job is convinced he has all of the credentials to make a success of it.

"I am realistic enough to know the ambitions of this club are very, very high and I need to live up to them," Sherwood told a select group of journalists. "I knew that before I took the job, and I'm hoping I can do enough to keep the job in the long term.

"Of course I have to prove myself. A lot of people who have a lot more experience as managers would love to get the chance I have been given here and it is up to me to try and take it with both hands.

"I am loving the challenge of managing in the Premier League. It feels like I have been doing it for a lot longer than I have been. Those who told me I might have a few sleepless nights were right, but I want to be here and I want to bring success to this football club."

Sherwood's football philosophy is a little different to that of his predecessor, whose eagerness to immerse himself in statistics on the most trivial aspects of the game ultimately proved to be one of his downfalls.

"I always say that stats don't tell you everything," Sherwood says. "If you lose a game and say, 'We kept the ball better than them because the stats tell us so' -- well, who cares? This game is all about winning. It's very simple really.

"All managers would like a five-year contract and a chairman to say: 'Get on with it,' but that doesn't happen. If I had not won games in my first few weeks in this job, I'd be a laughingstock. This is a results business. You also have to accept criticism in this job as there are 36,000 opinions coming at me when we have a home game and I have to remain convinced that mine is the right one."

The reintegration of the previously exiled Emmanuel Adebayor into the Tottenham setup has been one of the success stories of Sherwood's brief reign as manager, with the Togo striker's eagerness to continue his good run of form certain to burn brightly as his former club City line up against him on Wednesday.

"It's not as if he was an unknown, rubbish player who I have found from nowhere," Sherwood says as the subject of Adebayor is raised. "Managers have different opinions on different players, but I always knew he was a good player and had the faith to give him the opportunity to go and do it. He has not let me down.

"Adebayor's situation is the same as everyone here. I've just done things the way I see it. I like to get forward-thinking players into positions where they can do damage and get defenders appreciating what is expected of them. Worry about us rather than worry about the strengths of the opposition -- that's what I tell the players.

"I look for the positives in a player, rather than looking what they can't do. If the negatives outweigh the positives, then it's time for a player to move on. When the sun is shining everything is great, and when you are popping the ball around, it's easy to feel good about the world. When you are not playing well, that is when you need to turn it around as players and a manager. We have been doing that so far."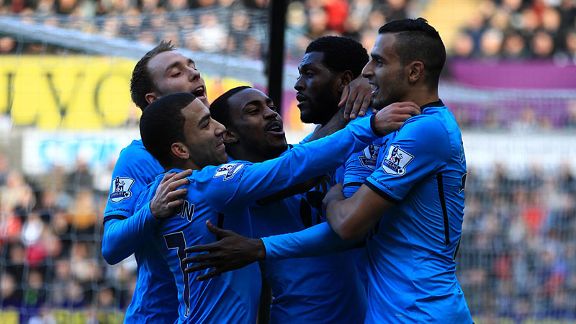 PA PhotosEmmanuel Adebayor has enjoyed a revival under Tim Sherwood.
Clearly, the influence of Kenny Dalglish was signficant during his time working under the Scot at Blackburn, and the advice provided by the Liverpool legend has helped Sherwood to adapt to his new position.

"You never switch off in this job," he adds. "A lot of people are relying on you and I know this is a results business. It is not really about development because you need to bring success now.

"You can look at a lot of clubs where it has worked if you stick with managers and there are plenty of examples of club who changed their manager and it worked for them. You can back up any argument you want, but if you win football matches, you will have a chance as a manager."

The previous time Tottenham played Manchester City, in November, they ended up losing 6-0 in what proved to be the beginning of the end for Villas-Boas. Time will tell whether the novice who has taken his place is the full package Tottenham chairman Levy wants him to be.