The Friday Four: AVB's revenge?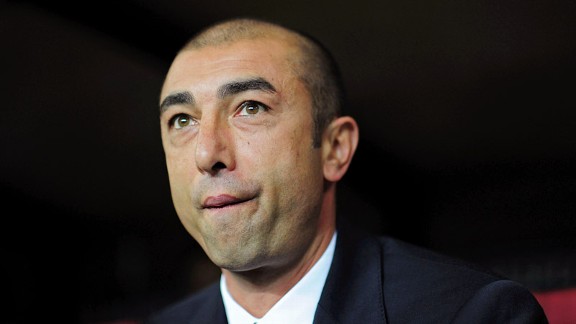 Shaun Botterill/Getty ImagesAndre Villas-Boas is getting all the pregame attention, which is surely just what the canny Roberto Di Matteo, above, would prefer.
The international break is the pause that refreshes -- unless you think that you have better things to do with your time than watch Austria whack Kazakhstan. Still, any time that we get a week in which Cristiano Ronaldo rolls out his pouting persona in a different jersey and new England captain Wayne Rooney makes David Beckham sound positively Shakespearean, we're smiling.

But now it's back to the Prem prediction business and we've had our noses to the grindstone going through our binders. Lots and lots of binders.

Spurs vs. Chelsea

Why does it feel like this should be a much bigger, more bandied-about game? Chelsea, the reigning champion of Europe, sits atop the league table and Tottenham is unbeaten in its past nine since an opening day stumble against Newcastle. Roberto Di Matteo has never lost to Spurs when associated with the Chelsea Blue, and do you think that maybe, possibly, perhaps, Andre Villas-Boas circled this matchup on his motivational PowerPoint?

And yet, there has been more recent talk about Mark Hughes' impending doom at QPR or John Terry's 11-months-too-late apology. Perhaps the media have begrudgingly ceased seeing Villas-Boas as a scorned lover out for revenge against an ex, given his impressive early work at White Hart Lane. Perhaps we're all still hung over from England's limp 1-1 draw against Poland. Whatever it is, an ennui is hovering around this game that should surely be smashed by the opening kick.

More: Lythell on CFC's tricky trio

Traditionally, Chelsea has served as Tottenham's true EPL bogey team. In the late 1990s and early 2000s, Spurs went 32 on the trot without beating their London co-residents while their three wins in 39 Prem contests to date would indicate that Harry Redknapp has a better chance of managing a top squad again than Spurs have of beating this one.

This is, however, almost always one of the more entertaining fixtures. Both sides play gloriously open football, especially at the Lane, and we've seen few games in the history of the EPL as entertaining as their 4-4 draw back in 2008. On Saturday, Luka Modric's Madrid meanderings will be keenly missed here -- he was always the puppet master against Chelsea -- but Gareth Bale and Aaron Lennon should keep the Chelsea fullbacks pinned back, thus robbing the Blues of their traditionally suspect width.

More: Spurs-Chelsea a special game

Further intrigue arrives in AVB's choice at striker. It will be interesting to see whether Emmanuel Adebayor finally gets a nod over the speedy/irritating Jermain Defoe, as the former Arsenal/Man City's striker's combination of strength and grace is the type that often gives the Chelsea center backs fits. That said, if David Luiz is playing, he'll be so frequently out of position that it won't matter.

England's former brave John Terry smartly decided to put the FA case behind him and drop his appeal, so Gary Cahill will start. Arguably, this is a better selection for Chelsea against a superbly fluid and fast Tottenham outfit. The challenge for AVB's side will be to pry the ball away from whichever combination of magical midfielders starts for CFC. Juan Mata has enjoyed two weeks off after a snub by Spain, and Eden Hazard and Oscar each looked tricky in limited action for their home nations. Also, Fernando Torres' rapidly improving diagonal movement is likely to wear out the septuagenarian William Gallas.

We're hoping it's one of those special barn-burning, box-to-box efforts that brings out the best from one of England's finest home supporting crowds, eventually earning a place in the Daniel Levy commemorative DVD set that he will sell at the final whistle.

Spurs 2, Chelsea 2

Manchester United vs. Stoke

This one should be easy. The Potters haven't taken a single point at Old Trafford since returning to the top flight in 2008 and are at the end point of a brutal early-season schedule during which they had home matches against Arsenal and Manchester City plus away efforts against Chelsea and Liverpool.

More: United back and focused

But not so fast. While the returns of Chris Smalling and Ashley Young are beneficial -- especially Smalling, what with that giant fork sticking out of Rio "Footballing Reasons" Ferdinand's back -- Sir Alex Ferguson has some significant selection headaches.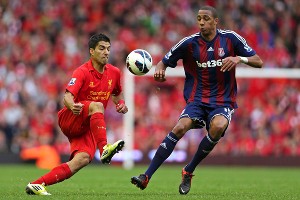 Clive Brunskill/Getty ImagesSteven N'Zonzi has been impressive in Stoke's midfield this season and should prove plenty disruptive against a United side yet to hit high gear.

His side has three reasonably important matches in nine days (including a home Champions League draw against Braga before departing for United's annual dropped points pilgrimage to Stamford Bridge), and a host of players who either saw significant minutes for their national teams (Michael Carrick, Tom Cleverley, Darren Fletcher, Shinji Kagawa) or are just returning from jet-setting (Chicharito and Antonio Valencia). At Old Trafford, it's not just goalkeepers who get "rotated."

In addition, SAF must decide whether or not to abandon his diamond midfield approach to snuff out Stoke's tactic of hurtling balls in from the flanks to Peter Crouch's sinewy NBA frame. On the plus side, Robin van Persie played only one match for the Netherlands and miraculously emerged with both knees intact.

While the obvious storyline will feature Michael Owen's return to Old Trafford, where he can pay homage to the comfy leather sub seat that he never seemed to fully own, the key for Stoke will be whether Steven N'Zonzi can continue his stellar midfield play for the Potters. Although Owen and Charlie Adam were considered "marquee" summer signings, it is the ex-Blackburn man who is making the Stoke attacking engine, stuttering as it is, run. Given that United have looked sluggish and pub league in transition, whichever combative duo Tony Pulis selects to marshal the middle should be able to muddle along nicely.

We think a well-rested Paul Scholes in conjunction with United's comfort zone (both in its recent results and the 75,000-strong crowd) will carry them to victory, but if Spurs can waltz into Manchester and take three points after two-plus decades of futility ...

Manchester United 2, Stoke 0

West Brom vs. Manchester City

This one is the toughest of our four predictions this week. Sure, on brand power alone your instinct would naturally gravitate toward the defending champion, but employing a cavalcade of known international stars means that you either have to watch them fly back from Argentina (Carlos Tevez and Sergio Aguero) or limp off the field for Spain (David Silva).

More: Baggies face tough test

The Baggies, conversely, avoid this entire problem by fielding a workaday team that's not particularly famous and thus studiously manages to avoid international duty -- and no, playing for Ireland against the Faroe Islands doesn't count.

Normally, if you pointed out six games into the season that City had only harvested one more point than WBA, Mancini would be looking for a new Tuscan villa for his impending forced vacation. But longtime assistant Steve Clarke, one of the lesser-known architects of Mourinho's Chelsea juggernauts, has Albion soaring, especially at the Hawthorns where the Baggies have captured maximum points this season while outscoring quality opposition (and QPR) by nine goals to two.

Baggies goalie Ben Foster continues to remind Sir Alex that he had a great young keeper before he went out and splashed a record $25 million on bantamweight flapper David de Gea. The WBA defense is the third stingiest in the EPL. Chelsea loaner Roman Lukaku has been superb, and while he continues to struggle with a dodgy ankle, he'll give Vincent Kompany & Co. all they can handle if he can hold up.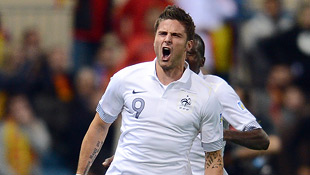 Franck Fife/AFP/Getty ImagesAgainst Norwich, Olivier Giroud might find ample opportunity to assert himself as a striker who can cut it in the Premier League.

And, as is its early-season tradition -- like Everton, albeit in reverse -- Manchester City has been dropping points on the road. Still, it's an obviously (and obnoxiously) talented side, one that has very quietly remained unbeaten and last week showed glimpses of superiority in overwhelming a genuinely stubborn Sunderland outfit. Mancini is a vastly underrated man-manager and an annoyed Mario Balotelli is very well-rested.

In spite of WBA's early surge, we see this as a cagey, somewhat defensive contest with each side happy to take a point.

West Brom 1, City 1

Norwich vs Arsenal

Analysis? For this? Norwich should change its nickname from the Canaries to the Colanders and serve Swiss cheese sandwiches to all of the patrons at halftime. The only question is whether the home side will be able to surrender at least five goals for the third time this season. We vote yes.

More: Limbert on Vito Mannone

Arsenal won't have to worry that Theo Walcott picked up a bruised lung on his recent travels, and Oliver Giroud might even score a relevant goal when not wearing Le Coq Sportif. We believe that Santi Cazorla will run Gangnam style rampant and the Norwich faithful will begin to rationalize why they so loved taking trips to Leeds.

Norwich 1, Arsenal 5 (we're not sure whether Norwich gets the 1)

Paul Kanarek is a freelance soccer writer living in Los Angeles, the only city in America where MLS teams outnumber NFL teams 2-0. James Tyler is an editor for ESPNFC.