Dortmund on to a winner with Ji Dong-Won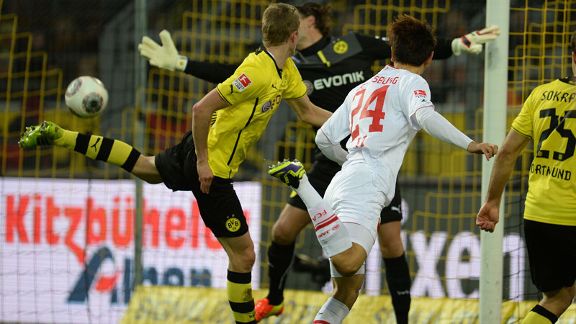 GettyImagesJi Dong-Won scored on his second debut for Augsburg against parent club Borussia Dortmund.
The question is obvious and has been asked by many: How can a player who can't get a game at relegation-threatened Sunderland suddenly be snapped up by one of the biggest teams in Europe and 2013 UEFA Champions League finalists? Ji Dong-Won's transfer from Sunderland to Borussia Dortmund (via a six-month spell with FC Augsburg) has plenty scratching their heads -- even more so when he scored against his new side this weekend. But crossing the Black Cats' path seems to have been lucky for the 22-year-old, in the end, at least.

It started well, too, with an unforgettable last-minute winner against Manchester City, but much of what happened in between stands out a little less. Just turned 20 when he landed in the northeast in the summer of 2011, the attacker had been professional for just a year with barely a season in the K-League -- and not one of its bigger clubs -- under his belt. It's hard for young Asian players to resist the lure of the big leagues, especially when, as is often the case, agents are even more excited.

Four starts in English league football suggest that the move has not been a success, and it's easy to blame the player. However, the fact that a club like Dortmund and a coach like Juergen Klopp obviously see something that the English team do not adds weight to the arguments of those who feel that while Ji could certainly have done better for Sunderland, Sunderland could have done better for Ji.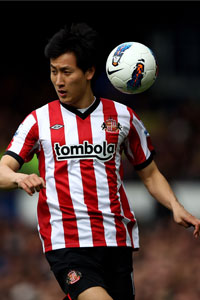 GettyImagesJi Dong-Won struggled to assert himself on the Sunderland first team under four different managers.
When pen was put to paper in 2011, then-Sunderland boss Steve Bruce, who had been to Korea scouting with his chairman, Niall Quinn, said: "The Barclays Premier League is very different to the K-League, so there is hard work ahead." It was an obvious point but one worth making nonetheless. Ji may have been a full international but had been given his chance with the Taeguk Warriors mainly because the coach at the time, Cho Kwang-Rae, had an almost pathological obsession with selecting youngsters.

If he was selected for the international stage too soon, many at home felt the same about a move to Europe and advised another season with Chunnam Dragons on Korea's sleepy southwestern coast, as far from the madding crowds of Seoul as possible. The deal went ahead, but at least there was a hope that a Premier League club could iron out some of the player's rough spots.

It never really happened. National team coaching staff -- Ji is usually called up by the Taeguk Warriors, but while he will be going to Brazil, he has yet to make a starting spot his own -- grew increasingly concerned at the fact that the player just did not seem to be developing in England. Park Chu-Young went to Arsenal in the same summer, but while he played even less than Ji, when he reported for Korea duty (something he is not doing at present), it was noticed how his movement and positional awareness improved during his time in London. The same could not be said of Ji.

A player who needs the proverbial arm around the shoulder and quiet word in the ear didn't seem to get much of either on Wearside. Perhaps there was too much going on. Ji's time at the club was not exactly long, but by the end of his two-and-a-half-year tenure, there had been four managerial changes. It couldn't have helped a youngster trying to settle and then impress 6,000 miles from home on or off the pitch. A real run in the team would have made things easier, provided a focus and made him part of the team, but it wasn't to be.

Perhaps, then, he could have adapted to the physicality and the speed of English football. Although technically sound, the longer Ji stayed, the lower his confidence seemed to become. His once-reliable first touch became erratic, and his, to be honest, usually erratic finishing did not improve. The lack of minutes was one thing, but he rarely appeared in his favoured position. Ji may be versatile and able to play anywhere in attack but prefers to be a little deeper than he was usually placed at Sunderland.

It was all very different in Germany last year. Snapped up on loan last January by seemingly doomed FC Augsburg, Ji shone in the Bundesliga. He could play in a number of positions, was tactically astute, scored goals, contributed assists and played a major role in the team's escape from the drop. In short, he was wanted and happy, and he looked to be a different player. Augsburg wanted to make the deal permanent, but new Sunderland boss Paolo Di Canio did not.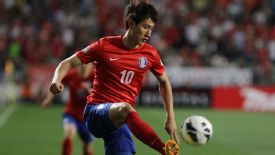 GettyImagesJi Dong-Won's lack of action for Sunderland hampered his displays for the South Korea national team.
If Ji thought that things would be different under the Italian, he was right. Unfortunately, they were worse. Di Canio publicly admonished Ji on national television for backing out of a headed chance against Crystal Palace in August, an act that also angered most fans. The local media was not exactly complimentary, and the whole world -- well, much of Wearside, at least -- seemed to be against him. What confidence was left was destroyed, and a departure was inevitable.

The destination was not. Dortmund had seen something they liked in Ji. Coach Klopp is a friend of Augsburg boss Markus Weinzierl, and together they came up with a plan that allowed Augsburg to have him cheaply for the rest of the season while BVB get their man in the summer on a four-year deal. Although he cost them three points on Saturday, the club is delighted to have a young international with European and German experience and possessing the ability to play in various positions. Cynics have said that there is another reason, that it's all part of a marketing ploy to sell shirts in Asia, but Dortmund, who know the region well after having Shinji Kagawa and Lee Young-Pyo on their books (and trying to sign Son Heung-Min and, a long time ago, Cha Bum-Kun) also know that there are few commercial benefits in signing a player who does not play.

It may not happen for a while. Dortmund have preached patience, and that may be exactly what he needs. Still just 22, Ji will be happy to wait for his chance if he feels he is heading in the right direction. That wasn't the case at Sunderland, and a departure was right for all parties.

Social media and message boards have mocked the suggestion that the Korean could become a replacement for a departing star. That is not the point. He will not be the second Robert Lewandowski, but it is to be hoped that fans in Germany can see the first Ji Dong-Won.