The FA Cup provides yet another break in the Premier League schedule, but this time only after a weekend in which a few significant breaks developed in the table too. With Everton and Liverpool slipping up in fixtures they should have won, and the bottom half getting increasingly congested, it felt like such a volatile season finally saw its distinct groups emerge. So, with all realistic ambitions a little clearer, how well equipped are the 20 individual sides to meet them?

TITLE CHALLENGE

ARSENAL

How the team is set

Resolutely keeping a firm hold on top spot, and undeniably indicating that so many old questions no longer apply to this side. Much of the discussion over the past few months has been over when an anticipated 'collapse' is coming, but that does not seem like it's going to be the case. A more relevant problem, however, may simply be whether pure attrition prevents them from sustaining this kind of points return. There have already been a few minor signs lately, with the team not quite playing the quality football of September to November, and the drop-off reflected by Olivier Giroud scoring just four goals in his last 15 in contrast to eight in the previous 14. The solution would seem obvious: to sign another striker and thereby overcome any temporary issues with goals. It could be the difference.

MANCHESTER CITY

How the team is set

At their best, City are the best side in the division by far. They don't even need to really strengthen, despite a slight issue at centre-half. The only remaining question revolves around how close they can keep to that terrifically high level when things get a little tighter. City have already lost to Chelsea once. Avoiding a repeat may see them win the title.

CHELSEA

How the team is set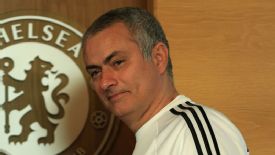 AllsportJose Mourinho has again led Chelsea to within sight of the Premier League.
Coming to the boil and keeping in touch, despite rarely rising to their best. In that, they are almost the opposite of City. Regardless of how poor his teams are playing, Jose Mourinho is the master at maintaining a competitive level, especially in big games. Chelsea have the best record this season against the rest of the top sides. The question is whether they will eventually cut it a little too close, or they can finally start firing. The new signings indicate the latter, even if one of them should be a striker. Looking ominous.

CHAMPIONS LEAGUE CHASE

LIVERPOOL

How the team is set

Playing some of the best football in the league, and largely thanks to the competition's outstanding player. That does mean, however, that Liverpool's top-four finish is effectively dependent on Luis Suarez sustaining the same form. If he can, they are capable of outscoring enough teams. If he can't, then the gap between a world-class player in his prime and the rest of a competent but still developing side may become apparent. Brendan Rodgers could also do with bringing in with some defensive protection.

TOTTENHAM HOTSPUR

How the team is set

Difficult to say, but their issues have undeniably eased. Although Tim Sherwood has steadied the team and corrected certain perceptions about himself, the feeling persists that Spurs have somewhat pressed the reset button on this season and could still require deeper surgery. That in itself could work to their benefit if other sides see them in the same way. Something of an unknown quantity.

EVERTON

How the team is set

Far better than expected, which is testament to Roberto Martinez, but may still be somewhat short this season. As a cohesive unit, Everton look further along their progress than both Liverpool and Manchester United, but they lack a player like Luis Suarez or Robin van Persie. That means they would not necessarily miss any one player who got injured, but also reflects a squad that feels like it needs a touch more depth of strength and strength in depth.

MANCHESTER UNITED

How the team is set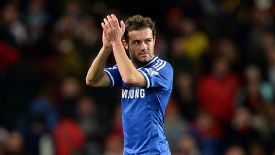 AllsportCould Juan Mata be the missing ingredient for Manchester United?
Quite simply, far more chaotic than this club has become accustomed to, and extremely difficult to predict how this campaign will finish. There has been so much change that all old indicators, from United's experience to David Moyes' strong finishes, feel irrelevant. In all that, one thing is certain: the team will only finish top four if they buy. Juan Mata is a start.

MID-TABLE

NEWCASTLE UNITED

How the team is set

As Alan Pardew acknowledged before Christmas, the squad was a little short to put in a proper challenge, but will represent a stern test themselves.

SOUTHAMPTON

How the team is set

A European place was probably always fanciful but will remain an awkward fixture that could alter a few clubs' campaigns.

FIGHTING FOR SURVIVAL

ASTON VILLA

How the team is set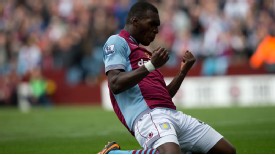 AllsportChristian Benteke has broken his long scoring drought. Now he needs to save Aston Villa's season.
After a disappointingly lax start to the season, appear to have recovered some verve, as has Christian Benteke. Should have just enough to be comfortable.

HULL CITY

How the team is set

Have dropped off, of late, but still seem to possess a durable core and a manager in Steve Bruce that is cannier than perceived.

NORWICH CITY

How the team is set

Lack goals, and have a propensity to get badly beaten, but also a capacity to claim the right result just when things look set to go wrong. That quality could decide whether they stay up or not.

WEST BROM

How the team is set

Had looked in free fall, but Pepe Mel has seemed to restore some vibrancy to their attack. It's vital he keeps that up.

STOKE CITY

How the team is set

One of six relatively safe sides who could get badly sucked into relegation with a sequence of poor results that goes on a little too long. For the moment, though, Mark Hughes seems to have established enough of a base.

SWANSEA CITY

How the team is set

Still playing some pleasing football, but no longer seeing the end product. The suspicion is they have sufficient ability, but the Europa League could uniquely skew their campaign.

CRYSTAL PALACE

How the team is set

A transformed side. One that had looked doomed now seems exceptionally durable. Tony Pulis has creditably restored a competitive structure and they will be more difficult to beat than almost everyone around them, but may also need to buy.

FULHAM

How the team is set

The odd thing about Fulham is they don't actually look all that poor, but tend to run out of steam and are horrendously open. The return of Brede Hangeland will help the latter, but he also needs aid himself.

WEST HAM UNITED

How the team is set

Not as tightly structured as they used to be, and currently lack the forward to ease the pressure on their defence. That needs to change, or their Premier League status will.

SUNDERLAND

How the team is set

Like Palace, a completely different prospect to what they were a few months ago. Rather than a team in the relegation zone, they now play like a thoroughly awkward mid-table side -- in a good way. Now, they just need the points to back that up.

CARDIFF CITY

How the team is set

They've already changed manager but now need to change the complexion of the team. Having played above themselves for the opening few months, Ole Gunnar Solskjaer now must lift the overall standard. At present, they seem short of the required quality.