Decoding the language of the transfer window
In theory, transfers are all pretty straightforward. Club A makes an offer for a player from Club B. If B and the player both agree, there's a deal. If either of them don't, there isn't.

But the reality is different. It's infinitely more complicated, murky and, on top of that, often gravely distorted by inaccurate briefings to the media. It's a morass that's coloured 500 shades of grey, made up of false rumours, deliberately low (or high) bids, active and inactive release clauses.

To help you navigate the madness that is the transfer market, ESPN FC has collated a dictionary of useful terms and case studies that illustrate what's really happening -- or not happening -- during the window.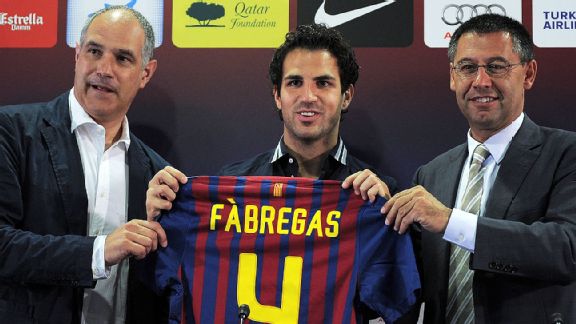 Lluis Gene/AFP/Getty ImagesManchester United's interest in Cesc Fabregas has only helped raise the Barcelona star's profile.
Cesc, the
Generating interest from rival clubs is a classic football agent ploy. But few take matters quite as far as Cesc Fabregas' advisers did last summer. They kept on encouraging bids from Manchester United in the knowledge that the player had little appetite for a move. David Moyes and Ed Woodward were the unwitting protagonists in a play whose script they hadn't read. In the end, their public and sustained interest helped to raise the Spaniard's profile, ego and standing -- if not his wages.

The real clever thing about "the Cesc" is the way the sheer implausibility of an actual transfer plays on the psyche of the suitors. The less likely it is, the more they want to make it happen in order to prove the doubters wrong.

bogey
A bogey is the more ordinary version of "the Cesc" -- the timely, sudden arrival of inquiries from other clubs at a time when the player is renegotiating his contract.

A good example involves this week's reports of Man United's interest in Dante. The Bayern Munich defender is 30 and looking for one last big contract. His current deal expires in 2015. What better way to put a bit of pressure on Bayern than a plausible bogey offer?

Whether there's real or just imagined interest from others is immaterial at this point. The only thing that matters is devising a threat that's frightening enough to loosen the purse strings.

Valon Berisha
This is a slightly more advanced manoeuvre designed to mislead supporters, the media and club owners. There are two parts to a Valon Berisha. First, there's a fabricated leak to the media about strong interest from a big, established club in a certain player. The ensuing stories paint the player in question as desirable; he's "wanted."

In the second step, the real interested club comes in to scoop their (purely imagined) rivals and secure a player who comes with an instant "Clubs X, Y and Z were after him, too!" reputation.

foreigners, fancy
Ask yourself why there are so many foreign players in the Premier League (and indeed in all top leagues). Are the natives just not good enough? Or do the vast sums of money available attract top international talent and it's all merely a reflection of a globalised search for talent?

All these reasons do apply, but there's another one that's rarely ever mentioned in polite company: signing fancy foreigners is a great way to make a little money on the side. Whether it's $2 million, $3 million or $5 million: Who really knows what an Ecuadorian winger is objectively worth, and who cares?

Exotic deals with added layers of inscrutability -- i.e., third party ownership -- provide the perfect vehicle for kick-backs. And what's more, they come with a ready-made excuse. If the player in question doesn't perform, most fans will question his application and willingness to adapt rather than the true reasons behind his acquisition.

token bid
In his magisterial book Broken Dreams, Tom Bower charted a number of cases where players were bought at deliberately inflated prices. But there's also the opposite: a bid so low that it cannot possible succeed.

It's hard to know why exactly token bids are made, but they either stem from genuine ignorance of a realistic valuation or are often a PR exercise in order to show supporters that attempts were made.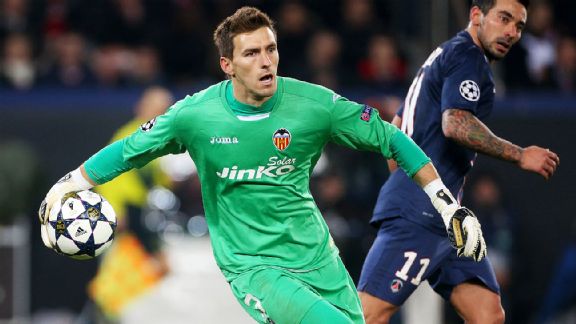 John Berry/Getty ImagesArsenal's insulting bid for Valencia's Vicente Guaita was a way to appease the fans, not strengthen the Gunners' squad.
A good example of the former was Arsenal's five million euro offer for Valencia keeper Vicente Guaita. The offer was turned down flat but never followed up -- which left the Spanish club wondering about the point of it all. Local rivals Spurs have also not been adverse to the odd token bid in the past, preferably on deadline day.

forced divorce
A forced divorce stands for the pressure that is sometimes put on young players to change their agents just before they sign their first big deal with a wealthy club. You might also call it a "shotgun wedding."

At the very least, it's an abuse of power from the buying club -- a favour to a friendly agent and ensure control over the player, for example -- and at worst, it's another wicked way to make sure that the cash flow (see below) finds its way to the "right" people.

cash flow
Supporters like to think that all things being equal, a player will make a rational choice about his destination. But more often than not, the choice isn't really his to make -- the cash flow decides for him.

A classic case involves a young international player who had plenty of offers after shining in a World Cup. His club wanted to sell to an English club due to very close connections -- read: common business interests -- between the club officials on both sides. But his agent wasn't interested. He knew he'd be cut out of that deal, and so the player was moved to a different club in a different league instead. He didn't really care, as his wages would have been same.

This happens much more often than people imagine. (And sometimes, players are not even informed of other offers by their agents.)

second man
Sometimes clubs buy players whose abilities are significantly below those of the rest of the squad. These guys are advertised as "talents," "prospects" or "squad players," but that's not the whole truth.

I know of at least two players who were only signed as an excuse to pay an agent a second commission. In one particular case, an agent had to split the fee for renewing a German international's contract with the player's father. By way of compensation, the club in question agreed to sign a cheap, low-profile player on a small salary.

The second man will effectively sit out his contract or only make the odd substitute appearance in a friendly. Like a lot of things going on in football, this sounds incredible but is actually fairly common practice.

Maxwell
A close relative of the the second man: he's a player who always moves in tandem with another player -- sold as a package deal -- and is actually moderately decent in his own right.