FA Cup fourth round preview: Bournemouth vs. Liverpool
Oh, we do like to be beside the seaside -- especially if there is a sniff of an FA Cup upset swirling in the coastal air. Thirty years after AFC Bournemouth's famous giant-killing on the south coast, a 2-0 win over then-defending cup champs Manchester United in the third round, Bournemouth stand armed once more, awaiting the arrival of Liverpool.

- O'Kane relishes Gerrard challenge

Victory against the Premier League side would probably not be as shocking as that afternoon in January 1984. Then, Bournemouth were 21st in the old Division Three (now League Two) and faced a United side containing Bryan Robson, Ray Wilkins, Norman Whiteside and Frank Stapleton; after repelling the top-flight side in the first half, they blew them away after the break. Fresh-faced, flaxen-haired Bournemouth manager Harry Redknapp watched from the sideline, his stock rising with each passing minute.

This was a United side that would beat Barcelona in Europe two months later -- a Barcelona with Bernd Schuster and Diego Maradona, no less -- before losing their UEFA Cup Winners' Cup semifinal to Michel Platini's Juventus. Yet the FA Cup proved its worth once more as one of football's great levelers; just like Hereford United and Sunderland before them, and Sutton United and Wrexham after them, the cup offered something inexplicable, a story barely believable. Some may call it magic.

The biggest testament to the work current Bournemouth manager Eddie Howe has done in his two spells at the club, and the progression by the club as a whole, is that a win for the Dorset side on Saturday would not be inexplicable. It would be a shock and branded a giant-killing, granted, but that does disservice to how Bournemouth has grown over the past few years.

When Howe took charge of Bournemouth on a permanent basis in January 2009 -- becoming, at the age of 31, the youngest manager in the Football League -- the club were 10 points adrift of safety in League Two, and nonleague football (plus subsequent liquidation) seemed inevitable. By May, Howe had led them to 21st; by January 2010, a year on from his appointment, the club were second. Promotion would follow, before Howe moved to Burnley in January 2011; 18 months later, he returned to Dean Court and won them promotion into the Championship in his first season back.

It's an impressive rise. But although they are a progressive club that play attractive football, and one determined to get into the Premier League, they are still trying to establish themselves among the upper echelons of league football. Before this season, they spent just three years in England's second tier before relegation under Redknapp in 1990. Not since that 2-0 win over United, 30 years ago, will players of such standing have lined up against Bournemouth in a competitive fixture; for all the strides forward, the presence of Luis Suarez, Steven Gerrard and others will take them aback.

"There's a real buzz about the place; everybody is really looking forward to it, especially around the town. But we need to remember we have a job to do," midfielder Eunan O'Kane tells ESPN FC.

O'Kane, 23, has flourished under the tutelage of Howe. Primarily an attacking midfielder at former club Torquay, he has been utilised as a deep-lying playmaker under Howe -- a position he fulfilled whilst a trainee at Everton. The Derry youngster was influential in the 4-1 win over Burton Albion in the third round, a game played in the knowledge that Liverpool awaited the winner.

"It was something the manager tried to not let us think about; he tried to get us away from thinking about that before the game, and he wanted us to solely concentrate the game," says O'Kane. "The last thing he wanted to happen was for us to lose to Burton and miss out on such a big occasion. Thankfully we won the game -- we knew we had a carrot dangling to reach for and we put on a good performance and grabbed hold of it."

The dangling carrot of facing the five-time European Cup winners for the first time since 1968, when they were known as Bournemouth & Boscombe Athletic, is something midfielder Shaun MacDonald also mentions. MacDonald was a key part of the side when Howe took charge last season, featuring in every game, before suffering ankle ligament damage in December.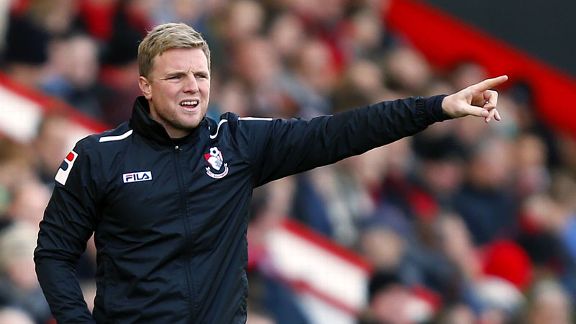 PA PhotosEddie Howe returned to Bournemouth as manager in October 2012.
"It's the FA Cup, we've seen it before and anything can happen. When Burton came, we knew it wouldn't be an easy game. We had to prepare right mentally for it and we had a game plan which we were successful with," MacDonald tells ESPN FC.

"There was a little bit more pressure on that game, with it being called off made it slightly worse for us, and then having that draw [against Liverpool] -- it was a carrot dangling for both teams. The lads who played that night went out and did their jobs."

With the tie confirmed, the magic could begin. Supporters queued throughout the night ahead of the ticket sale, with thousands turned away disappointed. The phone of the press office has hardly stopped ringing, and probably still rings now. Dean Court stands still, all 12,000 seats taken, in anticipation for their worldwide television audience.

Both O'Kane and MacDonald typify the mentality of such a cup tie. Excitement is harnessed by acknowledgement of the task ahead; realism is engulfed by optimism. For every shock Liverpool have succumbed to in the FA Cup, from Barnsley to Oldham, there are also the wins like Havant & Waterlooville and Luton in the past decade.

Howe is an astute thinker, a trait common in managers whose playing careers are cut short (Howe retired as a player at age 27 with a knee injury). It reflects in his team's style of play and decorum; for example, the two midfielders' words are considered, and they possess the clarity of thought the young manager demands. For Bournemouth, it is a chance not only to weave themselves into the tapestry of FA Cup folklore, but also to simply prove a point.

"Since the gaffer has come back from Burnley, he's put his own stamp on our style of play," says MacDonald. "I did an interview previously speaking about Brendan Rodgers, who I worked under at Swansea, and they both know what kind of football they choose to play. I'm sure it will make an exciting game for both teams on Saturday."

O'Kane agrees: "We try to play a good brand of football down here; we try to pass the ball, and it won't be any different on Saturday.

"It's a huge occasion on the television, and it is an opportunity for us both as individuals and a club to show people the way we can play, and kind of set down the marker of wanting people to hear the name Bournemouth and make them think of a good footballing team."

They most certainly are a good footballing team. Currently 16th in the Championship, their season of consolidation has been permeated with good football by an exciting mix of youth and experience. Young players like defender Steve Cook (age 22), midfielder Harry Arter (24), top goal scorer Lewis Grabban (26) and O'Kane himself are supplemented by more experienced players like Simon Francis, Elliott Ward and two other squad members with top-flight experience, Richard Hughes and Ian Harte.

It will create a strange dichotomy on Saturday. Most cup shocks are associated with boots meeting bone and balls endlessly in the sky on pitches that resemble farmyards, but that isn't really Bournemouth. The biggest problem may be the expectation that comes with being on television, with an expectant audience wanting to see Suarez clattered within 30 seconds and the Reds' defence suffer aerial bombardment.

"It's always the same when you come up against a Premier League team in the FA Cup; the neutral always seem to support the underdogs," says MacDonald. "There will be a lot of people on our side supporting us; we've got to go out and be mentally prepared for the game. We're up against some very good players and a big club, which we know, so we have to be ready for the game, and I'm sure we will be."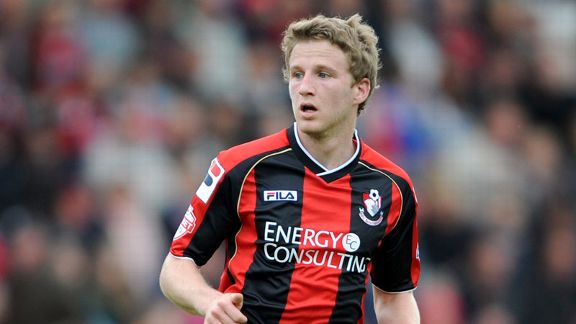 PA PhotosEunan O'Kane signed for Bournemouth from Torquay United in 2012.
MacDonald, who has been capped by Wales at international level, was one of those who played against Real Madrid in a special friendly match in the summer. Despite tickets being priced at 60 pounds, 12,000 fans watched Real's 6-0 win with a team that included Cristiano Ronaldo, Mesut Ozil, Luka Modric and Isco. Little did they know at the time, but it offered a chance for Bournemouth to prepare -- both logistically and mentally -- for the arrival of Liverpool, another of Europe's giants.

"Real Madrid in the summer was a little bit different, one of those games which is more of a warm-up game, and it was more out of the blue," recalls MacDonald. "We've had time to prepare for this one; we've worked hard all week and will continue to do so. Hopefully we will go into the game on Saturday, be positive and cause a few problems."

But preparation can never be enough with regards to the media attention. For the Championship side, most players have a story and a reason why facing Liverpool is a special occasion. For Welshman MacDonald, he will face Rodgers, the manager who sanctioned MacDonald's sale from his boyhood club Swansea to Bournemouth. There are clearly no hard feelings.

MacDonald says: "Unfortunately, I didn't get much game time under him, but he's a good man, an honest man, and as a manager he respects each and every member of his squad, whether you were in the team or out the team. That goes a long way. I've got a lot of respect for him.

"The way our gaffer works is similar to the way Brendan worked at Swansea. The record speaks for itself and he got us promoted the first season he came back here. Obviously for Brendan, he did such a good job for Swansea. They were known for their playing style, and then when he came in he put his own little twist on things, and obviously proved to be successful and move on to a massive job at Liverpool."

For O'Kane, he is a boyhood Liverpool fan and used to attend Champions League fixtures, despite being a youth player at rivals Everton.

"I'm a Liverpool fan because my dad was a Liverpool fan -- I don't think I would have been allowed to support anybody else," O'Kane recalls. "I've got pictures of me at home with shirts on when I was 3 or 4 years old, so I'm quite a big fan and tried to follow them the best I can. It will be a real honour and privilege to get a chance hopefully to play on Saturday."

That both players speak so warmly of their opponents on Saturday demonstrates the sort of respect Howe asks of his players, and the respect Liverpool will be afforded. But they will not show too much respect -- indeed, that is usually the defining aspect of whether a cup upset happens or not. "Anything can happen in football. The FA Cup is the FA Cup; over the past few years you've seen upsets, and I'm sure the neutrals will probably be rooting for us," says MacDonald.

He isn't wrong. Bournemouth want to make it to the fifth round of the FA Cup, of course; but with so many neutrals watching, this also appears to be an opportunity to show just how prepared Bournemouth are for the big time after time was almost called on their existence. It's an opportunity, you fancy, they will take. This could be a giant-killing, but just not quite how you know it.