What next for Manchester United in January?
Wednesday night's catastrophe suggests that Juan Mata has something of a job on at Manchester United.

Beyond jolting the team's flat-lining creativity, defeat to Sunderland supplied a litany of tasks he might have to fulfill. Penalty-taking leads the list, as might goalkeeping, plus mopping up Adnan Januzaj's tears. Mata joins United as close to rock-bottom as is possible for a club coming out of two decades of unprecedented success.

- Okwonga: Sunderland, Mata and metaphors
- Jolly: Mata - a role model at United

Since the dawn of 2014, the need for a redux at Old Trafford has been starkly apparent, but which form it takes is still to be decided. There is under a week of the transfer window to go, and while panic buys must be avoided at all costs, emergency surgery may be required if United's sole remaining target of Champions League qualification is to be reached. Which route will David Moyes, Ed Woodward and the Glazer family take?

Break the bank?

Depending on your newspaper of choice, United are going to spend 200 million pounds, 150 million pounds or nothing at all. Mata's arrival at least negates the last of those. Yet gaping holes in the team need filling, starting at left-back, where Alex Buttner has proved that he is the unacceptable face of Patrice Evra. Meanwhile, the sometime captain's showing at Stamford Bridge surely signalled that this will be his last season at United. He might even be replaced now.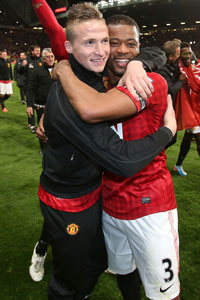 GettyImagesDavid Moyes is in desperate need of a new left-back, with Alex Buttner and Patrice Evra both expendable.
Replacements will be expensive. Leighton Baines is staying at Everton and would have cost 20 million-plus pounds. Luke Shaw is wanted by all of the big clubs, is priced at 25 million pounds or so by Southampton, and is a childhood Chelsea fan. This means a continental option is most likely, and even then, will cost a fair whack. Moyes' scouting missions to see Atletico Madrid have perked his interest in Brazilian Luis Filipe, with estimates placing his value at 20 million pounds.

Someone to win the ball and give it to Mata is perhaps most crucial of all if the Spaniard is to become a success at Old Trafford. United's interest in Arturo Vidal will cost them a Mata-sized fee to come to fruition, though Juventus have always been a club willing to do business, and there is no Champions League campaign for Vidal to stay on for.

A similar price will be required to land Paul Pogba from the same club, a highly unlikely deal, considering the bad blood of his original departure. Sevilla captain Ivan Rakitic has ruled himself out of a move to England, though his club are usually happy to sell. At 40 million euros, it is small wonder. Mata's signing probably ruled out a move for Newcastle's Yohan Cabaye, too.

Borussia Dortmund's Ilkay Gundogan is the type of all-action player that United have long lacked. Even though he has just 18 months left of his contract, he is valued at £25 million, while Real Madrid also have him in their crosshairs.

Such midfield players are gold dust in the current market, and especially the truncated January window. Buying in Spain is even more problematic. Going back in for Ander Hererra would mean United having to pay Athletic Bilbao the 36 million pound buyout clause they refused to pay in August, plus a further 20 per cent VAT payment. That same logic goes for Koke at Atletico Madrid, now with a buyout of 50 million pounds, which may mean a 60-million-pound deal before wages are even considered.

That midfield sextet would undoubtedly improve United, but all would cost an eye-watering premium from clubs probably unwilling to sell mid-season. However, paying the money now could prevent tears before summertime.

Limited liability options

If Mata has already blown the January budget it does not necessarily mean that fresh meat cannot be brought in. The loan market, which has rather ironically made Moyes' former club Everton into a contender, might be plunged into.

Fabio Coentrao leads the potential list loanees and would fill the problematic left-back spot while offering options in midfield and on the flanks. A fortnight ago, it looked as if the Portuguese international would finally be completing a loan that first fell through at the witching hour of the last transfer window. The trail has gone cold since, but the player remains open to the move, and United have far more time to get the deal done this time. Mistakes like those made in August cannot be repeated, surely?

Problematic for United here is that, unlike Roberto Martinez's finishing school at Goodison Park, the clubs they would be looking to borrow from would consider themselves competitors. Loaning from Real Madrid is fine, but smaller concerns want access to the dollar signs that Manchester United signify to most. Even Coentrao would result in an eventual deal that would cost more than 15 million pounds.

Make do and mend beyond Mata


GettyImagesJuan Mata's arrival could be the death knell for Shinji Kagawa's Manchester United career.
This being a Glazer-era United, there is the distinct possibility that they closed the books once the marquee signing helicoptered into Carrington. Beyond that, any further business may have to be funded by sales. Shinji Kagawa would seem to be the player most at risk from Mata's arrival and is a wholly sellable asset, even in the light of his problems at United. Many clubs crave the marketing opportunity that a Japanese player might bring. And Kagawa, given an apt stage, remains a player of considerable potential. Javier Hernandez may attract Hispanic interest, but is not the high-value asset he once was.

Beyond that, very few other United players would seem likely to raise much in the way of cash, which probably means that Moyes is probably stuck with the group he has, a horrifying portent for many, perhaps. Still, he should soon be welcoming back Wayne Rooney and Robin van Persie, the two players whose link-up with Mata will provide the key to United getting back into the race for fourth place.

Mata should reduce a burden on Januzaj that was apparent over the matches with Chelsea and Sunderland. Such a talent needs nurturing, not over-exposing. Moyes, somehow, has to wring the last from the likes of Evra, Nemanja Vidic and Rio Ferdinand, while gradually phasing out the pairing of Michael Carrick and Darren Fletcher.

Those veterans have to lead the list for summer clear-out.