Germany the winners in football's finance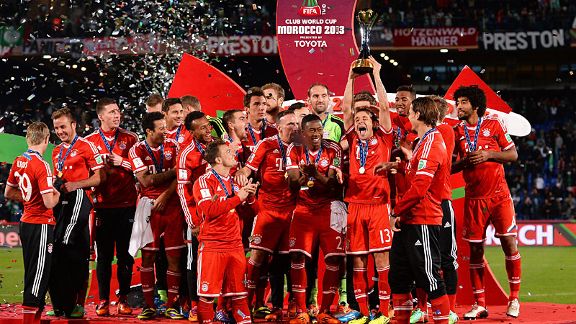 GettyImagesBayern Munich lift the Club World Cup.
The German football financial model is working, according to the latest Deloitte Football Money League, as Bayern Munich rubber-stamped an impressive treble-winning season by becoming the third richest club in world football.

The announcement of the money league table Thursday capped a difficult 24 hours for Manchester United, who dropped out of the top three for the first time in the 17-year history of the table less than a day after being dumped out of the Carling Cup on penalties at home to Sunderland.

While Man Utd's financial success in 2012-13 saw them grow revenues by 13 percent to 363.2 million pounds, last year was a bust as unfavourable currency exchange rates for sterling alongside a failure to win the league in 2011-12 appeared on the books.

But with Premier League TV money set to increase for next year's money league table, alongside a number of new commercial deals, the Premier League champions' ability to climb back above Bayern Munich next season remains a possibility.

Bayern's revenue increase is built on solid foundations. The club keep matchday prices low and earned almost 10 million pounds less in TV revenue than Man Utd despite winning the Champions League, but earned 194.7 million pounds in commercial activities. This was only surpassed by Paris St-Germain, whose commercial revenue of 209.3 million pounds is skewed by Middle Eastern sponsorship deals after being taking over by Qatari investors in 2011.

To highlight a successful financial year for German clubs, Borussia Dortmund (up one place to 11th) and Schalke (up two places to 13th) solidified their places in the top 20 after very strong showings in the Champions League, while Hamburg (up three places to 17th) enjoyed considerable commercial success, which accounts for exactly half of all revenue.

While Paris St-Germain were the biggest mover in the league -- up five places to fifth -- thanks to the influx of Middle Eastern money taking hold, it is the two Turkish giants that are the biggest story.

Despite a match-fixing scandal in Turkey, both Galatasaray and Fenerbahce highlighted a growing financial maturity with revenue growing 15 percent and 22 percent respectively. Both benefited from a healthy improvement in TV revenues and better management.

Meanwhile, in Italy, the focus continues to be on the lack of stadium ownership in Serie A. Juventus continue to be the only club to own their own stadium outright, after moving back to a new home on the site of the old Stadio della Alpi in 2011.

The "old lady" of Italian football moved above her rivals in Milan -- AC (10th) and Internazionale (15th) -- into ninth place with an almost 30 percent increase in total revenue from the previous year. The two Milanese clubs are among five Serie A sides -- alongside Lazio, Roma and Sampdoria -- who have expressed an interest in moving to new stadia, but have so far been thwarted by a combination of a lack of finances and pushback from councils who own their existing homes.

The concern is such in Italy that the country's president, Enrico Letta, is hoping to push through legislation to help clubs redevelop. Concerns that the poor state of Italy's stadia is fostering hooliganism has led to calls for Curvas -- the stands behind goals often frequented by Ultras -- to become family stands, similar to the English model.

Despite the fall of Manchester United, English Premier League clubs continue to dominate with six clubs in the top 20 -- although with varying degrees of success last season. Manchester City's revenue rose 15 percent to 271 million pounds, which saw them leapfrog Chelsea (seventh) and Arsenal (eighth). Both Chelsea and Arsenal continue to struggle to grow commercial revenue with the London clubs managing to accumulate just 32 percent and 28 percent of their revenue respectively from commercial enterprises, which compares poorly to Manchester United (42 percent) and Manchester City (53 percent).

Liverpool (11th) fared much better in commercial revenue -- generating 47 percent of their income -- but continued absence from the Champions League has seen them fall out of the top 10 for the first time this century. The sixth biggest club in England, Tottenham (16th), continue to play catchup with commercial revenue (31 percent of total income) and even saw a small drop in matchday revenue despite an extended run in the Europa League.

But the real story of football's finances is hidden from the figures announced Thursday -- and that continues to be the net debt saddled by the top clubs in the world. It is the core reason for the success of the German clubs.

While Bayern, Borussia, Schalke and Hamburg continue to be debt free, Man Utd just below the Champions League winners in the table are saddled with 277 million pounds of net debt, which cost them 71 million pounds to service in 2012-13. But that debt is small compared to the top two clubs in the money league -- Real Madrid and Barcelona. Both enjoy unprecedented TV revenues thanks to being allowed to negotiate their own deals separate to the rest of the Spanish Primera Liga (154.6 million pounds each) but Real Madrid have a net debt of 443 million pounds, while Barcelona must service a net debt of 363 million pounds.

The two Spanish giants, though, are facing heavy pressure from the rest of La Liga to agree to collective distribution of TV rights. Francisco Rocca, the chief executive of La Liga, promised collective distribution within three years at a conference last year.

"We have to solve the distribution system; 35 teams have signed a contract to redistribute the money," he said. "Barcelona and Real Madrid have agreed to lower their take to 34 percent from 42 percent. It is a step in the right direction. Once we get an overall agreement the rest will be easy. We will get the rights in-house within three years maximum."

With the continued squeeze on the Spanish clubs' TV revenue, which constitutes a significant portion of their wealth creation (36 percent, Real Madrid and 39 percent, Barcelona), and the arrival of the new Premier League TV money on to next year's balance books, the 2015 edition of the Deloitte Football Money League may look very different.

"For the 2015 edition we expect to see all Premier League clubs reporting healthy revenue growth on the back of the first year of the latest lucrative Premier League television contracts," said Dan Jones, the Deloitte partner who edited the Money League Table.

"Liverpool and Tottenham Hotspur may be expected to move up the rankings. In fact, it may well be that in next year's edition there are a record number of clubs from one country in the top 20 (current record: eight), with Everton, Newcastle United and West Ham United all likely to challenge for a top 20 position."