Unpacking the reported Juan Mata, Man Utd deal
Juan Mata's transfer from Chelsea to Manchester United could be wrapped up in the next 24 hours. Or it could be axed -- just as previous moves away from Stamford Bridge were shot down -- if Chelsea's proprietor suddenly changes his mind.

Here are seven thoughts on what may come to pass.

One: We've heard time and again how selling to a direct Premier League competitor is a mistake. Other have argued how if Chelsea agree, they must not view United as a direct rival. But in this day and age, it's all nonsense. Let the market do its thing. Yes, if Mata goes to United and scores a hat-trick against Chelsea, the punditocracy will say, "Hah! What fools? See? You should never sell to a direct rival!"

- Delaney: Utd offer 35 million pounds
- Payne: Is Juan Mata the answer?
- Lythell: Mata sale silly for CFC
- Cox: Mata, Mourinho tensions

Funny, though, how if Chelsea take the proposed Mata fee (latest quote: 45 million euros, approximately $61 million) and use it to buy someone who then scores a hat-trick against United, nobody is going to rise up and make that same argument. Nobody is going to bleat: "See? They should have never bought a player from a direct rival! That was United's $61 million that ended up buying the guy who scored that hat-trick!"

Players are commodities. So is cash. If the price is right, you sell or buy, no matter what idiocies the media comes up with.

Two: Another idiocy going viral is the idea that because David Moyes lacks Sir Alex Ferguson's charisma, they'll face all sort of problems attracting players to the club.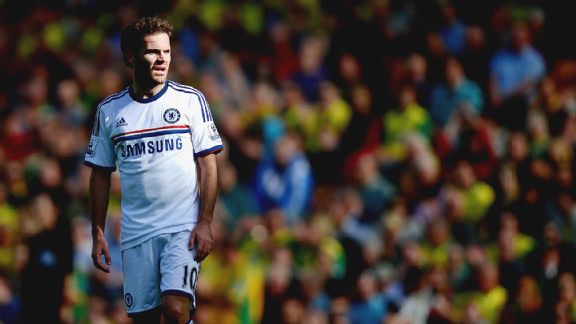 Jamie McDonald/Getty ImagesJuan Mata's move to Man United would make sense for many reasons.

Let's get this straight. The idea that top footballers will look at Moyes and scrunch up their noses is folly. Unless there's a prior history there (good or bad), the identity of the manager is at the bottom of their list of criteria, well behind salary, length of contract, prestige of the club -- and, in this case, it's still Manchester United and the Premier League and 75,000-plus fans at Old Trafford every week -- and playing opportunities.

Probably in that order, in fact.

Three: As long as Jose Mourinho is at the club, this is a good deal for Juan Mata.

The Spanish attacking midfielder is happy in London and at Chelsea. He's genuinely attached to the club and the fans. But, equally, this is a World Cup year and simple math comes into it: Spain are absolutely stacked with talent, he's on the fringes as it is and needs playing time to make his case -- or he won't be going.

Mata didn't push for a move in August for several reasons: he thought he could convince Mourinho to give him more playing time, he is not (and does not want to be seen as) a troublemaker and because Chelsea's owner, Roman Abramovich, wanted him to stay. He's not pushing for a move now, but he knows that this is a great opportunity to move to another big club and get the playing time he needs.

Four: This is a great deal for Chelsea.

It's not often you can shift a guy who is surplus to requirements -- and, as long as Mourinho is in charge, he certainly is, rightly or wrongly -- and get more than $60 million back. For a club with serious Financial Fair Play issues -- we'll know in April how UEFA plans to proceed -- this is a very good offer.

Mata is 25, and though you're always playing percentages, right now at that price, you bite United's hand off. Come the summer, if Mata's playing time doesn't suddenly spike up and he doesn't go to the World Cup, his transfer price will plummet.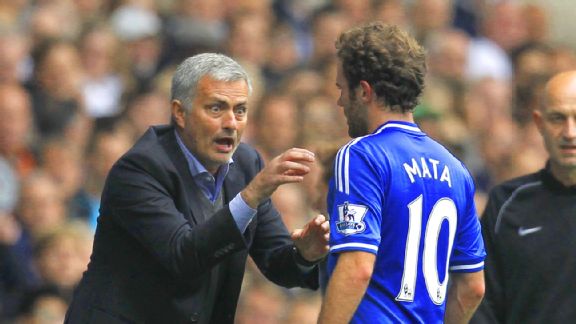 Ian Kington/Getty ImagesJose Mourinho's arrival at Chelsea saw the end of Juan Mata.

The problem with players in Mata's bracket is that because of their wages and fees, there is a very limited number of clubs who can afford them -- no more than eight or nine. And if for one reason or another they don't need someone with his characteristics or simply don't fancy him, you're looking at the next tier down of destinations. Once you're in that neighborhood, you're dealing with offers of $30 million ... max.

Five: For United it means one of two things. Either there is something we don't know or the thinking is as cloudy as ever. I'll get to United's possible "unknown unknowns" in the next point, but for now, this does not look like a particularly clever deal.

First off, there's Financial Fair Play. United are extremely compliant -- along with the likes of Arsenal, Bayern Munich and a few others -- but many are not. April could well turn out to be a rude awakening for many folks around Europe, and that could lead to a load of talented players suddenly becoming available at a cut-rate price.

Frankly, Mata is no different. If you wish to sign him, why not wait until June? It's not as if his price is suddenly going to go up. And if someone does come along and try to grab him now, you always have the option of jumping in there and bidding against them.

The broader question is where Mata fits in with Moyes' tactical vision. He has done his best work playing behind a striker. He can also play wide, but unless it's a possession-based system with little pressing or defensive work, it's not an ideal position for him. Moyes doesn't play that way, and even if he decided to overhaul his philosophy, you wonder about why you would do it in midseason when there is little time to train and work on things.

OK, so Mata is behind the striker. Which means, once everyone is fit again, that he's in a 4-3-1-2, tucked in behind Wayne Rooney and Robin Van Persie.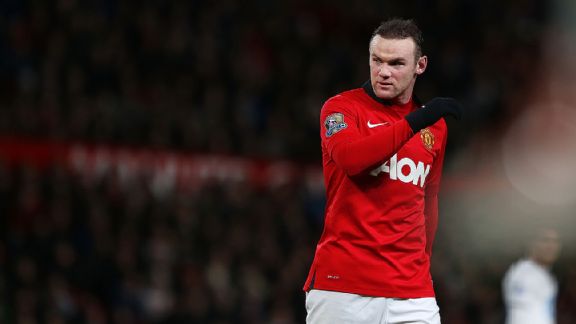 Matthew Peters/Man Utd/Getty ImagesDoes a move for Mata mean that Wayne Rooney is on the outs?

Now, a 4-3-1-2 means you need central midfielders -- good ones -- who can defend and attack. And yet central midfield is United's weakest, thinnest position. To play three in the middle means you need at least five viable options in your squad. United are nowhere near that, which means bringing in two or more likely three new faces in the middle of the park. And that means more spending at a time when you also need to deal with the back four, given the contractual situations of Patrice Evra and Nemanja Vidic.

The other issue is that you're changing systems at a time when you already have a squad full of wingers: Nani (who got a nice four-year deal back in September that ties him up through 2018), Antonio Valencia, Adnan Januzaj, Ashley Young and Wilfried Zaha. Plus Shinji Kagawa, who is either destined to be Mata's backup or another wide player on a team that won't have any.

Selling these guys for anything close to market value is tough when they're on sizeable contracts and they're not getting playing time.

Then, there's Januzaj. What's the plan with him? If he's being groomed as a winger, then playing on a wingless team won't help. If it's as an attacking midfielder, then he'll have a 25-year-old club record signing in front of him.

Six: All of which brings us to the "unknown unknowns," factors we don't know about that might help explain United's approach. We're in the realm of speculation here, so none of what you're about to read may be real.

It could be that they've written off Rooney and that, in fact, the plan is to go 4-4-1-1 or 4-2-3-1. He has less than 18 months remaining on his contract; this is the point at which you either extend his deal or sell him. And if you wait until the summer, you'll get less than market value because he'll be close to free agency.

So you get what you can for Rooney (not much, maybe $30 million given his contract) and get his salary off the wage bill. He's already been linked with Real Madrid, though my understanding is that this is a one-way link: Real's preferred options for next season remain Sergio Aguero and Luis Suarez.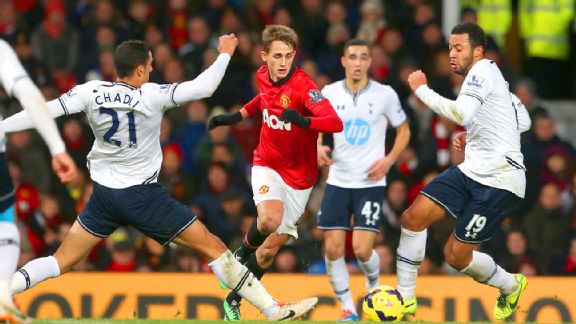 Matthew Peters/Getty ImagesOne possible downside for a Mata move is its impact upon some rising United stars like Adnan Januzaj.

It could be that van Persie's injury is more serious than we imagined and they're preparing themselves for life without him. Mata would be insurance; if the Dutchman is out, you play Mata behind Rooney and you're fine. Or it could be some combination of the above.

Seven: Or there could be another justification. Moyes simply wants to bring in quality. Because systems and tactics are all fine, but it's players who go and win games. And there's a simple, over-arching equation: the more good players you have, the better you do. It's a simplistic, dumbed-down, totally unsophisticated approach. But sometimes the simple plans work best.

Get Mata in. Get another solution while van Persie and Rooney are injured. Start winning games and moving up the table. Even out of position out wide, he'll be better than anything United have now. At least that way you'll have a better shot at getting into the top four, which after all is just six points away.

The fixture list works in United's favor as well. Forty points, maybe even 35, in their remaining games will get you in the top four. And with Mata, it becomes possible.

Then, you've finished top four in your transition year and possibly going deep into the Champions League (United face Olympiacos in the Round of 16). All of a sudden, things don't look so dire. And you can dive into the summer war chest with confidence.