David De Gea's crosses to bear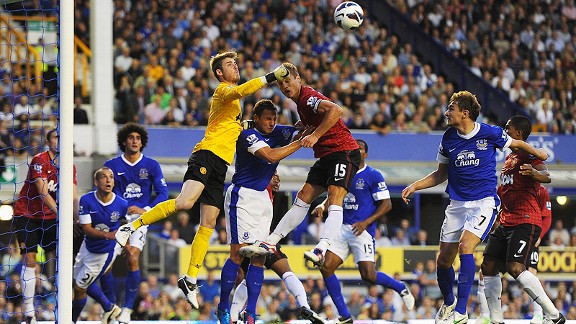 Michael Regan/Getty ImagesDavid De Gea was brought to Old Trafford to be the starter between the sticks, but things haven't quite worked out that way.
It's not easy to admit you made a mistake. The geniuses behind the Atari 2600 version of "Pac-Man" no doubt thought they had a killer product, only to watch it bring the video-game industry temporarily to its knees. The "Star Wars" prequels sounded amazing, then midi-chlorians happened. And I'm still waiting for a personal apology from Mike Ness for incorporating rock star-style background female vocals on Social Distortion's latest album.

The best-laid plans and all that. Which makes you wonder: Will Sir Alex Ferguson reach a point at which he provides supporters with a mea culpa over keeper David De Gea? Or are we to buy into this notion that "keeper rotation" is the new world order at United between De Gea and Anders Lindegaard? (Much like AVB has suggested there will be rotation between Hugo Lloris and Brad Friedel, though this seems to be more a case of keeper transition, from old to young.)

There's no question that the Spanish goalkeeper is a world-class shot-stopper. If he's called into a reflex save -- that nanosecond when the body takes control of the mind -- he is brilliant. But as we saw (again) during United's last league match before the international break, as soon as De Gea has to decide how to handle a cross -- that nanosecond when the mind takes control of the body -- he is cringe-worthy. The legendary Martin Tyler, not one to be overly critical of anyone, even cracked wise on more than one occasion that De Gea was "flapping at the wind."

Is keeper rotation the solution?

It's "bulls---," said Kasey Keller via telephone. Keller played in a number of leagues during his career, including in England (for clubs such as Spurs and Fulham) and in Spain with Rayo Vallecano. "It's a term a coach will use to the media so he doesn't slam a player … [United] spent money on [De Gea] and he hasn't performed. I think it's a case where they don't want to leave him out there long enough where he plays so bad that everybody -- fans, press -- turns on him. United still think he's young and obviously think there's something there. But I think if he was playing well, there wouldn't be any keeper rotation."

In their search for the next Peter Schmeichel, Ferguson & Co. should be applauded for taking a chance on someone who, at 21, has a huge upside. Yet with each passing gaffe, you wonder if he'll be the next Fabien Barthez, who was decent enough but seemed to wilt in the limelight, or Tim Howard, who, after his error-prone ways at Old Trafford, has become Everton's rock between the sticks.

Besides, De Gea came from the less physical La Liga to one in which teams like Stoke -- United's opponent at Old Trafford on Saturday -- treat the penalty box as their personal dojo. A learning curve was inevitable.

"He's struggling, but I don't find it that surprising," said Shaka Hislop, former keeper at Newcastle and West Ham, among other clubs. "I think as he fills out, as he matures both mentally and physically, he will deal with set pieces better. He'll never be great, but I think he'll eventually be Premiership quality."

United can only hope De Gea grows quickly given that the league title race is looking more competitive than ever with City, a re-invented Chelsea and a re-invigorated Arsenal. The keeper will likely continue to get more opportunities in the Champions League, where there's less hurly-burly in the box (already Ferguson has selected De Gea for United's first two UCL matches).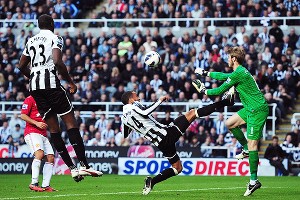 Stu Forster/Getty Images"United will stick with [De Gea]," said Shaka Hislop. "I think they have to. They've put a lot on the line with him."
How does De Gea stack up against Lindegaard? Not a lot separates them. Last season, Lindegaard played in eight EPL matches, with three goals against and 21 shots on goal, saving 18 for an 85.7 percent successful save rate. De Gea saw plenty more action: 29 league matches, 28 goals against and 130 shots on goal, saving 102 for a 78.5 percent successful save rate (sixth-best in the Prem). So far this season in the league, De Gea has played three games (13 saves, one clean sheet) and Lindegaard four games (nine saves, one clean sheet).

But like many keepers, De Gea needs to develop not just physically but also that little bit of crazy to control his turf -- and his own defenders. Perhaps constant listening to "Search and Destroy" along with required reading of Lester Bangs would do the trick. Get nuts. Whatever, United need less of what happened when they played Fulham in August. During the match, Nemanja Vidic scored an own goal on a ball that was crossed into the box, causing confusion. De Gea was miffed (though not entirely free of blame), and when he attempted to confront Vidic, it took only a chillingly cold stare from the Serbian to send the keeper back into his net like a scolded puppy.

De Gea's level of intimidation will rise only after he has the full respect of his defense.

Interestingly, while crosses are a bigger part of the game in the EPL, De Gea has faced fewer of them since moving from Atletico Madrid. In his final season there, 2010-11, he had to contend with 796 crosses. He was ranked No. 10 in crosses claims (54), and his percentage of crosses handled successfully was perfect in 38 games. In his first season at United, 2011-12, De Gea faced 562 crosses, claiming 29 of them. He misplayed four crosses, second-worst in the league. What's more, De Gea's percentage of crosses handled successfully dropped to 92.6 percent, trailing the likes of Arsenal's Wojciech Szczesny (96.4 percent).

Compare De Gea's numbers to his predecessor, the revered Edwin van der Sar, whose crosses handled successfully was a glittering 98.1 percent in his last season for United, 2010-11.

It's a double-edged sword, this keeper rotation: De Gea is not starting every game, which only magnifies the mistakes. "You're supposed to be at the top of your game when you're starting for Man U," Keller said. "I remember at one stage, when I was at Spurs, and Tim [Howard] was at Man U, about halfway through the season, I had three times more saves than Tim. It's the nature of the beast. But because of that, when you make a mistake, it's highlighted even more. If he has to make two saves in a game, and misses one and United draw because of it, they're going to look hard at that.

"When you're at Man U," Keller added, "it's easier for them to say, 'Look, you're not going to have to make that many good saves, just don't make any mistakes.'"

For his part, Hislop experienced the dreaded keeper rotation during his time at Newcastle, when he and Pavel Srnicek took turns between the sticks at Kevin Keegan's direction. "I don't think it did either of us any good," Hislop said. "I feel you need a clear No. 1, so that when you're left out it's so you can rest, as opposed to the other guy getting a chance to prove his worth. … Rotation can make you play within a shell a little bit, be more reserved, because you don't want to make that mistake that could cost you your starting spot."

Rotating keepers is a tricky business. Teams can ride out the cold streaks of their strikers, but a keeper off-form can quickly turn into a train wreck for the entire team. Good for entertainment (ah, Calamity James), bad for supporters. "You run the risk of unsettling both keepers," Hislop said. "The one getting the start is under a lot of pressure; the one who isn't might be getting approached by another club." In other words, the situation puts a premium on Ferguson's man-management skills.

One of his former players, Gary Neville, suggested that Ferguson let the back line take care of all crosses, leaving De Gea rooted on his line. It would bring consistency to set pieces, but with the unsettled state of United's defense, that might not be an option, and certainly not until Vidic returns from injury.

Until something is figured out, De Gea will have to prove his worth. "United will stick with him," Hislop said. "I think they have to. They've put a lot on the line with him."

"You need a different kind of mental toughness at a place like United," Keller concluded. "But eventually you might just see him back on a plane and they go in for someone else. It won't be the first time they blow it up and start over."