Jovetic proving to be City's third wheel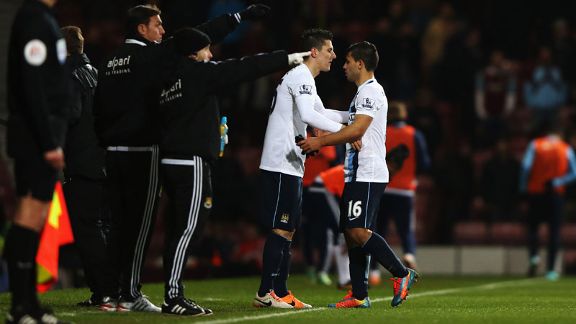 GettyImagesStevan Jovetic is back at full fitness, but will he get in the team?
It is a medical mystery. How does a stomach bug develop into a hamstring problem? If the answer is elusive so, too, has been Manchester City summer signing Stevan Jovetic, who succumbed in such a strange way that, when sidelined by illness, he developed an injury and only returned six weeks later.

If it seems rather odd, then so, too, does the Montenegrin's City career. It is never an encouraging sign when a player's peak for his employers comes in a friendly. Rewind to July: Jovetic made an auspicious start to life in City colours, creating two goals as they raced into a 5-0 lead in preseason against AC Milan.

Six months on, the only other real illustrations of his quality have come for Montenegro, in a valiant attempt to take a country with the population of 620,000 to the World Cup. Jovetic -- who was among Serie A's most accomplished attackers, who Rafa Benitez wanted to take to Liverpool as a teenager, who interested Arsenal and Juventus last summer, and who cost City 22 million pounds -- has been conspicuous by his absence.

The lesser-spotted striker made a belated reappearance as a replacement in City's Capital One Cup tie at West Ham on Tuesday. By default, it has become his competition. Two of his three starts have come in the junior domestic cup, even if the last, at Newcastle in October, spanned only 10 minutes. So have both of his goals, during his nondescript display in the 5-0 thrashing of Wigan. The only other game he started, the 0-0 draw at Stoke in September, seemed a culture shock for Jovetic and manager Manuel Pellegrini alike.

And, barring a couple of forgettable cameos, that is the full ledger of his time at City. Jovetic has had as many starts as injuries. If the latter are inherently unfortunate, the amount of time the Montenegrin has spent sidelined seems suspicious, not least to City.

Perhaps Pellegrini's most pertinent comment was: "I always believe that a player cannot do it unless he feels he can do it." It was a hint that comebacks are not postponed for physical reasons. Fiorentina fans nicknamed Jovetic "Il Bua" for his low pain threshold, and he has appeared to lack confidence in his fragile frame.

At least when he sat out the entirety of the 2010-11 season, there was a legitimate explanation: He had an anterior cruciate ligament injury. At City, where lesser problems have pockmarked his campaign, he has veered between forgotten man and curiosity since October, appearing an expensive irrelevance.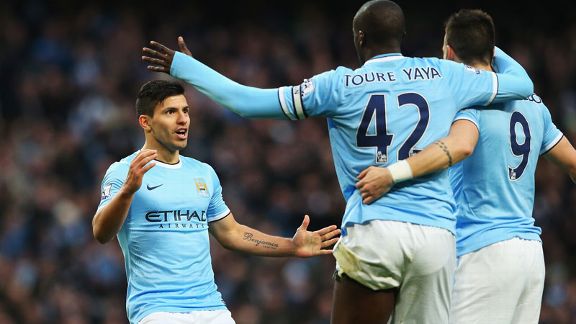 PA PhotosManchester City have a number of players who have got them goals.
It is probably only the extraordinarily prolific form of Sergio Aguero, Edin Dzeko and Alvaro Negredo -- 60 goals between them and counting -- that has saved Jovetic from being bracketed alongside Erik Lamela and Marouane Fellaini among the season's worst signings.

Jovetic is also among the strangest, particularly when a combination of considerable wages and a sizable fee are factored into the equation. City boast a surfeit of riches in the striking department. If the intention was to assemble a quartet with different attributes, defender Micah Richards outlined their various qualities thus: "Sergio has pace and power. Edin is a good finisher and good in the air. Negredo runs around like a man possessed and is a great finisher. And Jovetic has skill and technique."

The question from the start, however, was where a natural No. 10 could figure. Pellegrini is not alone in believing top clubs need four high-class forwards, but he began his reign describing Dzeko as the first choice. If that was a psychological ploy to placate an unsettled player, Negredo soon displaced him from the side. Then there is Aguero, who Pellegrini feels trails only Lionel Messi and Cristiano Ronaldo in the global pecking order.

In short, Jovetic was signed to understudy an automatic choice, and the suspicion is the money could have been better spent elsewhere. High-quality cover for Vincent Kompany would have helped, and City may yet regret not possessing a classier deputy to Yaya Toure and Fernandinho; another attacker, even if necessary for the sake of numbers, could have been a lesser priority.

Indeed, Jovetic's ill-timed absence proved there are alternatives even when the marksman supreme is missing. When Aguero limped off against Arsenal in December, there were questions about whether Negredo and Dzeko, the two target men, could play together. They were answered emphatically when a calf injury kept the Argentine out: In one three-game spell, the Spaniard and the Bosnian scored 11 goals between them.

Moreover, with Jovetic unavailable, Pellegrini unearthed another option: Four of City's six goals against Arsenal came with David Silva floating around behind Negredo in a 4-2-3-1 formation. When Silva, Samir Nasri and Jesus Navas are all fit, it allows the Chilean to incorporate another flair player, seemingly without rendering them less potent; with the same shape, they won 3-2 at Bayern Munich and scored twice in a half-hour at Fulham.

City were scarcely impeded by Jovetic's litany of problems -- they won 17 of the last 20 games he missed and cruised past the 100-goal barrier with his contributing only two. And so, though finally fit again, the fourth forward looks to be a third wheel. Because the answer to the Twitter question #WheresJovetic may be simple: on the bench.