The amazing story of Ciro Blazevic is far from over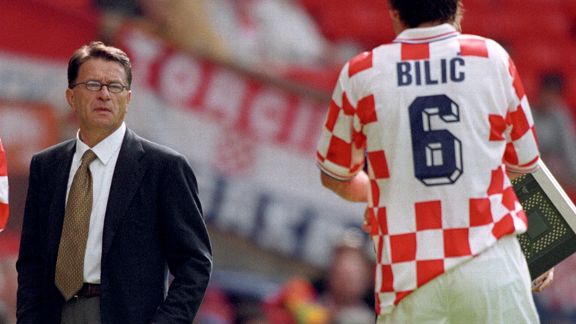 PA PhotosMiroslav "Ciro" Blazevic is still going strong at 78-years-old.
When Miroslav "Ciro" Blazevic was 16, his mother wanted him to become a priest. However, upon arriving at the monastery, he fell in love with a nun and it quickly became clear that his future lay elsewhere.

Football was his true calling. "I am very lucky to have a job that I love", the Bosnian-born Croat usually says. And he's been doing that job for half a century now. In his homeland, they call him "the coach of all coaches."

His mother still had a crucial contribution to his career, though, as she taught him the secret of preventing conflicts between different characters. The recipe was simple: If A talks badly about B, go to B and tell him that A can't stop praising him.

Blazevic is best known around the globe for coaching the outrageously talented Croatian team of the 1990s, and his man-management skills were key to cajoling all the egos in the dressing room to pull in the same direction. In a recent lecture, Blazevic stated: "I coached Croatia for more than six years and there wasn't a single rift between players, even though it could have easily blown up."

For example, after being informed that Alen Boksic was in a bad mood because Davor Suker was getting all the good press, Blazevic implemented his mother's advice. According to his story, he allowed Boksic to "accidentally" overhear him saying that Suker was upset at being unable to score without the striker's help. Of course, Suker never said anything of the kind, but Blazevic didn't care. The trick prevented his star strike duo from feeling jealous of each other.

Croatia were one of the best teams in the world those days, with Robert Prosinecki, Zvonimir Boban and Aljosa Asanovic bossing the midfield; Robert Jarni running up and down the left wing; Slaven Bilic rock solid in defence and Suker, Boksic and Goran Vlaovic responsible for scoring goals.

They were brilliant at Euro '96 in England, but eventual champions Germany knocked them out in the quarterfinals in what was arguably Matthias Sammer's best game for Die Mannschaft.

Two years later, the Croats took sweet revenge, thrashing Berti Vogts' team 3-0 in the 1998 World Cup quarterfinals. Even though Boksic missed the tournament through injury, Blazevic guided the team to a third-place finish. It could have been even better, but for Lilian Thuram's heroics in the semifinal. The only two goals scored by the legendary Frenchman for his national team prevented Croatia from recording another famous win, as Vlaovic missed a golden chance to equalise in the dying seconds.

Few know how it all started. Blazevic was forced to work as a janitor after emigrating to Switzerland in the 1960s while he learned enough French to begin his coaching career. Success at Swiss club Sion was followed by a promotion to the Switzerland national team, and Blazevic later claimed he was the first foreigner to get the job, although that would actually be Austrian Karl Rappan, the inventor of catenaccio.

The thing about Blazevic is that he probably still convinced quite a lot of people with such "facts"; it's difficult not to believe him. He has the extremely powerful gift of charisma. As in the case with Boksic and Suker, truth is less important to him than the outcome of his actions. He uses his interpersonal skills to get people behind him, and players are ready to move mountains for him.

The results were, at times, outstanding. When Blazevic arrived at Dinamo Zagreb in 1980, the club were in total disarray, having finished 12th in the league and without a league title for 22 years. Ciro changed that, and Dinamo were duly crowned champions of Yugoslavia in 1982, by a distance.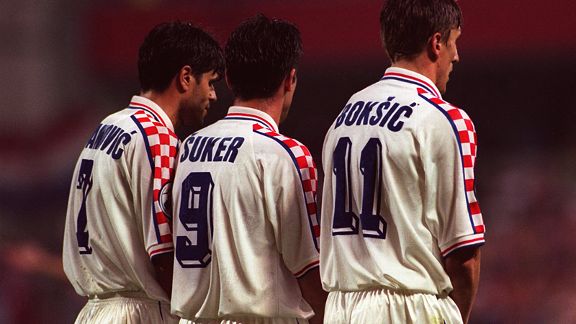 PA PhotosStrike partners and rivals Davor Suker and Alen Boksic line up for Croatia.
In 1983, Blazevic took the reins at Grasshoppers in difficult circumstances, following the unexpected death of legendary coach Hennes Weisweiler, but kept the team on track and helped them to retain the title. When he arrived at Pristina in 1986, the Kosovan capital experienced a short-lived football euphoria, with 30,000 fans filling the stands.

Blazevic's political views -- right wing and nationalistic -- might not be to everyone's liking. His close friendship with Franjo Tudjman, a very controversial first president of Croatia after the breakup of Yugoslavia, is well known, as is his outspoken support for former Iran President Mahmoud Ahmadinejad. Yet his professional reputation is so high and his ability to create the right atmosphere in the dressing room so phenomenal, that he was always popular and in demand nevertheless. Press followed him wherever he went, because life is never dull with Blazevic around, not to mention his habit of using foul language in every other sentence.

The Bosnia and Herzegovina football federation (N/FSBiH) turned to him in 2008, after Meho Kodro was pushed out and numerous stars were prepared to go on strike. Blazevic managed to get most of the country behind his project, which was a near impossible task, and, despite leaving after losing to Portugal in the qualification playoffs for the 2010 World Cup, he had laid foundations for the team that has now qualified for Brazil 2014 -- the nation's first major tournament.

Totally in love with football, Blazevic is apparently unable to stop working, and even two operations -- for pancreatic cancer and melanoma -- couldn't prevent him from going on, enthusiastic as ever. His experience was welcomed in China and Iran, and the final accord was supposed to be with NK Zagreb last season.

When Ciro was asked to save the club from relegation, he was certain of success. Bold and confident as usual, he stated: "I have no doubt that the mission will be successful, because I am the best." He was wrong this time, though, as NK Zagreb remained bottom of the league and went down almost without a fight.

"This is probably the end for me. A tragic end," he said in May 2013. Only it wasn't. Last week it emerged that Blazevic, less than a month short of his 79th birthday, was appointed coach at Sloboda Tuzla -- the once proud flagship of Bosnian football that sank to the second division.

The local press went mad with excitement as so-called "Ciromania" returned to Bosnia. "The goal is to be promoted back to the first division, and I won't leave before it is achieved. My head feels young, and I came with great enthusiasm," the veteran coach said at his first press conference. "Your warm welcome reminds me of our reception in Croatia after the World Cup," he told the Tuzla fans, who immediately fell in love with the legend.

One of the most intriguing aspects of this appointment is that Sloboda are scheduled to play a historic friendly against Crvena Zvezda (Red Star Belgrade) on Feb. 5, in the Slovenian town of Koper. This is a huge event because the clubs will meet for the first time since the breakup of Yugoslavia 22 years ago. It will bring back memories of days long gone, such as Tuzla's sensational 3-1 win over Crvena Zvezda at Marakana stadium in 1976-77 season (below), and the big revenge in Crvena Zvezda's 9-1 thrashing of Sloboda in 1980.



Ciro, who has actually dreamed of coaching Crvena Zvezda for a long time, claims: "I can't wait to hug my old friend Dragan Dzajic." Dzajic, who is arguably the best Yugoslav footballer of all time, is now the president of the Belgrade club. "I am really looking forward to this game. It will be very nostalgic," Blazevic added.

The match will not receive huge headlines all over the world, even though it probably should. But it will certainly be worth keeping an eye on the result, in two weeks' time, and the latest adventure of one of the oldest coaches in football. Who knows, Sloboda Tuzla might not be the final stop in the career of Blazevic, who found his destiny thanks to a beautiful nun.