Understated City striking fear into rivals
"I don't think Man City should feel pressure. I think they know how good they are and I think they know they are the favourites. I don't think they feel any pressure."

Chelsea boss Jose Mourinho was speaking about the race for the Premier League title back on Dec. 31. The aim of his statement was to put pressure on rivals Manchester City, but he was hardly exaggerating. Just about everybody agrees: The only team who can stop City are themselves.

That is perhaps odd for a team who, until recent weeks, had not been top of the table since the opening weekend; even now, Arsenal, usually playing later in the matchdays, still lead them, while Chelsea remain in wait. Yet City are seen as a stalking horse whose inevitable surge will blow away the rest in the final furlong.

Such an idea suits Mourinho in particular. His lavishing of praise on the country's richest club has its aim in taking pressure away from his own side. Suggesting that little old Chelsea cannot compete against free-spending powerhouse is also a safeguard for his job security. There are still well-connected people around Stamford Bridge who believe that anything less than a title risks the well-wielded Roman Abramovich axe.

At Arsenal, Arsene Wenger is more defiant, but still acknowledges the challenge his club faces in holding off City's expected surge. "In terms of their resources, no, we cannot compete because they have unlimited resources. But with our resources available, we are ready to fight," the Frenchman said last week. In his team's best season for far too long, he might have to accept he will finish second best, even if that would hardly be a disgrace.

City's sheer power in front of goal is what sets them apart from Chelsea and Arsenal. They already have breezed past 100 goals in competitive matches this season. On Tuesday night in the League Cup -- as a 9-0 semifinal aggregate scoreline was collected with ease at West Ham -- Alvaro Negredo grabbed his 23rd goal of the season; Sergio Aguero is one goal behind, even after struggling with injuries.

In the Argentine's absences, Manuel Pellegrini has brought a greater return from Edin Dzeko, too. The Bosnian, who has previously looked unsettled throughout his City career, has 16, and for once during a January transfer window there is very little speculation over his future.

Dzeko's current contentedness reflects a calm that was never present when Roberto Mancini was in charge. The autocratic Italian thrived on conflict but by the time he departed, there were far too many frayed edges. Last season, City's title defence was upended by infighting and sulking, often from the manager, and the FA Cup final was lost to Wigan amid the overnight news that Mancini was to be summarily dismissed. At Wembley in May, City's players hardly played like a team who wanted to show that club power brokers had made the wrong decision. Mancini, meanwhile, was not shielded from questions on the subject of his downfall in the postmatch news conference. The club issued no denial.

Pellegrini has brought the factions together, while not shirking big decisions of his own. Joe Hart's exile brought both an eventual improvement from the goalkeeper but also a sense that no player's place could be considered certain without consistent high performance. The quiet Chilean possesses a steely unwillingness to accept mistakes, while tantrums and training-ground incidents have been consigned to the past. Understated success is suiting City far better.

"Develop a holistic approach to all aspects of the football club," was City's mission statement when Mancini was fired. Such business-speak bingo was lampooned, but Pellegrini's tandem with Txiki Begiristain and Ferran Soriano actually works along such lines. The Catalan pair moved quickly to seize Pellegrini from Malaga when it became clear that Barcelona were considering him to replace cancer-stricken Tito Vilanova.

Mancini is beloved by fans for ending the club's 35-year drought with the FA Cup in 2011 and the Premier League title that followed a year later. He is also much missed by the Manchester press pack, who found him enjoyable to work with.

The truth is, though, that Mancini got on far better with journalists than his own players. Pellegrini lacks similar charms -- his news conferences are a study in saying nothing of particular interest -- but the talking his team does on the pitch is now enough to convince fans. Should City land trophies this season, they will do so via an attractively relentless style of football that Abramovich has always wanted for Chelsea.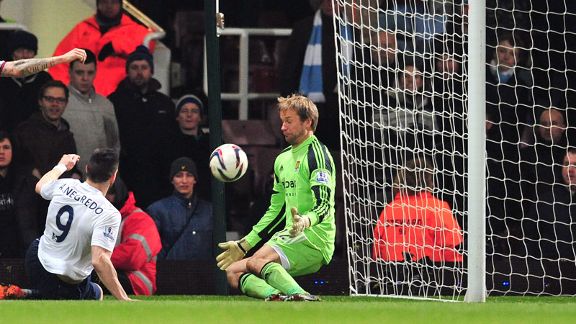 GettyImagesAlvaro Negredo grabs his second and City's third on the night at Upton Park.
Last summer saw City prove that value signings can be made beyond the 20 million pound bracket, something their neighbours at United utterly failed to achieve. Negredo has been a revelation, while Jesus Navas is highly a useful weapon to have. Fernandinho's influence grows apace, and while some suspect that his central pairing with Yaya Toure can leave City vulnerable defensively, Pellegrini's stance is that his team play their game his way, and should not worry about opponents. For the most part, he has the league's best players, so why not have them playing to their own strengths?

"Our philosophy is to try and score more goals, because it's the best way to win," Pellegrini said after his team had ransacked Arsenal 6-3 last month.

"Maybe other managers would see their team score one goal and then prefer to go back and counter attack, than try to score the second goal," he said earlier this month. "But for me it's very important to continue the way I play. I've been the same my whole career."

At the start of this season, such an approach, rigid in its liberal thinking, cost City away defeats, and caused a shellacking by Bayern Munich at home in the Champions League. Yet by December, City were the second-placed team that everybody feared in the last-16 draw, including Barcelona. "El City, no," exclaimed Catalan newspaper El Mundo Deportivo when the two clubs were paired in the draw.

In the Premier League, City, perfect at home and now hugely improved on the road, are far and away the team most likely to strike fear into the rest.