Champagne's FIFA campaign admirable, but lacking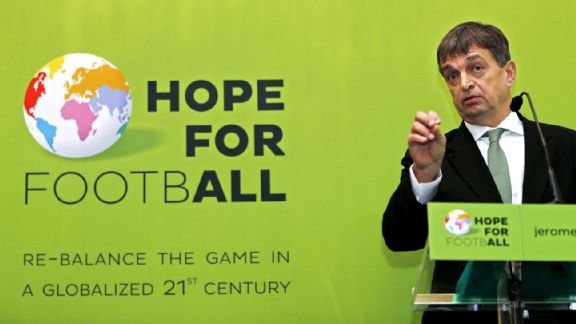 ADRIAN DENNIS/AFP/Getty ImagesJerome Champagne has good ideas but his execution remains unclear.
LONDON -- Jerome Champagne wants to be FIFA president. He said as much in a news conference on Monday and his website is now up and running.

So does he think he can beat Sepp Blatter if the current FIFA president decides to run again when his mandate expires in 2015?

"No, I don't think so," he says.

Can he explain why he would make a better FIFA president than the current one?

Nope -- he would rather talk about his program and what he would like to do, but it's "not for [him]" to say why he would be better.

Much of what he proposes -- addressing the imbalance between rich and poor, working on developing the sport, making FIFA more democratic by giving those outside Europe and South America a greater voice -- are things Blatter also talks about. Given that he worked with -- and for -- Blatter for 11 years at FIFA and has plenty of nice things to say about him, will he step aside if the current FIFA president decides to run?

"I don't know," he said. "I can't answer hypotheticals."

In a "normal" political election, it would appear bizarre if one of the candidates said he could not beat the front-runner. Or if he couldn't tell you why you should vote for him over the front-runner. The vote for the FIFA presidency, obviously, is not a "normal" election, but still you would have thought it had semblance of the real world.

Yet in some ways it's a shame because Champagne comes across as sincere and his platform is filled with reasonable proposals. You also feel this is a guy who could actually turn those proposals into something workable, given his track record of policy and negotiation.

- Delaney: If Blatter runs, Champagne won't?
- Report: Champagne announces campaign

The problem is his delivery. In one breath he talks about the importance of a strong FIFA to implement what he wants to do and in the other he talks about how difficult being FIFA president is and how Blatter hasn't been able to do everything he wants because of opposition from within the Executive Council.

"It would be as if Barack Obama gets elected president with a mandate from the American people and then he has to work with a cabinet that includes John McCain and Sarah Palin! That's how difficult it has been for the FIFA president," Champagne says.

Um... well, yeah. Except it's not unprecedented for the president of the United States to deal with a congress controlled by the opposition party. In fact, Republicans happen to have a majority in the house right now. You deal with it by being bipartisan and building consensus. Beyond that, if it's so darn difficult to get anything passed as FIFA president because of those pesky Executive Committee members, why would he be better at it than Blatter?

Champagne's candidacy caught many by surprise. Some are speculating that he's a placeholder for Blatter, a way of forcing other potential candidates -- like UEFA president Michel Platini -- out into the open while the current FIFA boss buys time and decides if he wants to run. Others say that he's sincere and has nothing to lose: If Blatter opts not to run (he is 77, after all) by getting his hat in the ring early, Champagne has a legitimate chance to win.

Whatever the case, he appears sincere and while some of his proposals are debatable, they're debates worth having and they're well thought out. But as long as he's so reluctant to question Blatter or even indicate that he thinks he can beat him, he's not exactly going to generate much enthusiasm.