Top Tenner: Manchester United-Chelsea battles
As Manchester United and Chelsea prepare for another battle, Top Tenner examines some of the greatest duels between the Red Devils and the Blues.

10 -- Chelsea 0-2 Manchester, First Division, 1964

Ron 'Chopper' Harris used to make pretty short work of wingers in his heyday. They would run at him, he would scythe them down -- and they would think twice before running at him again. By the start of the 1964/65 season, George Best was a regular in the Manchester United side, aged just 18, but toughened up thanks to some often brutal training sessions laid on by Matt Busby. Best would announce his talent in this game by avoiding the robust attentions of Harris and Chelsea right-back Ken Shellito, dancing around the pair to score one and set up the other for Denis Law in a 2-0 win. Best would do similar in the return game later in the season, scoring one and making a couple more in a 4-0 win, strikes that would eventually contribute to United winning the league on goal average.

9 -- Chelsea 1-0 Manchester United, August 2004

Two games that book ended the 2004/05 season and provided confirmation of a new force in English football. When Jose Mourinho landed in England, he was lost in a sea of soundbites and swooning journalists, not to mention hugely expensive players -- so to an extent, the question of him winning football matches was almost lost. However, his first league game in charge was against United, and Mourinho's Chelsea provided a signal that the new boy meant business, although the depleted nature of the United team (Roy Keane in central defence, Eric Djemba-Djemba and Liam Miller in the side at all) meant that judgement was reserved, for a short while...

8 -- Manchester United 1-3 Chelsea, May 2005

However, nine months later that judgement had been made, and Chelsea were already champions, having clinched the Premier League a couple of weeks before visiting Old Trafford. United applauded them onto the field, and once there, Chelsea outclassed their opponents, despite an early Ruud van Nistelrooy goal giving United the lead. Tiago, Joe Cole and a delightful lifted finish by Eidur Gudjohnsen gave Chelsea the win and a flourish on their victory lap.

7 -- Chelsea 3-3 Manchester United, Premier League, 2012

One for the comeback files, this. Chelsea presumably thought they had the game in the bag after a Jonny Evans own goal, a Juan Mata volley and a David Luiz header put them 3-0 by the 50 minute mark, but United stormed back. Wayne Rooney converted a pair of penalties, the second of which then-Chelsea boss Andre Villas-Boas described as "very, very dubious" and suggested referee Howard Webb was evening decisions out from earlier in the game. As an aside, Rio Ferdinand was booed throughout, this being his first visit to Stamford Bridge since John Terry was charged with racially abusing his brother Anton, thus removing the Chelsea defender from the England captaincy.

6 -- Manchester United 0-4 Chelsea, First Division, 1968

The 1968 European Cup win was supposed to have been the start of a great era of dominance for Manchester United. George Best was 22, Brian Kidd just 19, John Aston 21, Nobby Stiles 26 -- even Bobby Charlton had another five years in him. However, it of course wasn't -- they would be relegated a few years later, wouldn't win another trophy until 1975 (and that was the Second Division), wouldn't win a major trophy until the FA Cup in 1977 and of course wouldn't win the league title until 1993. Perhaps this was a sign of things to come, as United were dismantled by Chelsea, with a pair of goals for Tommy Baldwin, one for Bobby Tambling and another for Alan Birchenall.

5 -- Chelsea 5-6 Manchester United, First Division, 1954

Goals! Goals! Goals! Flipping loads of them, admittedly in an era when comical scorelines like this were not as uncommon as they might be today (the previous week United had beaten Cardiff 5-2, elsewhere that day Newcastle and Spurs drew 4-4), but even so, this was a festival of goals. This United side was the first flush of the Busby Babes -- in the side that day were Duncan Edwards, Bill Foulkes, Jackie Blanchflower, Tommy Taylor and Dennis Viollet, the latter three scoring once, twice and three times respectively in their shellacking of Chelsea. Indeed, the game wasn't quite as close as the scoreline suggested, with a couple of late Seamus O'Connell strikes adding a gloss to the result for Ted Drake's Blues. Of course, while United won this particular battle, Chelsea won the war, lifting the First Division title under manager Drake at the end of the season, the last time they would until Roman Abramovich and Jose Mourinho came along.

4 -- Chelsea 5-4 Manchester United, League Cup, 2012

More goals! Goals! Goals! This is cheating slightly because the teams were allowed an extra 30 minutes in which to score these goals, but this was a topsy-turvey tie indeed. Ryan Giggs gave United the lead, only to be pegged back by a David Luiz penalty. Javier Hernandez scored United's second, then Gary Cahill replied, only for Nani to put United ahead for a third time before the hour mark. Thus it stayed until Eden Hazard converted a penalty in the 90th minute, taking it into extra-time, where Daniel Sturridge and Ramires won the encounter for Chelsea, but not before Giggs tucked away the third penalty of the match. For a competition that lies well down the list of priorities for both sides, this was quite the entertaining affair.

3 -- Chelsea 5-0 Manchester United, Premier League, 1999



Like in 1968, Chelsea faced the European Champions early in the season. And like in 1968, they absolutely pulverised them. United fans will remember with a shudder Massimo Taibi's mercifully brief time between their sticks in 1999, one of a long line of unfortunates that failed to adequately replace Peter Schmeichel. His fumble against Southampton is perhaps his best known addition to the slapstick canon, but this game was his masterpiece. From his frantic charge and flail to allow Gus Poyet to head into an untended goal in the first minute, to his weak shovel out for Poyet's second, to being nutmegged by Jody Morris (Jody Morris!), it was all there. Additional points; this was one of only four games Taibi played for United; it ended a 29-match unbeaten run in all competitions that stretched back to the previous December; this game featured the only league goal Chris Sutton scored for Chelsea, after his 10 million pound move from Blackburn.

2 -- Manchester United 4-0 Chelsea, FA Cup final, 1994

The double used to be a big thing. Ask your dad. These days it's 10 a penny, and that's partly because Manchester United kept winning it. But in 1994 it had only been achieved three times in the preceding century. Since then, it's been won six times in 20 years, but this was United's time, perhaps the confirmation of greatness on Ferguson's first brilliant side. The traditional image of the cup final is of a sunny May afternoon, managers sweating in their suits and shielding their eyes against the sun, players struggling around by the hour mark with socks about their ankles, but this was a grim, drizzly day at Wembley. After a goalless first half, a pair of Eric Cantona penalties got things going for United, before Mark Hughes and Brian McClair turned it into a rout.

1 -- Chelsea 1-1 Manchester United (5-6 on penalties), Champions League final, 2008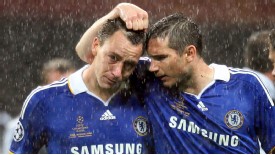 AllsportFrank Lampard consoles a shattered John Terry after Chelsea lost the all-English Champions League final to Manchester United.
Schadenfreude is, in truth, a pretty ugly thing. It's doesn't really say anything good about a person that you could find someone else's misfortune quite so funny. In a world crammed with negativity, celebrating that negativity surely cannot really be a good thing. Nevertheless, no matter what misery exists in our lives, no matter what fate brings us, no matter how low a person gets, we all know that we will always have John Terry slipping over in the penalty shootout of the 2008 Champions League final to cheer us up. Oh, and then crying. And even if you're a Chelsea fan, and you need something to cling onto from that night, Cristiano Ronaldo missed too.

Because that penalty shootout is the defining image from the game, it's easy to forget the rest of it. There was the staging in a somewhat 'awkward' place for two English teams, which actually resulted in a couple of hundred Chelsea fans missing the game entirely after their flight was cancelled, plus all the assorted visa issues and so forth. There was the fascinating tactical battle, which saw Sir Alex Ferguson pick Owen Hargreaves on the right of midfield, in part to combat Ashley Cole's runs forward from left-back. There was Didier Drogba's brainless sending off -- brainless for two reasons. Firstly because his (relatively minor) misdemeanour took place about three feet in front of both the referee and linesman, secondly because that misdemeanour was to slap Nemanja Vidic, about the last person it is advisable to annoy in football.

You could argue that Ferguson would not have retired a happy man were it not for this final. He always viewed just a single Champions League win for a side like United as something of a failure, and even though two in 18 attempts is perhaps the hole one can pick in his record at Old Trafford, it at least allowed him some satisfaction that he had conquered Europe twice. And after Terry's slip, and Edwin van der Sar's save from Nicolas Anelka's penalty, he had that satisfaction.