"Diving," we call it in England. "Flopping," some call it in the United States. "Simulation" is what the rulebook calls it. These days, penalties that might be or should never have been fill a significant proportion of managers' postmatch reactions.

"I would call that a Spanish penalty -- it is one where the attacker goes into the defender, who does not get the ball, and the contact puts him over," Liverpool manager Brendan Rodgers said Sunday after his midfielder, Raheem Sterling, won the disputed free kick that swung Liverpool's visit to Stoke in his team's favour.

Stoke City manager Mark Hughes, taking an opposing view, said: "Raheem Sterling went down very easily in our opinion and the referee bought it."

"Isolated episodes," Chelsea boss Jose Mourinho said on Jan. 5 after Chelsea midfielders Ramires and Oscar were both booked for simulation at Southampton on Jan. 1. "The referees attacking it, the manager supporting the referees -- I think we are doing well. Let's see if the others do the same as us."

Steve Clarke might still be in charge of West Bromwich Albion had Ramires not been awarded a penalty to save Chelsea a 2-2 draw in November. "He started going down early before the contact, so you guys can put a label on it if you want," Clarke raged. "The referee has to be 100 percent sure it is a penalty, and how he can be 100 percent sure in that instance is beyond me."

Mourinho, of course, had a different view. "I have watched it two or three times and it was a clear penalty," he argued. "The referee made many mistakes during the game, but that was not a mistake."

Digesting all those different opinions might suggest that nobody actually knows what a penalty is anymore, or that clouding the picture might even be deliberate ploys by certain managers and players. The inherent difficulty of being a referee seems to be getting harder, so what do the referees themselves think of the diving/flopping/simulation phenomenon?

Diving is here to stay, according to former Premier League referee Peter Walton, now general manager of the Professional Referee Organization (PRO), which coordinates officials in Major League Soccer.

"Simulation now is part of the law, so it's part of the game," he said. "Would I like to see it eradicated? Of course I would, because that would place less pressure on a referee making a decision. But as an observer, it's just another objective viewpoint that keeps this game so beautiful."

Walton, who departed the Premier League in 2012 after nine years of top-level officiating, says he understands why players might seek to deceive referees to win penalties or get opponents punished. "There's a risk-and-reward factor," he said. "If a player is detected trying to deceive a referee, then he'll probably receive a yellow card. But if he's not detected, then he probably receives a penalty kick. One outbalances the other, so I can understand to an extent why players take that attitude, because it's about winning games."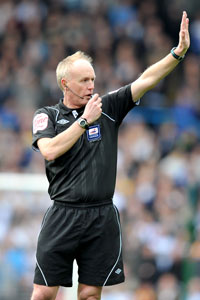 PA PhotosPeter Walton officiated in the Premier League until 2012.
In Walton's long experience as spectator, match official and administrator, diving has definitely grown in frequency. "I can go back to Francis Lee. He was one individual who had a reputation," Walton said of the Manchester City legend who had the nickname "Lee Won Pen."

"Other than that from the 1970s, I can't name one person who was pulled up for an act of simulation, yet I can name six or seven from the past weekend."

In a World Cup year, when the game attracts a larger audience from casual fans, FIFA is likely to attack the problem. The 2010 World Cup finals saw ESPN receive numerous domestic complaints about the amount of play-acting exhibited in South Africa, and such activities can damage a tournament's image. "There's been a gradual increase in FIFA's attention to this issue, so one can assume that it will form part of the directives for the World Cup," Walton said.

In England, Premier League referees pursue vigilance on simulation. Those at the Professional Game Match Officials Limited (PGMOL) say their approach is winning the battle, too. According to PGMOL , December 2013 ended with only 13 bookings so far this season for simulation, as opposed to 23 at the same juncture the previous season.

Certain players -- latter-day Francis Lees -- have simulation reputations. This season has seen Adnan Januzaj join Ashley Young at Manchester United in being depicted as someone who might go to the ground rather too easily. Both had potential fouls waved away by World Cup referee Howard Webb when United lost to Spurs on New Year's Day.

"Coaches and players do their homework on opposition teams. Referees are no different," Walton said. "We watch TV, we talk among ourselves, we form our own opinions on team tactics and individual players.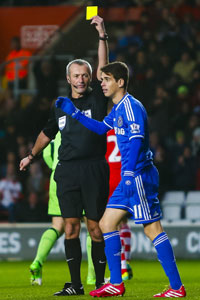 PA PhotosChelsea's Oscar was booked for simulation during the New Year's Day victory over Southampton.
"What referees don't do, and this is important, is prejudge a situation. We can only judge what's in front of us at that time, and that integrity of a referee should not be diluted in any respect at all.

"That's the strength of the match official and his support staff -- that he doesn't pre-empt or prejudge any individual. But it's taken into consideration. We'd be fools not to."

Asked about players with theatrical reputations, PGMOL general manager Mike Riley said, "The scrutiny of referees' decisions means that they are judged on the accuracy of each decision regardless of who the player is -- that's not in their thought process."

Walton added: "The viewing public, journalists, commentators and pundits have got the right to prejudge because that's their opinion, whereas referees deal with what's put in front of them, and that's an important distinction to have. Otherwise, we go down a slippery slope."

Questions of contact lead the diving debates we see on TV or read about in newspapers. This season, some suggest that exaggerations of contact are being waved away more readily, but Riley denies this.

"There actually hasn't been any change in instructions to referees," he said. "Our instructions remain the same: In cases where there is some contact, they are less likely to caution. A yellow card is more likely when there is no contact or where there is a clear attempt to deceive, for example an attacker dragging his leg into the goalkeeper."

Walton added: "There's a difference there between what I'd class as embellishment or where's there an act of deceit."

Despite the current negative headlines, Walton said the continuing media focus on simulation is a useful weapon against its spread.

"The highlighting of simulation can only be good for the game," he said. "It can only be good for the idea of eradicating players deceiving a match official, and the more publicity that this particular trait gets, then for me, the better it will be."