PA PhotosThere has been an improvement at Fulham since the arrival of Rene Meulensteen and assistant manager Ray Wilkins.
Rene Meulensteen attempted to reassert the positives but couldn't avoid returning to the negatives.

"Listen, we were playing well enough to get back in the game," the Fulham manager said of his team's 4-1 defeat to Sunderland last week. "But if you keep conceding goals, a young team or an experienced team, it doesn't matter. You give yourself a big mountain to climb."

That is the big worry for the Craven Cottage side. While Fulham often looked like a vibrant attacking force in that match, and many others since Meulensteen took over, they were so visibly weaker at the back. The Dutch coach's innovative work has clearly restored some of the forward play that saw Fulham comfortably finish in midtable last season, but they also look like a Championship side at the other end.

Their defensive record is utterly dismal. As it stands, Fulham have conceded 46 goals in 21 matches. That is an average of 2.19 a game, which currently represents the worst ratio since Derby County conceded 89 in 2007-08.

Needless to say, teams with a record even close to something that calamitous rarely stay up. It also points to the balance clubs should attempt to strike at that end of the table. Because, if the truism is "attacks win games but defences win titles," it is one that should possibly be turned on its head. The reverse seems true, and not just at the top of the table.

While title-chasing teams generally need to have the firepower to ensure they put away the majority of the opposition, those hoping to steer clear of relegation need a back line to stay standing. Attacks may keep you competitive but defences keep you up. The stats are quite emphatic in revealing what is most important.

While it is always difficult to draw a line in regard to such records and determine what context is relevant and what isn't, the 2006-07 campaign represents a good cut-off point. That was the season that Jose Mourinho's relentlessly record-breaking Chelsea dropped off and the Premier League became a little less ascetic as it opened up.

Over those past seven seasons, the average scoring record for the bottom six -- i.e., the three above the relegation line and the three below -- has been 39 goals in 38 games.

That period has seen 10 of those 42 clubs score more than that and stay up, but crucially, 11 of them have done the same but gone down.

The contrast is even more striking when you consider the back lines. Over the same period, the average defensive record for the six sides at the bottom has been 65 goals in 38 games. Only five teams have conceded more than that and stayed up; 12 have conceded more and gone down.

The numbers indicate something that seems inarguable: if you're in a dogfight in the Premier League's basement, it is better to be able to defend yourself than to attack. In order to stay up, defensive organisation is more important than impressive attacking.

Perhaps the clearest example is Wigan Athletic. While Roberto Martinez's former side often looked exceptional when going forward, their reduced resources meant there was simply never any guarantee they could outscore enough sides.

Last season, the risk didn't pay off, and was effectively distilled into one decisive 3-2 defeat at home to Swansea in May. That very match, however, reflects a broader point about striking the balance between attack and defence.

While Martinez's approach is obviously much more beneficial to teams in the long term, since it inherently allows them to evolve way beyond their limits, the short-term realities of a relegation battle do not usually allow patience. That proved the case in 2012-13. With Wigan's meagre resources stretched by the FA Cup campaign, the fight at the bottom punctured a hole they ended up falling through.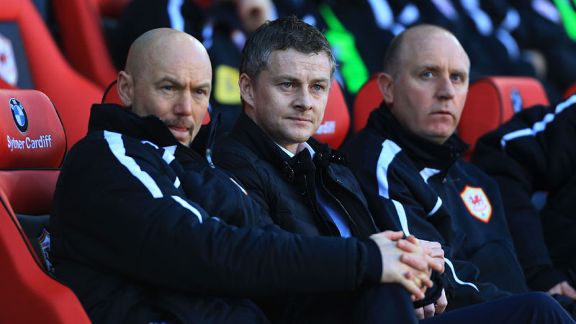 PA PhotosCardiff City's manager Ole Gunnar Solskjaer before his first home match.
Some of those who know Ole Gunnar Solskjaer have similar concerns about Cardiff City this season. While the former Manchester United star is understood to have hugely impressive long-term ideas about the game, it is felt by certain observers they would be more suitable at a mid-table club with a bit more comfort.

Instead, he is in a battle with the kind of managers who see their primary concern as making life wholly uncomfortable for the opposition -- as illustrated at Cardiff last weekend with the visit of West Ham United. The suspicion remains that Sam Allardyce will overcome the London side's issues to restore order to their play, while Crystal Palace already look a completely different proposition under the newly arrived Tony Pulis.

Although the former Stoke manager's style remains difficult to admire, and will eventually see all of his teams level out, the fact a Palace side that looked certain to go down are now in with a real chance of staying up speaks volumes. Structures like Pulis' give lesser teams a baseline, which makes them hard to break down, and can see them picking up more loose points than they ought to. That is important at an end of the table where it is not regular wins that set the tone.

There was a similar contrast at Craven Cottage; Fulham's openness floundered against Sunderland's structure under Gus Poyet. In a relegation battle this open and unpredictable, that kind of secure footing could prove more valuable than ever.