Seedorf's playing career has a premature end as opportunity knocks
What to say to the perfect opportunity at the imperfect time? That was the decision Clarence Seedorf faced when the job of Milan coach became vacant and he was immediately considered the front runner for the position.

Seedorf has been busy preparing himself for the career of coach, and Milan, where he played a decade of his finest football from 2002-2012, was clearly the dream job. But the dream time for the 37-year-old would have been in six months.

- Seedorf retires, set for Milan
- Paul: Step into the unknown

Because, until Tuesday, Seedorf was still playing and enjoying himself hugely. Some were surprised in June 2012 months ago when he chose a late career adventure with Rio de Janeiro-based Botafogo but the move had a certain logic.

Seedorf was born in neighbouring Suriname, his wife is from Rio, he speaks Portuguese and was clearly curious to find out what life would be like in the Brazilian first division. It turned out being better than many had expected.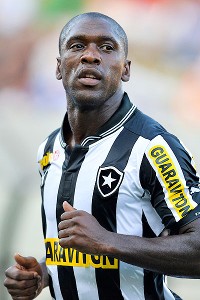 AllsportSeedorf in action for Botafogo. Now, a return to Milan awaits.
Even Botafogo coach Oswaldo de Oliveira had his doubts when Seedorf signed for the club: where on earth could he insert the veteran in the wide-open spaces of a Brazilian midfield?

The player soon proved that it was not going to be a problem. Seedorf was so collective-minded and so individually outstanding that the team's game came to revolve around him.

He was given a free role in the team's 4-2-3-1 system, which saw him drop deep, wander out to the flanks and sometimes even slot into the centre forward position. Wherever he was, that is where the game was taking place.

Seedorf clearly enjoyed being given so much freedom and responsibility: his total of 24 goals in 81 games for the club is a higher average that he achieved with any of his European clubs -- Ajax, Sampdoria, Real Madrid, Inter and Milan -- where his functions were usually more limited.

Another six months would have been perfect. Seedorf had carried Botafogo into their first Copa Libertadores, South America's equivalent of the Champions League, since 1996 and their first match, in the qualifying round away to Deportivo Quito of Ecuador, takes place on January 29.

On Monday, Seedorf pushed himself through a training session in intense tropical heat, in the full expectation that he would be the spearhead of Botafogo's Libertadores challenge.

And then came the call from Milan. Every goal that the Rossoneri had conceded in Sunday's 4-3 defeat to modest Sassuolo was a stake in the heart of coach Massimo Allegri.

Up to that point it seemed likely that making it through to the knockout stage of the Champions League -- where they face Atletico Madrid -- would keep the 46-year-old in a job until the end of the season. Instead, following the defeat, he was given his marching orders and Milan asked Seedorf to step in.

The train of opportunity sometimes only comes round once. Had Seedorf turned down the offer, there is no guarantee that Milan would come knocking again. On the other hand, retirement for a player is a kind of mini-death.

"It was a difficult night," said Seedorf at the start of his press conference. "Unfortunately the life of a footballer is not forever, and I'm very satisfied with what I achieved in my career."

And now he starts a new one. Botafogo president Mauricio Assumpcao is sad to see him go, but proud of what they have done together:

"Football has gained a great coach," he said. "I feel sorry for the other Italian clubs."