Ballon d'Oh - Five of the best nearly men
The list of Ballon d'Or winners is a who's who of the greatest names to have graced the game. Some, like Lionel Messi, Michel Platini and Johan Cruyff, have won multiple awards -- but there are several notable omissions from the list.

Here, ESPN FC selects five of the greatest players never to have claimed football's top individual prize.

RAUL

Unlike some of the other names on this list, Raul's path to the Ballon d'Or was perhaps not always blocked by some surpassing genius of whom he would just have to shrug and say: "Well, what could I do against them?" Sure, Ronaldo, Zinedine Zidane and Rivaldo were around during his peak years, but there were times when the Champions League's record goal scorer (for now -- Ronaldo and Messi will probably pass his total in the next year or two) should really have received more recognition. The closest he came was in 2001, when France Football and their correspondents took leave of their senses and voted Michael Owen as the best player in Europe, which doesn't just look a little silly in hindsight but was odd at the time, too.

Maybe Raul was born a few years too early, or Spain's period of dominance was a few years too late for him. By the time La Roja started winning everything, Real Madrid's prince was basically an outcast from the national side, playing his last game in an early qualifier for the Euro 2008 tournament that would begin the Spanish years of supremacy.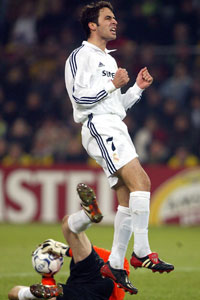 GettyImagesRaul is the UEFA Champions League's all-time leading scorer with 71 goals.
"I hope he doesn't like travelling," said Sir Alex Ferguson before the second leg of Real's Champions League quarterfinal win over Manchester United in 2003. "Failing that, we will stop him entering the country. Real buy these big players like Figo, Zidane and Ronaldo, but I think the best player in the world is Raul." Praise indeed.

FERENC PUSKAS

This is the name that really stands out on this list. The name that makes you think: "No -- surely he's won it at some point?" Well, rub your eyes no more, for Puskas ended his career Ballon d'Or-less. While he was a central part of the great Real Madrid side of the late 1950s and early 1960s, the best he could manage in this contest was second prize in 1960, the year Barcelona's Luis Suarez won.

In terms of individual awards, Puskas perhaps actually suffered from being in such a brilliant team. His teammates Raymond Kopa and Alfredo di Stefano (twice) were both given the title during Real's all-conquering sweep of the first five European Cups. Perhaps Puskas was lost in the genius shuffle a little, even though he did score four times in Real's great 7-3 shellacking of Eintracht Frankfurt in the 1960 final. Perhaps his greatest chance of winning such an award came in the early 50s, when he led a brilliant Hungary side to Olympic gold in 1952 and the World Cup final in 1954, which he played with a fractured ankle. Alas for him, the Ballon d'Or was first given out in 1956, just too late to catch him in his international pomp.

XAVI

There are those who argue that Xavi is actually a better player than his Barcelona colleague Lionel Messi, possibly citing the Argentinean's relatively (until recently, of course) uninspiring record with his national team, when he didn't have his Barcelona pal to help him out with those pinpoint passes. While this is a point of debate, what probably isn't is that Xavi would have won the top award at some point were it not for Messi scooping the thing year after year. Because most of Xavi's work is relatively understated and he doesn't score that many goals (reaching double figures for a season only twice for Barca) it took a while for his genius to be widely recognised -- and by that time Messi and Cristiano Ronaldo had come along.

Presumably Xavi won't cry himself to sleep at his lack of a Ballon d'Or since, on top of his oodles of team medals, he has his fair share of individual awards. These include the player of the tournament at Euro 2008, where he also made the team of the tournament -- as he did at Euro 2012 and the 2010 World Cup -- while he was also man of the match in the 2009 Champions League final, World Soccer Player of the Year in 2010 and possesses a wide range of other trinkets, major and minor. At nearly 34, he'll never top this particular poll unless he does something absolutely extraordinary in the next couple of years. But he's had a pretty decent career, on balance.

PAOLO MALDINI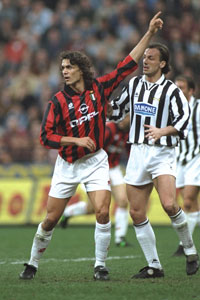 GettyImagesPaolo Maldini's distinguished career with AC Milan stretched 24 years.
Defenders often get a bit of a rough ride in this sort of award, and understandably so. In the early years, those who voted for the winners would barely see the majority of Europe's top players in action -- and in any case, the reason most people watch football is for goals, not the prevention of them. It's only natural that the list of winners is skewed towards attacking players. It has only been given to defensive players five times -- goalkeeper Lev Yashin in 1963, Franz Beckenbauer in 1972 and 1976, Matthias Sammer in 1996 and Fabio Cannavaro in 2006.

Maldini was the greatest defender of his generation, barely seeming to age a day from his debut in 1985 to his retirement in 2009. It was almost impossible to tell which foot he favoured, and he was part of one of the great European sides of all time. "We are more in the engine room rather than taking the glory," he said after World Soccer magazine made him the first defender to win their player of the year award, a speech in which he gave a nod to Franco Baresi, the other great stopper never to be recognised in such a way. See? He's a nice guy, too.

KENNY DALGLISH

Along with John Charles and Bobby Moore, Dalglish is the best British player never to have won the Ballon d'Or. It's surprising too, given that his peak years were roughly when the far less gifted Kevin Keegan lifted the trophy twice in two years -- the year in which Keegan won it first, 1978, was the year in which Dalglish scored the winner in the European Cup final and finished with his best return in front of goal. Perhaps that is partly down to a perceived bias against English teams in the voting -- after George Best won in 1968, no player representing an English team claimed the award until Michael Owen in 2001. Had Keegan been playing for Liverpool and Dalglish for Hamburg, perhaps it would have been different.

"His genius is not only in his own ability but in making others play," legendary Liverpool manager Bob Paisley said of the man he called the greatest he had ever worked with. Still, even without the Ballon d'Or, Dalglish's mantelpiece isn't exactly barren. In his playing career, he won ten league titles, six national cups and three European Cups. Not bad. Not bad at all.