The trouble with picking the world's best player
The fun used to be in reading the votes. You could while a few hours like that, back in the days of dial-up, when everyone still called it the information superhighway, when getting online was dependent on your modem making the same sound a fox does when fighting a cat and your parents weren't on Facebook.

In those dim and distant days, football had two prestigious individual awards. There was the Ballon d'Or, the venerable invention of France Football, with a long and illustrious history dating back to 1956 and voted for by a panel of journalists. You should always trust journalists. They are invariably correct.

The Ballon d'Or, though, for quite some while was hamstrung by being an award given merely to European footballers. This caused what looked, in hindsight, to be some intriguing anomalies -- Liverpool's European Cup winner Kevin Keegan winning the award in 1978, for example, and not Argentina's World Cup winner Mario Kempes -- and also created an opportunity.

Fortunately, FIFA were ready to step into the breach. Well, as ready as FIFA ever are: There were 35 years in between the inauguration of the Ballon d'Or and the introduction of the World Player of the Year award, in 1991. That counts as pretty rapid, by their standards. And it was here that the fun started.

Unlike the Ballon d'Or, FIFA's award was voted for -- initially -- by national team managers, before the vote was extended to include the captains of the world's various national team sides. The votes were then made public.

There were some crackers, too. Emmanuel Olisadebe was a fine penalty-box predator for Poland, and as a naturalised Nigerian, during his career he made a vital contribution in confronting racial prejudice in that country. Even so, the fact that he picked up a few ballots in the 2001 vote for the planet's best player can be seen only as a step too far.

There were plenty of other examples: representatives of obscure nations -- Honduras, Indonesia, England, those sorts of backwaters -- voting for a member of their own team, or a faded star, or someone who'd been injured for most of the calendar year. How we laughed. What larks, Pip, what larks.

FIFA, spoilsports that they are, ruined all of that a decade ago, when they introduced a short list of 20 players for voters to choose from. In 2010, FIFA went a step further and amalgamated/annexed the Ballon d'Or, turning it into one gigantic super-award, the FIFA Ballon d'Or World Player of the Year, or -- as a convenient shorthand -- "Lionel Messi's Paperweight."

Even so, there is still some scope for wry smiles and eyebrow-raising wonderment -- Madjid Bougherra, captain of Algeria, went for Karim Benzema last year, and Iker Casillas voted for Sergio Ramos; for some reason Mario Balotelli was included on the voting slip, too, on the basis of one decent game for Italy at Euro 2012.

These outliers and oddities are instructive because they highlight one of many reasons why football has such an uneasy relationship with individual awards: the bias of perception.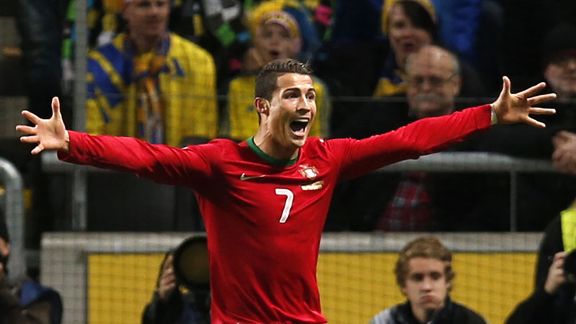 AssociatedCristiano Ronaldo capped a highly impressive year for Real Madrid by firing Portugal to the World Cup.
Ordinarily, the right player wins the World Player of the Year (though the original Ballon d'Or was probably a more reliable gauge). There have been some exceptions, in both cases: Michael Owen, ahead of Raul and Olisadebe, winning the France Football prize in 2001; Messi beating Wesley Sneijder -- winner of a treble and a runner-up in the World Cup in 2010 -- as well as all of his Barcelona and Spain teammates.

That is not to say that neither Owen nor Messi deserved his trophy, but that pretty compelling cases could be made for others on both occasions. That is the problem with an open vote, though: You place yourself at the mercy of your electorate.

Flick through the ballots for last year and you have a case in point: Messi did not place Cristiano Ronaldo in his top three; Bruno Alves went for his countryman, and did not have Messi on his slip at all. Joachim Low, the Germany manager, went for Mesut Ozil; Steven Gerrard placed Xabi Alonso third.

It is not too much of a stretch to suggest this is not a fair election, if the aim of it is to objectively identify the best player in the world. These players and managers appear to be voting according to their own prejudices and their own agendas.

Here, though, we come to an altogether thornier issue, and one that goes a long way toward explaining why the World Player of the Year award, in its various guises, has never been quite as prestigious as one might suppose it would be. How, precisely, do you establish who the best player in the world is?

Football is a collective sport. That is partly why individual awards -- beyond golden boots like the Pichichi (Spain) and Capocannoniere (Italy) titles -- always seem a little unnecessary; you get your prizes with your teammates at the end of the season.

But it is also why choosing a "best player in the world" is such a complicated business, because while Messi and Ronaldo are clearly the two most productive, effective and ruthless attacking players in the world, they do what they do only in the context of a team.

They require everyone else around them to do their jobs so that they might do theirs, and be rewarded for it. We often say that a player can win games on his own, but that is not true. You do get players who can shape destiny, but they can do it only if they are placed in a position to do so by their teammates.

And all of the various jobs in that team require different skill sets. Messi is, probably, the most naturally gifted footballer in the world, but he engages only in one aspect of the game: attack. There is another, and it is just as crucial, if not more so; in "The Numbers Game," Chris Anderson and David Sally found that keeping a clean sheet is worth more points over the course of the season than scoring a goal.

It is not, though, quite so eye-catching, or attention-drawing. Defenders do not win the World Player of the Year -- Fabio Cannavaro, in 2006, one of barely a handful of exceptions -- and goalkeepers are even more scarce.

And yet who is to say that a defender cannot be as good at his job as Messi and Ronaldo are at theirs? Surely that is the criterion that should decide who is the best player in the world for any given year: Who has done their job the best?

Take the third man on FIFA's list for the 2013 award, Franck Ribery. The Frenchman plays for the outstanding team of last year, Bayern Munich. He won five trophies during the season. He scored plenty of goals and produced several dazzling performances.

Was he more important to Bayern, though, than Toni Kroos or Bastian Schweinsteiger, both midfielders who engage in both sides of the game? How do you quantify that? And what of Philipp Lahm, the right-back turned holding midfielder, and the club captain? Was Ribery more important than him to Bayern's success.

The idea that scoring goals is the most difficult thing in football has become a truism, but this is a bias, too. The psychologist Eliot Heart notes that we tend to "augment the importance of things that are present" while simultaneously disregarding the absence of something. Offence has to do with presence, and defence has to do with absence. We have decided that scoring is the most difficult thing because it is much harder to judge how tricky it is to deny them. Unscored goals, after all, do not really exist. How can we know what they are worth?

Defence is also a collective effort, of course. Attack, particularly in the way someone like Messi or Ronaldo does it, can at least appear to be inherently individual, albeit within a collective structure. That gives attackers a deep-rooted advantage when it comes to things like individual awards. That is why Ribery has been nominated, and Lahm has not.

Whoever wins FIFA's award at Zurich's Kongresshaus on Monday will be a worthy recipient, of course. We are fortunate to live in an era blessed by the presence of Ronaldo and Messi, with Ribery just a short step behind.

These are the players our grandchildren will ask us about, with breathless excitement. It is just a shame that, because of our own shortcomings, none of us will answer those queries by saying: "Yeah, they were both OK. But let me tell you about Giorgio Chiellini."