Uninspired England draws with dominant Poland
A chaotic World Cup qualifying spell in Europe that saw Germany blow a four-goal lead, Spain concede an injury-time equalizer, and Northern Ireland nab a point in Portugal ended tamely enough in Warsaw when England and Poland drew 1-1 on Wednesday.
They finally got the game done.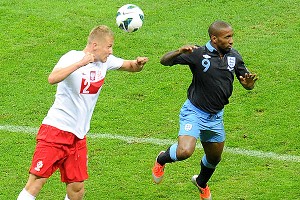 Press Association/AP ImagesAfter Wayne Rooney gave England the lead, a dominant Poland equalized to end the match in a 1-1 tie.
A day earlier, the match was postponed due to the ineptitude of football officials in Poland, who inexplicably didn't choose to use the roof at the National Stadium amidst a downpour. With puddles forming, play was impossible. In years to come, the record books will misleadingly note a "wet pitch" instead of "human error" to explain the adjournment. To complete the folly, as the sun shone in Warsaw on Wednesday, the stadium was covered. While playable, the pitch was heavy and functional, matching England's uninspired performance. Poland was the better side.

Here are three thoughts:

1. Gerrard will be missed
This England under Roy Hodgson is being transformed – if not in style, then in personnel. Rio Ferdinand appears unlikely to be recalled, and John Terry's international retirement came only slightly earlier than anticipated. When will Frank Lampard depart?

Steven Gerrard, who returned after being rested against perennial pushover San Marino, turns 33 in May – but Wednesday's display by the captain shows he's a player England can ill-afford to miss on the way to Brazil.

Gerrard's corner set up Wayne Rooney's opener in the 31st minute. Obvious enough. What might have been missed was Gerrard forcing Poland to lose possession, which led to the corner.

His fizzed ball in the second half was wasted by a man in form, Jermain Defoe, and seconds later, Gerrard delivered another dangerous cross into the box. He was, comfortably, England's top player.

2. England defense out of sync
A divisive figure he is, but Terry was usually reliable and assured in an England shirt. Terry and Ferdinand in the center of defense, in their prime, made for one of the finest defensive pairings in the international game. Ferdinand probably got along with JT back then.

Phil Jagielka and Joleon Lescott, a current and former Toffee, aren't quite there yet. There's much to like about Jagielka: He throws his body around a la Terry, is a team player and a great professional. Yet he underwhelmed against Ukraine last month and caused panic at the back against Poland when he muffed a clearance in the second half. One isn't quite convinced by the duo.

In the opening stages, fullbacks Ashley Cole and Glen Johnson labored as Poland counterattacked.

And finally, Joe Hart – being talked about as the best goalie in the world – made the gaffe on Poland's leveler when he was out at sea on Kamil Glik's header in the 70th minute.

3. A tale of two strikers
He'll take the goal – even if it seemed the ball went off his shoulder – but Rooney didn't enjoy one of his better outings with England. He found it difficult to get involved, mis-hit passes when in possession and shot over the bar when teed up by Manchester United teammate Danny Welbeck with the score 1-0. A frustrated-looking Rooney – when he has that look, a yellow or red card can follow – was replaced by Alex Oxlade-Chamberlain in the 73rd minute.

Poland's talisman, Robert Lewandowski, lasted the entire 90 minutes and made his presence felt, making driving runs and creating a chance with a looped pass over defenders in the first half. No issues with his link-up play.

If only Poland, without injured captain Jakub Blaszczykowski, had shown such promise on home soil at the Euros. England tops Group H with eight points and will be glad its (arguably) most difficult away game is finished.