Dejan Damjanovic: A star created in Asia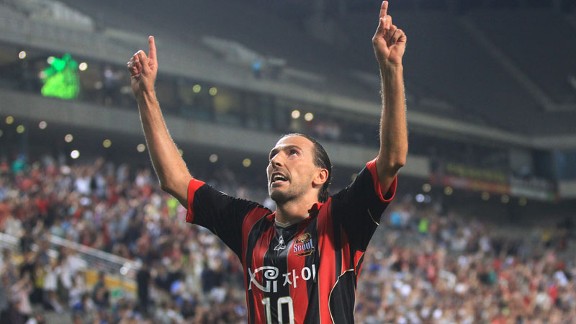 AllsportDejan Damjanovic's transfer from FC Seoul to Jiangsu Sainty is creating a buzz in Asia.
It is a familiar sequence of events in the world of football: The face of a new signing is plastered on the front pages of the local newspapers, his arrival in the city is greeted by hundreds of fans chanting his name, his social media accounts are inundated with messages from new fans (and sad goodbyes from old ones) and the whole league is excited.

But Dejan Damjanovic's move from FC Seoul to China's Jiangsu Sainty is a little different and all the better for that. This time, it is not some aging veteran flying in from Europe or South America who is making headlines and quickening pulses, but a man who has never played in a so-called big league in his life and has never appeared at a major (national team) football tournament. This 32 year-old, not in his prime, perhaps, but in great form nonetheless, has become a star in Asia because of Asian and not European exploits.

This is unusual in the world's biggest continent. A return east of the likes of Son Heung-min or Shinji Kagawa would be major news, but these are players who became big names back east, outside their homelands that is, only when they became stars around the world. It is rare indeed for a player to make a name for himself in Asia and then move to another Asian country and cause so much excitement and anticipation.

All who spend time here know that turning Asian football fans into fans of Asian football is tougher than a Javad Nekounam tackle. Too often Europe is looked to. Too often, the Champions League means the UEFA version. Too often, locals don Manchester United, Arsenal or Barcelona shirts to head to cafes and "support" their western teams, while giving what goes on locally little thought. Too often they don't just not support their domestic league, they actively denigrate it. And too often do Asian fans and media need their stars to be validated by European press, players, coaches and fans.

And not often enough do fans in one Asian country take notice of what happens in another. There is passing interest that operates on a strictly regional basis -- strongest in Southeast Asia -- (ask a fan in two major continental powers Japan and Iran, for example, about events in the other's league and there won't be much of a conversation) but overall, there is not as much as there should be.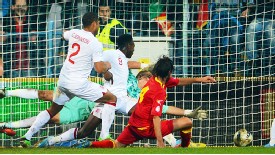 AllsportDejan Damjanovic starred for Montenegro against England.
Those with a vague interest in Asia would have known and respected Damjanovic for his goal-scoring exploits in the K-League -- 141 goals in 260 games -- but the continental competition brightened the lights around his name. Only now, since Seoul's run to the final in 2013, has he become a star of Asian football. His good form in World Cup qualification with Montenegro -- that included goals home and away against England -- complemented his success in Asia, but it was always second billing to his Champions League form.

Chinese fans have become familiar with Damjanovic through the six games he played against Chinese Super League opposition last year. Familiarity does not always breed contempt. Only Elkeson at Guangzhou -- where else -- was a rival for the best striker in the competition.

The talkative 32 year-old scores goals and important ones at that. From the opening game of the group stage, when he netted a brace for Seoul against Jiangsu in a 5-1 win, to the second leg of the final when -- with the Koreans up against it in front of 45,000 fans in Guangzhou -- he kept his cool to convert a rare chance.

That strike, bittersweet as just one more would have given Seoul the title, was the culmination of an impressive run of performances in the knockout stage. In the quarterfinal 1-1 draw at the Saudi Arabian home of Al Ahli, he scored the vital away goal and then got the only goal of the game at home in the second leg. In the semifinal against Tehran giants Esteghlal, he netted the opener to get the Koreans on their way, and at home to Guangzhou in Seoul, he struck late to earn a 2-2 draw for the hosts and give hope for the second leg.

It was no surprise that the ambitious Jiangsu, runners-up in 2012 before struggling last season, would turn to Damjanovic. Unlike the likes of Nicolas Anelka, he has a proven ability to survive and then thrive in East Asia. It is not a bad deal for FC Seoul, either. More than $4 million, double what they paid, for a man who has given the club six great seasons and is approaching his 33rd birthday. And it is a good deal for the man himself, with a serious leap in salary as he approaches the twilight of his career and a chance to play in a fascinating country and a growing league.

But it is Asia which comes out of this the best. It may still have some way to go, but if the Asian Champions League can become a competition with the capability to make stars of those who star in it, then it is approaching a new level (and it is not always about the stars, sometimes there are deals that make less headlines -- such as Seoul going to one of their Asian CL opponents of 2013 and signing a left back from Thai team Buriram United).

The Damjanovic transfer is another example of the growing financial power of Chinese clubs and the growing standing of the Chinese Super League, but it could be the first real example of a player who made his name in Asia to transfer from one Asian league to another and be greeted with real excitement and anticipation. It is a significant step.