New brooms sweep away old ways
On the day Tony Pulis first met the Palace squad, so the story goes, he made his plans Crystal-clear, and in rather hard-edged terms. If the context was rather different from Brian Clough's notorious "pots and pans" speech to his Leeds United player back in 1974, the tone is said to have been similar.

Pulis is evidently aware of certain perceptions about his style. But, if there aren't that many people who enjoy the former Stoke manager's physical approach, there are even fewer teams that enjoy facing it.

Tim Sherwood's first session with the Tottenham Hotspur team as their manager, on the December Monday morning that Andre Villas-Boas' sacking was confirmed, is known to have been much more convivial.

His exchange with the media just after his side had been beaten by Arsenal in the FA Cup last week, however, was a little less so. Clearly, Sherwood is aware of certain perceptions too.

That evening, after Tottenham had been repeatedly opened up by a rampant Arsenal, the former Blackburn Rovers captain was asked why he used an old-fashioned 4-4-2 against a thoroughly modern 4-2-3-1.

"I didn't see us playing 4-4-2," Sherwood responded. "We just had 11 numbers on the field and tried to rotate and fill up every area of the field. I don't know what you are saying about 4-4-2."

If Sherwood himself would clearly argue with that analysis, it's difficult to deny that his team structure is conspicuously different to Villas-Boas' more static 4-3-3. Pulis has overseen a similar process, tightening Ian Holloway's ludicrously open formation to a cast-iron 4-4-1-1, and those alterations are one reason why Saturday's game at White Hart Lane is rather intriguing beyond even the requirements of both clubs.

Because, other than the cold facts of final results which can of course obscure broader truths, there are few aspects of a manager's job that reveal how well he is working like a public attempt to change style.

Even aside from tactical acumen, it tends to indicate so much about a coach's charisma, judgement and man-management. It's not just about knowing how to set a team up to improve things, but also getting players to fully follow orders. Pulis, for his part, is known to have significant pull in this regard.

The most notorious example of recent times was Villas-Boas' attempt to play a high line with a Chelsea defence that was both completely unsuited and resistant to such a move. Yet, despite not having the personnel or the personality to fully apply it -- and despite persistent calls to modify the tactic -- the Portuguese persisted. It played a significant part in costing him his job. And not just at Chelsea.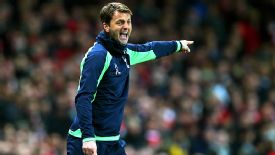 GettyImagesTim Sherwood was forced to defend his new tactical approach after Spurs were overrun at Arsenal.
Villas-Boas had been badly punished for a similar approach with Tottenham Hotspur against Manchester City. Although a more restrained set-up allowed him to steady things in the next few games against Fulham and Sunderland, the 36-year-old couldn't resist attempting to use the improved results to try and prove the system correct against Liverpool. Instead, everything went wrong. Spurs were again thrashed.

It was partly because of Villas-Boas' mistakes that Sherwood has at least been allowed to implement his tactics in circumstances that are more receptive. Clearly, his predecessor's game was not working. For a manager that was so concerned with pressing high up the pitch, Villas-Boas' Spurs struggled to create chances and very rarely got in behind defences. His sides were caught offside on average 1.2 occasions a game.

This is the most notable aspect Sherwood has changed with the effective blank canvas of the Spurs team, as he has favoured runners on the flanks much more. Tottenham are also a little less 'controlled', a touch more cavalier. That may conform to stereotype but it is true, judging from the lesser possession and greater of wing play.

That it is still somewhat difficult to discern Sherwood's insistent claim that Christian Eriksen is effectively operating as a third forward, however, illustrates how far he still has to go.

Spurs are clearly only some of the way along the new manager's path, which is understandable given that he has overseen just four league games, and so much of his preparation time was affected by the Christmas schedule. The last seven days allowed him his first opportunity to work with the squad for a full week. The fixture also notionally allows him an even more favourable context.

On the one hand, a home game against a struggling promoted club should provide a chance for his side to finally express themselves properly in this formation. On the other, there is the fact that Pulis is so much further along his own process -- and that Palace are a very different side to when Holloway departed.

Part of the reason for that, however, is that Pulis did not directly took on his predecessor's template. Despite the drastic differences, there was significant transition.

Keith Millen began the job, and enjoyed relative success in doing so. In the games immediately after Holloway resigned, Palace were already much more resolute. The biggest compliment you can pay the club is that, after an opening period of the campaign in which they looked doomed, they are no longer certainties to go down. Far from it.

Pulis, of course, has accelerated that process. Palace now get the ball in areas far higher up the pitch and anyone unwilling to work as hard defensively as he expects -- such as Jose Campana -- has been dropped. Joel Ward has also been moved into central midfield to provide more muscle. That attribute is something Tottenham will certainly encounter at White Hart Lane and, given that Sherwood's approach is some way from being fully formed, it could make for an engaging contest.