Vitesse Arnhem's use of loans rocks the Eredivisie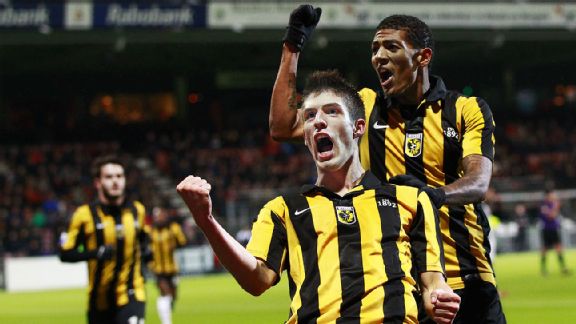 VI Images/Getty ImagesLucas Piazon, on loan from Chelsea, is leading Vitesse Arnhem this term.
Editor's Note: This piece was edited after publication to add proper attribution to some of the reporting.

"No bridge too far" is a saying that the people of Arnhem, situated in the eastern part of the Netherlands, know all too well. The maxim -- adapted from Commander Frederick Browning's famed words, uttered before the battle which shares the city's name -- can also apply to Vitesse, their football club, who are riding on a crest of a wave atop the Eredivisie.

It's a turnaround from this time last year when the club began 2013 in fifth -- five points behind the leaders -- and would end 2012-13 in a respectable fourth place, their highest finish in more than a decade.

Going into this season not much was expected of them -- let alone challenging for the championship -- given the departures of Marco van Ginkel and serial goal-getter Wilfried Bony, both heavily responsible for Vitesse's strong campaign, but as we've come to expect from the team in black-and-yellow, they've defied the critics.

Van Ginkel, a youth team graduate, left for Chelsea, who incidentally ensured Vitesse wouldn't allow their good work and upward trajectory to be unravelled. For a while both have been working together, a relationship that has coincided with the Dutch club's ascent.

In essence this has been a story three years in the making. Their growth as a club can be attributed to the involvement of Georgian businessman and ex-footballer, Merab Jordania. His takeover in August 2010, which made Vitesse the first Dutch club to be foreign-owned, started the ball rolling. The acquisition was not without criticism; given the important social and community element to Dutch football clubs, this sale represented a violation.

Within the walls of Arnhem, however, Jordania's involvement was seen as financial security; the events of 2003, when the club nearly went bankrupt (the timely intervention of the city council helped create a financial rescue package), were still fresh in the memory.

After an involvement of three years Jordania departed last December, selling his ownership stake to Russian billionaire Chigirinsky. This sudden transfer of power, coupled with Chigirinsky financially supporting Jordania from the onset, reaffirmed the argument the Russian had been pulling the strings all along. It appeared that Jordania was keeping the seat warm until, in his own words, "the right moment" came to move on.

Where there's one oligarch, the shadow of another is not far behind. Chigirinsky is close friends and business partners with Chelsea owner Roman Abramovich -- both own large shares in Snegiri, a Russian real estate development company -- and this is where Vitesse comes in.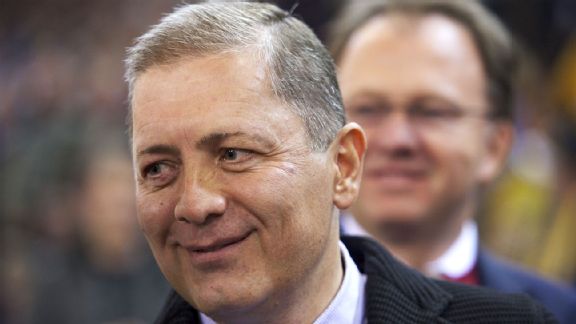 VI Images/Getty ImagesMerab Jordanian took over Vitesse in their lowest ebb, helping to restore the club, albeit with Chigirinsky's covert help.

Before stepping down Jordania signed a "partnership" with Abramovich that will only strengthen under Chigirinsky. Five Chelsea players are currently housed at Vitesse: Lucas Piazón, Patrick van Aanholt, Christian Atsu, Cristián Cuevas and Bertrand Traoré. The mutual benefit is obvious: from a Vitesse perspective it bolsters their squad with individuals who are, in theory at least, destined for stardom. As for Chelsea it gives youth players on the periphery an opportunity to play regular football abroad in a competitive top-flight. (For more on this Chelsea-Vitesse relationship, read Jake Cohen's extensive reporting at We Ain't Got No History.)

In the club's defence, solely attributing their resurgence on loan signings from Chelsea is wide of the mark: only Piazón, Van Aanholt and Atsu have featured prominently in the first half of the season. Gaël Kakuta and Sam Hutchinson have both returned to London. Cuevas remains but has rarely featured. Traoré, an exciting attacking prospect, joined this winter and the early indication is that he'll soon be a first-team regular.

Vitesse are not alone in the Netherlands when it comes to this practice; loan-signings are seen as a stop-gap solution at a time when sides are focusing more than ever on their academies (developing footballers). And if a self-trained player isn't ready to step up, they go down this path.

Though Vitesse's pact with Chelsea has left many feeling uneasy. Critics -- who've dubbed the club "Chelsea B" -- feel it compromises the integrity of the league. A rule limiting the number of loan signings from any one club to three has been proposed but until it's ratified their arrangement can continue.

Despite the questionable ethics involved, this shouldn't overshadow the good work behind the scenes. Like a majority of Dutch clubs, Vitesse see the bigger picture and have built their success on clever management: a frugal business model, a very good scouting network (at home and abroad) and a youth program.

You also need the right manager. Jordania, it mustn't be forgotten, inherited a team in late 2010 that was floating above the relegation zone but would eventually stay up on goal-difference -- subsequent appointments of John van den Brom (seventh place finish) and Fred Rutten (fourth) lifted the club to where they are now, in the process rekindling memories of their heyday in the 1990s when the club would regularly finish in the top six between 1989-90 and 2000-01, even managing a third-place campaign in 1997-98.

The Georgian's final act was to appoint the equally ambitious Peter Bosz, who began his playing career at the club in 1981, from Heracles Almelo. At his former club Bosz earned a reputation of being forward-thinking, proactive and committed to daring football. Heracles, noted for their steadfastness to play "free-flowing" football, were a neutral fan's favourite under Bosz's command.

It took a while, but the Arnhem club are starting to play in his vision. Leading their charge is mercurial playmaker Piazón -- oft-compared to compatriot and fellow São Paulo FC alumnus Ricardo Kakà due to his graceful style. Everything positive they do seems to go through him with eight assists complementing his 11 goals, putting him in a strong position to succeed Bony as "Footballer of the Year" in the Netherlands.

But it's hasn't been a one-man show. Bosz has forged a collective spirit that should hold them in good stead in the second half of the season.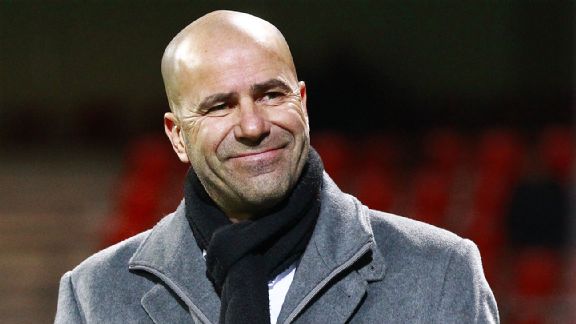 VI Images/Getty ImagesLoans and criticism aside, much of the credit for Vitesse's success is owed to their innovative manager, Peter Bosz.

Rejuvenated under Bosz, Davy Pröpper has chipped in with five goals from midfield; equally important is his role as Vitesse's calming presence in the middle of the park -- alongside the metronomic Marko Vejinović -- and taking over the reins from club icon and cult hero Theo Janssen, who is sidelined with cruciate ligament damage.

Another stepping up -- and filling the void left by Bony -- is their 6'4" centre-forward Mike Havenaar (five goals), but most surprising (albeit pleasant) is the contribution of right-back Kelvin Leerdam with seven goals. A side laced with finishers and creators from just about every part of the field tells its own story: players in form, enjoying their football and each other's company, destined to write a storied tale.

The addition of midfielder-cum-winger Zakaria Labyad -- formerly of PSV -- on loan from Sporting Lisbon for the next 18 months, if anything, strengthens his selection by adding depth and talent. Expectations understandably are higher than ever, but Bosz isn't allowing himself to getting carried away. "Our players are made of flesh and blood."

Originally established as a cricket club in 1892 -- one of the founders, Willem Hesselink, would go on to play for Bayern Munich as well as becoming their second president -- missed the opportunity to close 2013 as winterkampioen (winter champion), their supporters are nevertheless looking forward to what 2014 will bring. With each passing week it's looking more certain the champion will emerge from a select group of three: Ajax, Twente or plucky Vitesse.