Pepe Mel: From Betis to the Baggies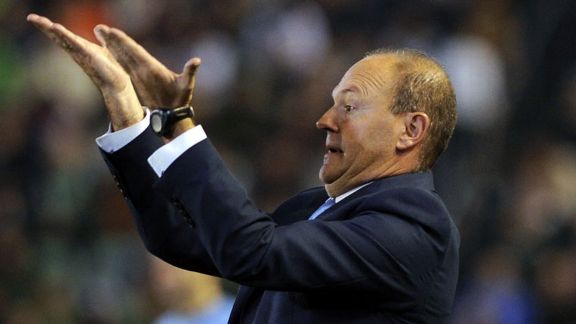 GettyImagesWest Brom's new boss Pepe Mel is a colourful character who has written acclaimed thriller novels.
When Pepe Mel was announced as new West Brom head coach on Thursday evening, the reaction from many Baggies fans -- and some pundits and journalists who should really know better -- ranged from surprise to disappointment to anger.

This was quite different, but also similar in a way, to the reaction when Mel was sacked as Real Betis boss in early December, with the team rock bottom of the Primera Division table, having taken just two points from their last eight games.

Removing the manager would seem an understandable response to that situation, but most Betis fans and pundits were dismayed at the decision, and hundreds turned up at the Estadio Benito Villamarin to offer support to a man with whom they had built a strong bond during his first three years at the club.

Mel, a former Real Madrid youth-teamer who had a successful spell with Betis as a striker in the early 1990s, was still not an obvious choice for the job in summer 2010. He had previously achieved promotion to the second tier with Rayo but not stood out during other terms in charge of (among others) Murcia, Tenerife and Getafe, and had never managed in the top flight.

Betis were floundering completely when he took over, having been unable to bounce straight back up to the Primera Division the season before, and in institutional chaos. The mood around the Villamarin then was gloomy to say the least. Mel brought a boost of positivity and quickly turned things around. Experienced players who had struggled elsewhere but were hungry for success were brought in. They were blended with kids who had progressed from the club's youth ranks, and promotion was achieved in one season.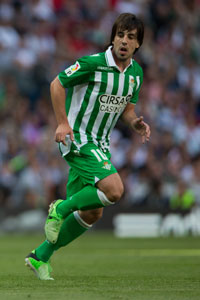 GettyImagesBenat won his first international cap after starring under Mel at Betis.
The first campaign back in the Primera Division brought consolidation and a 13th-place finish, which was built on last year with the team finishing seventh and qualifying for the Europa League. Mel built a reputation as an excellent tactician, but one who was not married to one particular style of play. His Betis were particularly good at taking bigger opponents by surprise (beating Guardiola's Barca 3-1 in the Copa del Rey and winning at San Mames against Marcelon Bielsa's Athletic), and last season in particular evolved a very flexible 4-2-3-1 or 4-3-3 shape. With Benat Etxebarria as a deep-lying playmaker, the team proved especially adept at breaking quickly and with pace.

Such performances, and the club's difficult financial situation, meant many of their best players were cherry-picked by richer clubs last summer. Evidence of Mel's role in these players' development (particularly building their confidence) could be seen in their subsequent struggles at new clubs. Benat, for example, broke into the Spain squad with Betis but has been benched at Athletic Bilbao.

Mel was not involved in recruitment at Betis, and often seemed at odds with then-sporting director Vlad Stosic, who brought in 13 new players last summer, none of whom have impressed too much. Building a new team, while also dealing with Europa League and Copa del Rey commitments, proved very challenging, and Mel got more prickly and gloomy as results worsened through October and November.

Most in Spain nevertheless thought Betis were capable of turning things around, with a couple of good results perhaps starting off a charge up the table. Under Mel they were known for streaks of results, with the team's confidence dipping up and down. In 2011-12 they won their opening four Primera Division games to top the table, but then lost five in a row to slip back into mid-table. These streaks also brought barren runs in front of goal, and a feeling that Mel himself can live the ups and downs too closely. A really interesting character -- he has written thriller novels that have been well-reviewed in Spain and once said he'd prefer to see his daughter pregnant than Betis relegated -- Mel can sometimes overthink some games and his Betis had a tendency to flop horribly in derbies against local rivals Sevilla.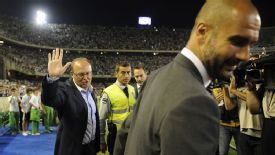 GettyImagesPepe Mel got the better of Pep Guardiola's Barcelona during his time at Real Betis.
But there is no doubt that he has clear, positive ideas about the game, and can communicate them well to his players. He has also been learning English for a couple of years now. The well-defined and deep structure at West Brom might well be ideal for him to get on with coaching and organising the team, and he told El Larguero on Thursday night that he was aware of his place in the 'model' at the Hawthorns.

"There are people here, and a structure that can help me," Mel said. "They are thinking of the future, and have an important model in place. They wanted a Spanish coach, as we do things well. I want to show them they were not wrong."

Mel's enthusiasm and commitment to the job cannot be doubted, and Baggies fans can expect to see attractive attacking football, bringing some big results against top teams, but also maybe some dips along the way too. Many in Spain, particularly Betis fans, will be wishing him all the best.