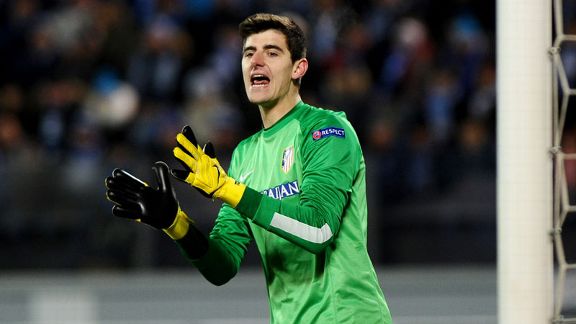 GettyImagesThibaut Courtois has been on loan at Atletico since 2011.
The January transfer market is known for its loan movements, so the Top Tenner team have unearthed a list of the all-time great loan deals.

10) Robbie Keane -- Spurs to Celtic, 2010

Sure, we've all heard/done the jokes about the number of boyhood clubs Robbie Keane had, but for a lad from Dublin to play for Celtic is a pretty big deal. "It's absolutely unbelievable," said Keane at the time, with a grin that only a man fulfilling a childhood dream could as the Celtic fans greeted him in their thousands. "This is the reason why I've always wanted to come to Celtic." And play with some gusto he did, scoring 16 goals in 19 games and was named the club's player of the season, despite only being there for under half of it.

9) Hernan Crespo -- Chelsea to AC Milan, 2004-05

One of the first tranche of arrivals at Chelsea following Roman Abramovich's purchase of the club, Hernan Crespo never really settled at Stamford Bridge, despite scoring a perfectly respectable 25 goals in 73 games over two seasons. Between those two full campaigns at Chelsea he played for AC Milan for a season, and while his league contribution of 10 goals was relatively modest, it was in Europe where he excelled, scoring six in 10 games, including two in the final against Liverpool. And what happened after that wasn't exactly his fault ...

8) Jurgen Klinsmann -- Sampdoria to Tottenham, 1997-98

In 1997, Jurgen Klinsmann wasn't really getting much of a game for Sampdoria, after arriving there from Bayern Munich in the summer, and ahead of the World Cup that would turn out to be his swan song, he could not tolerate a season on the bench. At the same time, Tottenham were circling the drain in the relegation zone, and with Christian Gross as their manager, things didn't look too good. Klinsmann's return seemed to suit everyone therefore, and it paid off rather well, with the German scoring nine goals (including four in one game against Wimbledon) to help lift Spurs to safety.

7) Jermain Defoe -- West Ham to Bournemouth, 2000-01

Clubs of course loan their promising youngsters out all the time, for them to gain some experience, to toughen up, to stop cluttering up the place and so forth. The ones that are going to make it to the top show their class straight away, and their talent is immediately obvious -- think David Beckham at Preston, or John Terry at Nottingham Forest. Jermain Defoe might not have made it quite to the very top, but fans of Bournemouth in 2001 would probably have placed bets on him scoring 50 goals for England, so prolific was he. Defoe of course scored in 10 consecutive games for the Cherries, equalling the post-war record (Dixie Dean still holds the English record at 12 games, in which he scored an absurd 23 goals), and ended his time with Bournemouth having found the net 18 times in 29 games, as they just missed out on a playoff place.

6) Jimmy Glass -- Swindon to Carlisle, 1999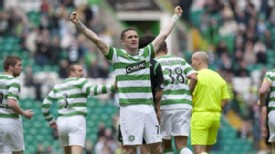 SNSRobbie Keane enjoyed a successful spell at Celtic.
He wasn't a particularly good goalkeeper, Jimmy Glass. He played 215 games for 16 clubs over 15 years, never staying in one place for longer than two years. But of course, he is defined by one game (one of three he played for Carlisle), in which he did the very last thing expected of a keeper: score a goal -- the goal that kept Carlisle in the Football League. There are longer loans on this list, there are more high-profile ones and there are more important ones, but surely none were as valuable.

5) Christophe Dugarry -- Bordeaux to Birmingham, 2003

"I can honestly say in the last 20 years -- and this might be a strong statement -- me and Christophe Dugarry probably had the biggest impact on Birmingham since Trevor Francis." So said the ever-modest Robbie Savage, and it's difficult to disagree with part of it. The other part ... well, take as many swings as you like. It still seems slightly weird, Christophe Dugarry playing for Birmingham, but play he did, and how. Dugarry was obviously several steps in class above anyone else at St. Andrews, and his brilliance was the key factor in the Blues staying up in 2003, and while he signed permanently at the end of the season, it was never the same. Still, they will always have those few months.

4) Kevin Campbell -- Trabzonspor to Everton, 1999

To give an illustration of the dire straits Everton were in as the end of the 1998-99 season, Kevin Campbell ended the campaign as their top scorer. Campbell, who only signed for them in March. The former Arsenal striker arrived with Everton staring relegation in the face, a loan from Trabzonspor that Campbell was obviously keen to make after the Turkish club's president called him a "discoloured cannibal" and that they "bought him as a goal machine, but he turned out to be a washing machine." However, he did make quite an impact at Goodison Park, scoring nine goals in eight games, including a hat trick in a 6-0 win over West Ham that would ultimately keep them up.

3) Thibaut Courtois -- Chelsea to Atletico Madrid, 2011-present

It seems faintly ludicrous that Chelsea have probably two of the top 10 goalkeepers in the world on their books. Petr Cech might not quite be the keeper he once was, but with the possible exception of Manchester United, every other Premier League side would probably gladly trade their own custodian for the big Czech. And hey, if that happens, then Chelsea can just call upon Courtois, who is in the middle of his third season on loan at Atletico Madrid, where he won the Zamora last year and is on his way to retaining. Under Diego Simeone, Atleti have progressed from being a punch line in the shadow of bigger and more successful neighbours to a genuine force in Spain, and maybe soon European football, and plenty of that is down to their young Belgian loanee.

2) Edgar Davids -- Juventus to Barcelona, 2004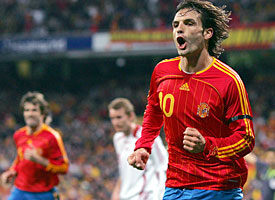 AllsportWherever he went, for club or country, Fernando Morientes scored goals.
While you kids may know Edgar Davids as the red card-magnet player-manager of Barnet, he was actually a pretty decent player in his day. It's easy to forget that the Barcelona revolution begun by Frank Rijkaard was very nearly ended before it really started, after a horrible start to the 2003-04 season left them languishing at the ugly end of the table, a 5-1 defeat to Malaga and a loss to Real Madrid in the Nou Camp being particular low points. Then "the Pitbull" was called for, arriving in January, and he galvanised the team into a remarkable run of 13 wins in 15 games, including a redemptive victory in the Bernabeu, very nearly resulting in a title that would have been a laughable prospect at the turn of the year. While it's possible to overstate Davids' impact in hindsight, who knows what would have happened to Barca had they not recovered in that season?

1) Fernando Morientes -- Real Madrid to Monaco, 2003-04

You'd imagine that, after five years and 90 goals for Real Madrid, Fernando Morientes was a little ticked off when Florentino Perez's obsession with signing the shiniest toy in the shop resulted in the purchase of Ronaldo, fresh from winning the World Cup almost on his own for Brazil. Morientes was relegated to bit-part player -- understandably, it must be said -- while "Il Fenomeno" bashed in goals for fun. So it was for the benefit of everyone that he was loaned out to Monaco the following season.

Well, sort of everyone. Monaco must have seemed like a relatively safe place to send Morientes -- after all, they played in a different country, and it's not as if they were going to cause Real too many problems in the latter stages in Europe, right? Right? That was the theory, anyway, and it is perhaps the reason that there was no clause in the loan arrangement preventing Morientes from playing against Real, which came in handy when Monaco faced them in the Champions League quarterfinal. Handy for Monaco, anyway. Rather inevitably, not only did Morientes score in both legs, but he scored the away goal that would eventually knock Real out. One imagines someone in HR was fired for that oversight.