Moyes must throw off shackles to be a success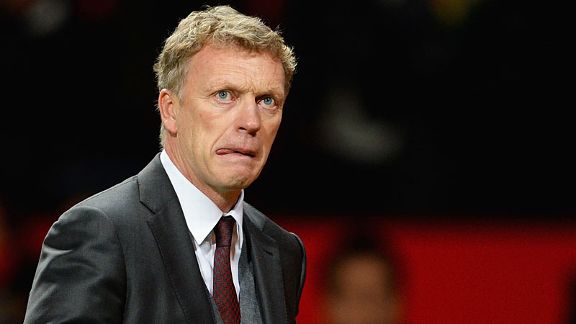 GettyImagesSir Alex Ferguson urged the fans to stick with David Moyes when he retired.
They're words that now seem unintentionally ironic, that can be layered with a darker twist.

In October 2012, seven months before Sir Alex Ferguson actually retired, the then-Manchester United vice-chairman Ed Woodward described the club's succession plan with utter confidence: "We have a view as to what that process will look like in terms of finding a replacement and what type of manager we want and how and when we'll go about it."

It's probably fair to say no-one expected it to look quite like this, especially so soon after Ferguson's retirement. That is perhaps the most galling aspect of all for United. Despite all the forewarning from Matt Busby's initial departure in 1969, all the long-term concerns that should have conditioned the club, not to mention former chief executive David Gill repeatedly insisting the club would be "ready" and "there won't be meltdown," their worst fears are being realised. It realistically couldn't have gone much worse.

The most feared team in England have become, as one first-team player is believed to have put it in a team meeting, a "laughing stock."

Of course, it would be incorrect and hugely unfair to put all of this at the feet of David Moyes. Even leaving aside all the relevant questions about the state of the squad the 50-year-old inherited, not to mention the transfer situation, a seismic event like the retirement of the most important figure in the club's history was always going to send huge destabilising ripples around Old Trafford and Carrington. As Gill said in 2011, it would "clearly be a sea change." Everyone at the club was going to have to adjust, and the nature of such momentous transformations is that some would inevitably do so poorly.

That, however, was exactly why a manager with Moyes' incomplete CV was the wrong choice in the summer of 2013.

There are so many other uncertainties around United right now that there was no need for the board to exacerbate them by adding another. As it was always going to influence events on the pitch, and undeniably affect results, the English champions needed a manager whose every decision is at least backed by brilliant success. That way, even if United did suffer such poor results, there would still be the guarantee that the manager had proven himself at the top level.

That, for all his own admirable qualities, is not the case with Moyes. There is no evidence he has the qualities to turn the situation around at this level of the game, a situation too turbulent to be learning on the job. It's the kind of thing that matters to top players, especially those that have won so much. Although it may be something psychological, it ends up having a tangible effect because every mistake leads to more questions, an erosion of confidence, and more dropped points.

It is unlikely to have happened under someone like Jose Mourinho or Pep Guardiola -- bona fide world-class managers that a world-class club should be appointing.

On the day after Ferguson's retirement became public, the United squad was at Chester races discussing his replacement. Almost to a man, they wanted Mourinho. That, for all the external perceptions, is the genuine effect he has within the game. Those who run the show at United may have been worried by Mourinho's style and image, but all that matters to the players is that he is a proven winner.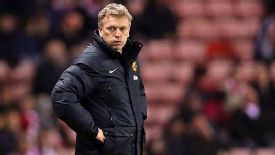 GettyImagesAfter three consecutive defeats there is no end in sight to David Moyes' troublesome beginning at Man Utd.
The United board are known to have ultimately passed over the Portuguese because they feared the "instability" he would have caused without Gill to keep him in check, but they would probably swap it for what they have now. If you are winning, everything else can be weathered. Mourinho, for all his other issues, and Guardiola are the closest to a sure thing in management beyond Ferguson.

If the Portuguese causes ructions, he at least ensures the sturdiest baseline in terms of results. That is why it might have been more prudent for United to try and initially just stay on course with a coach of that standing, and after that go for a longer-term choice.

In so consciously trying to replace absolutely every aspect of Ferguson straight away, they may have overreached. The main issue now is whether Moyes has overreached too. If the decision is now in the past, and the present is so uncertain, the key question for the future is why exactly his CV is incomplete? Why, for all Moyes' respectable feats, did he never have that big success that makes a manager in the manner of Mourinho at FC Porto or Ferguson himself at Aberdeen?

One theory is this. Ultimately, when you break it right down, managers can be divided into two broad groups. There are those that accept a team's given limits and work within them; then there are those who refuse those limits and always look to push them.

Ferguson was undisputedly one of the latter, as is Moyes' replacement at Everton, Roberto Martinez. Whereas the Spaniard commonly speaks about breaking boundaries and accepting no excuses, the United manager has notoriously talked about trying to just make life difficult for visiting sides. That contrast could also be seen in the abrasive way Martinez won the FA Cup with Wigan, and -- most strikingly -- the assertive football he has attempted to play at Everton regardless of their opponents. Their performance at Arsenal was one of the most eye-catching this season as it was so unexpected by many.

The crux is that, to win the biggest rewards, you usually need to roll the dice; to be brave. This was something Ferguson preached and regularly practiced. Moyes has never really done so. If his football is not overtly defensively, it has always involved a somewhat rigid template: to claim possession and ultimately work the ball out to the flanks. There have of course been variations and other intricacies, but the broader trend has remained.

That is perfectly fine up to a point. It is a point, however, that a global super-club like Manchester United have long since passed.

When the expectation is that you win every game, as opposed to just secure a safe footing, you need to have more variety, more creativity, more angles of attack, less predictability.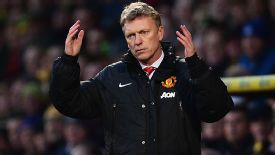 GettyImagesDavid Moyes will need to throw off the shackles if he is to make Manchester United successful.
As it stands, it is not outlandish to say Moyes' entire managerial career reflects his approach to the game. Just as his football has brought eminently respectable results but also that infamously poor away record against the best, he has taken teams to certain levels but no higher. He has never had that true breakthrough a bit more bravery and creativity might bring. There has always been a limit, a glass ceiling.

His one fourth-place finish ended in defeat in the Champions League qualifiers; his one FA Cup final ended with a lead being overturned. On both occasions, excuses were made about the quality of opposition -- Villarreal in 2005, Chelsea in 2009 -- but the point is that world-class managers eventually have to rise to such levels.

At present, we are seeing football with limits at one of the few clubs in the world where there should be no limits. The growing question, as the situation gets more extreme, is whether Moyes will eventually rise to United's level or bring the club to his.

It is entirely possible he will evolve as a manager, and may well be in the process of doing so now. This could all prove an immensely valuable -- if an atrociously laborious -- learning curve. The signing of that key midfielder may well give him the different option in attack he wants and completely recalibrate the team. That may bring the right run, restore confidence, and see things suddenly swing.

There should be no disputing Moyes' resilience and integrity. It is impossible to think he won't improve, the key is by how much.