How Simeone masterminded Costa's Atletico comeback
Just like his goal-scoring predecessor Radamel Falcao, Diego Costa is likely to leave Atletico Madrid at some point, especially if he keeps up the outstanding form which has seen him net 23 goals in as many starts this season.

Unfortunately for supporters of clubs to whom the Brazilian-born striker has been linked in the last few months, though, it is less than likely that a transfer will happen in this month's window.

This isn't because Atletico does not want to sell. Just as they have done before with Fernando Torres, Kun Aguero and Falcao, the Madrid club fancies cashing in the interest raised by Costa thanks to his prolific form this season. However, Atleti also seem quite content to wait a few more months to see how "The Tale of Two Diegos" will unfold.

Costa's remarkable rise at Madrid has been well-documented, but the role played by his manager -- Diego Simeone -- is still somewhat overlooked.

- Hunter: Koke catches attention
- Mitten: Watching Messi's comeback

It all apparently started in January 2012 when Simeone heard his players cheering on the team bus after the radio announced Costa had scored for Rayo Vallecano, where he was playing on loan.

The reasons for the loan were twofold: Costa needed to amass minutes to complete his recovery from a knee injury, and it was also a way for Atleti to buy time to think of what to do with a "difficult" player: His disciplinary record is far from spotless, with 76 yellow cards and eight reds during his time in Spain and Portugal.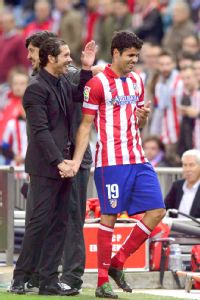 Dani Pozo/Getty ImagesSimeone saw some of his own qualities in his young striker.
Never known for being an angel himself during his playing career, "El Cholo" Simeone took note of the popularity of Costa, a player he had not had much time to get acquainted with (the former Argentine international took over at the Calderon in December 2011).

Simeone had initially agreed with the loan to Rayo and, according to sources close to the player, did not oppose a possible sale of the striker to Turkish and Greek suitors at the time.

However, after Costa scored 10 goals and had four assists in 10 games for Vallecano, his return to Madrid was a no-brainer.

If we finished the story here, it would already be one of great redemption for Costa, who arrived at Atletico in 2007 and never really settled before Simeone's arrival, which helps to explain why Atletico loaned him three times -- to Braga, Celta and Albacete -- and actually sold him once to Valladolid.

But, contrary to general belief, Costa didn't receive VIP treatment once he went back to Majadahonda, Atletico's training ground. Falcao was still ruling the roost, and the returning striker also had to prove to his manager that his short fuse would not be a liability.

"Simeone pushed Diego from day one. It was his work on the pitch that won the manager's respect," explains a friend of Costa's.

The Brazilian responded with 18 goals and 14 assists in 39 league and Spanish Cup games during the 2012-13 season. In exchange, Simeone overlooked Costa's tantrums on the pitch, including two on-field altercations in two different competitions in December 2012 that resulted in a four-match European ban.

Yet the Argentine manager didn't hold back his words of advice, some of which he publicized in his autobiography, "The Simeone Effect":

"[Costa] needs to control his strength and show some restraint sometimes. A great player will know how to maximize his abilities and hide his weaknesses."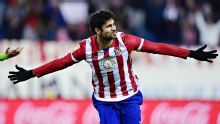 Javier Soriano/AFP/Getty ImagesWith 19 goals, Costa is currently the second-top score in La Liga.
It seems to be working, too. Costa has stepped into the huge gap left by Falcao's departure to Monaco by scoring goals seemingly in his sleep and also seems tamed, with only five yellow cards so far this season.

It seems remarkable given that the Brazilian-born forward could be forgiven for being affected by the bizarre tug-of-war involving his country of birth and Spain, his adopted home, for the choice to field him at the 2014 World Cup. Again, Simeone is reported to have been helpful in working as a buffer for his marksman.

So far, the 2013-14 season has exceeded expectations for Atletico fans still giggling after Atleti capped the previous one with Champions League qualification and a Copa del Rey triumph that saw the club record a famous first victory in 14 years over their local nemesis, Real. The season also featured a 4-1 thumping of Chelsea in the European Super Cup final.

The "poor cousins" of Madrid are relentlessly chasing Barcelona in La Liga -- both teams have 49 points, with the Catalans leading thanks only to goal difference -- and they should overcome AC Milan in their Champions League last-16 tie.

Costa has played -- and scored four goals -- in Europe this season, which would cup-tie him for any suitors this season, and all the signs coming from Spain are that he is staying put at least until the summer.

Overall, Costa has everything to play for in the next few months and many reasons to repay the faith put in him by perhaps the only manager who could understand how to channel all the energy he used previously throwing toys and punches.

With that in mind, loyalty will likely play a major role in Costa's future, regardless how many times you may read later this month that he is ready to report for training at Chelsea or Manchester United later.