Ax swinging closer for Sam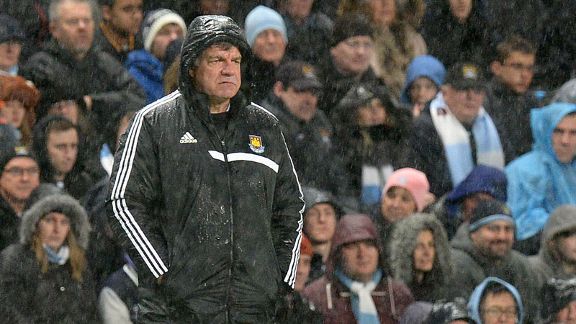 PA PhotosSam Allardyce endured a miserable 90 min as his side lost 6-0 at City.
It was little surprise to hear West Ham United fans asking Sam Allardyce to go forth and multiply. Eleven goals conceded in three days, and two cup exits condemned the Hammers to nothing but a relegation fight that few would be confident of them surviving.

No guts, no glory. A 6-0 loss at Manchester City followed a 5-0 FA Cup humiliation at Nottingham Forest that was men against toddlers.

Allardyce's squad is riven by injuries and bereft of spirit. They left Eastlands without a booking to their name; City barely needed to shift beyond first gear and their passage to Wembley was a foregone conclusion from the first kick of the match ball. City's stars skated through the mud, while Hammers slithered and stumbled.

Once West Ham conceded in the 12 minute, the rest of the narrative was as predictable as the plotline to a straight-to-video action flick. Meanwhile, their manager sheltered from the rain underneath a club-issue raincoat.

For Steve McClaren's "wally in a brolly" from 2007, read Allardyce's 2014 "dud in a hood." A manager who trades in entertainment value for solidity looked on as his team transformed into toxic sludge.

He has excuses and he'll stick to them. And will always use statistics to push them, too. A lack of central defenders and Andy Carroll was Wednesday's straw to be clutched. As it has been for rather too long.

"When the defence was together and fit we got eight clean sheets at the start of the season," he told Wednesday's postmatch news conference. "Now those players have gone -- [James] Tomkins, [James] Collins and [Winston] Reid -- that is why we don't get clean sheets, and when you don't get clean sheets it is difficult to win football matches, and when you have your best investment who you think is going to score you the most of your goals and he hasn't played yet it is going to be difficult."

It was true to say that a central defence injury crisis has been ruinous. Roger Johnson, relegated four times in four seasons, is the latest answer after taking the unusual step of being loaned from League One and Wolves. Johnson suffered horribly, and especially when Yaya Toure powered at him for City's third.

The Carroll issue, though, is much less excusable. Placing so much emphasis and investment -- 15 million pounds -- on a player with a diagnosed injury and questionable application was recipe for the disaster that may yet engulf West Ham. Entering a Premier League season without a striker worthy of the name was foolhardy to the point of negligence. And when other parts of the team start falling apart, then an inability to score goals is usually fatal. Nineteen goals in 20 matches does not compute into survival.

Upton Park's fading facia resembles the plastic fortress it now proves. An early-season defeat to a Stoke City team searching for a formula was indicator of troubles ahead. Modibo Maiga was hapless at striker; he would not score until Dec. 28. Stoke eventually took their chance through a Jermaine Pennant free kick. Allardyce spent postmatch bemoaning a lack of funds to buy a striker in the August window. Not scoring in nine of their Premier League games makes his point but compounds the misery.

Allardyce has built his managerial reputation on strong home form. A glance at his record at Bolton and Blackburn points to him picking up wins at home, and then trying his best to hold on for a draw away. There, it was effective. Since getting back into the Premier League from the playoffs in May 2012, it has proved less so. Last season was hardly a cakewalk to mid-table security but five defeats at the Boleyn spell disaster.
West Ham's support is never slow to voice its disquiet. Allardyce was tolerated while results and performances were acceptable; it can be no surprise to hear fans turn on him now. Patience with alehouse football could never last. The idea that Hammers fans want football played a certain way is actually little different to their equivalents at other clubs -- Stoke supporters wanted rid of Tony Pulis eventually -- but they are a group that expects some fun on the way.

Their away contingent was as its cutting best at Eastlands. Allardyce has always been an odd fit for them. His "Sam Allardici" triumphalism after a 3-0 win at Tottenham betrayed pretensions that his current club is below his level. Meanwhile, fans have to put up with his whims -- the Carroll catastrophe; the reliance on Kevin Nolan, who looks way past his best, and to be playing above his level. Last month's calling out of Nolan for his second sending off was indication of trouble in paradise, and a preview of the lack of team spirit shown at Forest and City.

"He's the 13th-best paid manager in the world," raged an angry caller to a postmatch phone-in. "He's not even the 13th-best manager in London."

That high salary is what most probably keeps him in a job. Four million pounds is the reported price that co-owners David Sullivan and David Gold must pay to rid themselves while replacement candidates are thin on the ground. Allardyce, at 59, will likely fancy a nest egg, and has been an unapologetic recipient of payouts in the past. Casa St James is the name of the Spanish villa he purchased with his 2008 redundancy cash from Newcastle.

Monday's open letter from Sullivan had already offered a vote of confidence. That confidence can only have been caved by the pathetic display in Manchester. On Sunday, Allardyce's fielding of kids was agreed with the owners, and the price of televised punishment was paid. Wednesday saw a chance to reach Wembley removed amid utter humiliation.

"You cannot keep losing football matches," Allardyce said Wednesday. "That is for sure as a manager." Weekend defeat at Cardiff could be the end. Few Hammers will mourn him.