Thrillers buck the half-hearted trend
The international breaks are usually maligned for being dull, insipid approximations of soccer. Yeah, they kick the ball (and one another), but do they really care? It's hard to say. With club seasons in intriguing ebb, the desire to shut up shop and switch to the early rounds of a World Cup qualifying cycle that doesn't seem entirely real yet isn't quite there.

Yet Tuesday saw enough jaw-dropping fun to drown out the disgruntled -- at least until the next half-hearted club hiatus, anyway.

Let's have a look.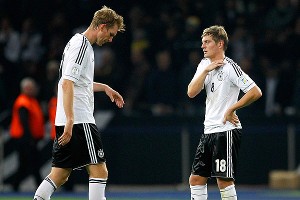 Boris Streubel/Getty ImagesGermany pulled off the unimaginable: blowing a four-goal lead against Sweden.
FEELING LOW
It's not easy being Joachim Low, manager of the German national team. The world knows volumes about his role in Die Mannschaft's re-emergence. His commitment to speedy counter-attacking transitions (and impeccable tailored shirts) has been lauded by the pundits. We've gushed over the impeccable conveyor line of youth talent: When a Michael Ballack retires, up sprouts a Mario Gotze, Marco Reus, Andre Schurrle or Lars Bender. We've seethed in jealousy that a team so stacked with attacking talent, led by bombastic full back Philipp Lahm -- amazing that he's just 28 years old -- is capable of looking so good.

Yet there is a clear mojo missing, as the dissonance between Low's enviable attack and his mostly-Bayern Munich back line is too glaring to ignore. It's also something that the media will giddily pore over until the next round of qualifiers in March.

Against Sweden in the comforts of Berlin's Olympiastadion, Low's typical German XI -- Bastian Schweinsteiger pulling the strings in midfield, while Mesut Ozil, Toni Kroos and Reus found ways to tee up the ageless Miroslav Klose -- bloodlessly galloped out to a 4-0 lead with just over a half-hour to play. Klose played poacher on goals one and two to cap sizzling interplay by Reus and Thomas Muller. Per Mertesacker thumped home Muller's cross, and the Bayern attacking midfield teed up Ozil for the fourth on 55 minutes.

Low soon found out that 4-0 is apparently the new most dangerous lead in soccer. Zlatan Ibrahimovic shrugged off his marker to nod home a cross. 4-1. Sub Kim Kallstrom's clever pass set up Mikael Lustig barely three minutes later. 4-2. Johan Elmander got behind a bereft Holger Badstuber to convert Alex Kacaniklic's low cross. 4-3. Then with seconds remaining, Mertesacker's limp clearing header (though it did look like he was fouled by Zlatan in the air) fell to Rasmus Elm to volley home amid the throng and complete Low's miserable afternoon.

Let's get one thing clear: These results matter a lot and a little all at once. Germany will still collect the air miles for a 2014 World Cup appearance (its 17th tournament of 19), while Sweden's spirited comeback still only amounts to a single measly point in a presumed fight for second place in the group and the chance for a playoff. But the ease with which Ibra & Co. laid waste to Manuel Neuer's goal in the final half-hour simply shouldn't happen. Of Sweden's 12 shots, just four were on target. All four went in.

A SPANISH TRAGEDY
Speaking of disappointed front-runners, there was a clear ennui in La Roja's performance against France that we've not seen for quite some time. This Spanish squad has rightly staked itself in the conversation of the best-ever national teams thanks to a glittering near-decade of pass-happy brilliance, but Tuesday's dull 1-1 draw with Didier Deschamps' fledgling squad perhaps hinted that winning is getting boring. Or that it's hard to always be the best. Or that the best is being saved for the games that truly count.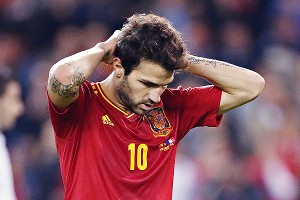 John Berry/Getty ImagesIs winning getting boring for Spain? There were hints of lethargy after Spain drew with France.
Whatever the root cause -- injuries forced Vicente del Bosque to use Sergio Busquets in defense, while both Alvaro Arbeloa and David Silva had to be subbed unexpectedly for the same reason -- these hiccups are to be expected from the impervious.

Remember when the New England Patriots went 18-1? When winning becomes a reflex, as it had for this Spanish team (25 wins from its past 25 qualifiers before this week), it is easy to become too reliant on the muscles to do as they should. Even the sharpest of muscular reactions can pick up rust, as they did when sub Juanfran -- who probably wouldn't have even seen the field in del Bosque's ideal world -- carelessly lost possession following a La Roja corner deep in injury time. From there, a quick counterattack and Franck Ribery's cross was artfully headed home by Olivier Giroud. A goal, a rupture in Spain's psyche and a mild disappointment that hasn't been felt for quite some time.

Maybe the mild tremor of a -- gasp -- DRAW is a good thing for La Roja. Del Bosque is so ingrained in his striker-less tiki-taka ways that being knocked down a peg (or two points) could help him and his hobbled, seemingly disinterested squad refocus on doing what it does best: ruthlessly burying opponents under a flurry of goals.

BITTERSWEET VICTORY FOR THE USMNT
Tuesday night's 3-1 win over Guatemala at a raucous Livestrong Sporting Park was just the tonic for a U.S. fan base that was experiencing the usual doubts: If they can't win in ANTIGUA & BARBUDA, what business does Jurgen Klinsmann's side have in Brazil in 18 months?

That those concerns were largely put to bed isn't the issue. Yes, Clint Dempsey marauded with purpose, Michael Bradley was coldly effective, Graham Zusi reprised his MLS form in front of the hometown crowd, and both Eddie Johnson and Herculez Gomez looked threatening and sharp. None of this can be disputed.

What will concern fans is the strength of the hexagonal this time around. Trips to Panama, Costa Rica, Honduras, Jamaica and Mexico will be a worry for Klinsmann, given the occasional flimsiness of his back line. How much longer can Carlos Bocanegra keep up? Who will eventually replace the aging hero at right back, Steve Cherundolo?

Injuries and illness did rob the USMNT of many prospects and valuable assets (Landon Donovan and Fabian Johnson, to name just two) over the past few qualifiers, but the fact that the affable German boss has yet to settle on a reliable core (20 games in charge, 20 different lineups) might frighten some, given the tough games yet to come.

For the 2010 World Cup, 16 points was good enough to seize fourth place and the extra panic of a playoff with Oceania. The margin of error will be just as thin this time around. The "Hex" fun begins Feb. 6.

MAGIC MINNOWS AND SULLEN SERBS
Remember when we lauded Serbia as that dark-horse team set to rise up and choke UEFA? The individual talent is there, given how in vogue it's become for big teams to fill important gaps with the nation's best players. Neven Subotic, Aleksandar Kolarov, Nemanja Vidic and Branislav Ivanovic in defense (also: up-and-coming Matija Nastasic); Zoran Tosic and Nemanja Matic pulling strings in midfield; Miralem Sulejmani and the ageless Peter Crouch wannabe Nikola Zigic up front.

Together, the group came up one goal short versus Slovenia for a spot in the Euro 2012 playoffs, but under the ebullient gaze of national hero Sinisa Mihajlovic, things were supposed to be so different. Except a 1-0 defeat at lowly Macedonia -- a squad that boasted Napoli's Goran Pandev as its best-known player -- has thrown its travel plans for Brazil 2014 into serious doubt. The hot starts of both Belgium and Croatia, two other de rigueur fringe Euro teams, has Serbia six points back of second place with six games remaining and trips to both nations yet to come.

The one thing in their favor is that the bulk of the squad is still young -- of the 25-man squad called up for this two-week stretch, only five were 28 or older -- and it's highly possible that they're not ready to break through. But in an era when international qualification is arguably more competitive and the stakes are considerably higher, waiting for one's turn is never a smart gambit. After all, sometimes it simply never comes.

(Also causing me great joy: Cristiano Ronaldo's failed coup of Northern Ireland. Portugal's 1-1 come-from-behind draw at home to the Green-and-White Army underscores my point above.)

URUGUAYAN U-TURN
Clearly, teams in South America don't feel threatened by Uruguay's convincing 2011 Copa America victory. Why should they? Take away Luis Suarez, Edinson Cavani and Diego Forlan and you're left with a defense that is dangerously unsure and a midfield for whom ball retention is a hypothetical.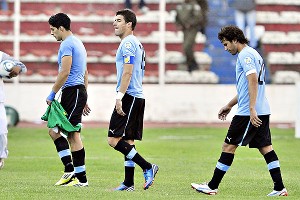 Aizar Raldes/AFP/Getty ImagesTroubled time: Luis Suarez scored, but Uruguay got crushed 4-1 by Bolivia.
A strong squad on paper (as per usual) came into this two-week break eager to heal following a dismal Olympics ... only to be thrashed 3-0 by Argentina in Mendoza and 4-1 by Bolivia in La Paz. We know that the dizzying altitude in Bolivia is something only sherpas and mountain goats can generally tolerate, but coach Oscar Tabarez must be approaching a fugue state at his side's 3-3-3 record midway through CONMEBOL qualifying.

International soccer demands an alchemy that can't be taught in two-week gaps, and for teams laden with players who know how to succeed and impress as individuals, the forced collective doesn't always work. Putting egos and personal baggage aside is a necessity in supergroups; hence why we all remember the laid-back charm of the Traveling Wilburys while heaping scorn on the arrogant mess that was Velvet Revolver.

That Suarez (seven goals in nine games) can look so sharp, while a seasoned back line of PSG's Diego Lugano, Benfica's Maxi Pereira, Atletico Madrid's Diego Godin and Juventus' Martin Caceres can look so flabby (18 goals conceded thus far in qualifying) simply doesn't compute.

It's highly likely that with four automatic World Cup slots and a fifth-place playoff date with Asia's fifth-best team, Uruguay will still feature in 2014. But after an impressive 18 months that saw a fourth-place finish at the 2010 World Cup and a Copa America win, the pressure is on to show that it was more than pure anomaly.