Adebayor narrative is fun but far from the truth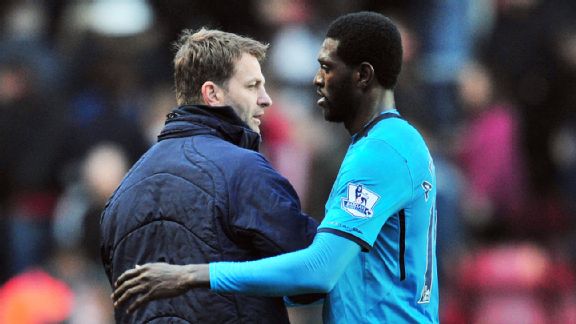 Glyn Kirk/AFP/Getty ImagesThe narrative suggests that Tim Sherwood has revitalized Emmanuel Adebayor. But it's much more complicated than that.
Let's start with what we know. Emmanuel Adebayor first arrived at Tottenham Hotspur on loan from Manchester City in the summer of 2011. He had fallen down the pecking order at the Etihad, losing Roberto Mancini's trust and being demoted to training with the reserves.

White Hart Lane seemed to rejuvenate Adebayor, making a mockery of the Italian's judgment. He scored 17 Premier League goals in that first season under the tutelage of Harry Redknapp, more than enough to convince Spurs to make the move permanent -- once protracted negotiations to make sure his 180,000-pound-a-week wages were covered -- even after they had changed managers.

Just as at City, though, Adebayor's second season was a disappointment. He scored just five throughout the domestic campaign. He made 25 appearances but Redknapp's replacement, Andre Villas-Boas, did not seem convinced.

This summer, Adebayor was granted compassionate leave following the death of his brother, Peter; the club allowed him to miss a substantial portion of preseason so he could return to Togo to attend the funeral. When he arrived back permanently midway through September, his welcome was substantially less compassionate. He was told to train with the reserves, with Villas-Boas reportedly -- and oddly -- infuriated by his refusal to remove a hat during a team meeting.

He would play for the Portuguese manager just once more, as a second-half substitute in their mauling at City, before Villas-Boas was summarily sacked. His ostracism of Adebayor was one of the reasons Daniel Levy, the club's chairman, determined he had to go. He was failing to get the best out of one of Spurs' highest-paid players. That would not do.

His replacement, Tim Sherwood, who had got to know the 29-year-old during his stint with the club's development squad, immediately recalled him to the team. He called him a "warrior," suggesting that Adebayor was key to the club's ambitions. He even played him in the FA Cup tie at Arsenal, despite admitting that he was struggling with his workload after so long on the sidelines.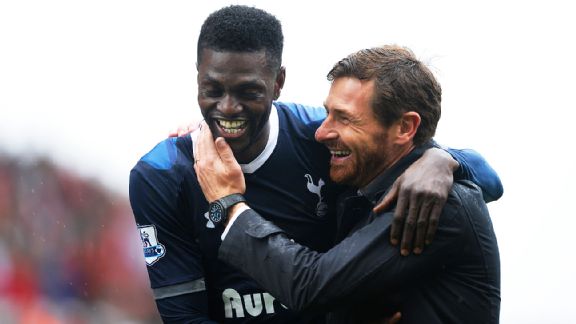 Laurence Griffiths/Getty ImagesOverall, Adebayor's tension with Andre Villas-Boas has been painted as the manager's fault after the fact, which is rather unfair.

Football loves stories. It is like professional wrestling in that sense: it thrives because of the strength of those plotlines it weaves. The player scoring against his former club, the wonder boy emerging from nowhere to redefine the limits of what we thought possible, the collapse of the impregnable empire: these are the classic tales on which a season is built.

We do not watch football just for the skill and the athleticism and the intelligence. We watch because it serves as a soap opera, a drama and a comedy all rolled into one. It is escapism and allegory. It takes us away from life -- and tells us a little bit about it, too.

The story of Adebayor is a case in point. It is another of the stock narratives football draws on so regularly: the outcast proving his tormentor wrong.

Act 1: The cold, distant boss disregards his mercurial worker. Act 2: The cold, distant boss is dismissed, hubris catching up with him. Act 3: The mercurial worker, freed from a prison of his manager's making and given trust and love, proves he should have been playing all along, validating the dismissal of the cold, distant boss.

The moral of the fable? There is goodness inside all of us, or something.

That is how the story has been told. It has been cast through the prism of what we know about Villas-Boas. We know Villas-Boas is not an arm-round-the-shoulder type. We know there is something a little dogmatic, a little uncomprehending about him. We know he is a bit like an alien, sent down to the planet in an attempt to understand what it is to be human but confused by the rich variety of emotions we display. We know he is all about system over soul.

That is a theory that first took root at Chelsea, when he failed to deal with his players on a human level. The defining image of his time there is Villas-Boas gazing out of the window of his corner office at Cobham, checking what time the players were arriving. He slept there, he ate there, he absorbed himself in the game. He is a machine, and because of that he can never master a truly human game.

His treatment of Adebayor -- an elusive, enigmatic character at the best of times, and presumably even more so when he was so recently bereaved -- is just another example of Villas-Boas' failure to understand.

But this story is not that simple. There are two ways of telling it, just as there are two ways of analysing the fact that Villas-Boas often sleeps at his club's training ground. Viewed from one side, it is evidence of obsession, of a character that lacks anything but one dimension. That is negative. On another, it is proof of his devotion, his work ethic, his determination. Those are all positive characteristics.

So, too, the case of Adebayor can be seen two ways. Did Villas-Boas exile him, cruelly, callously, because he could not understand him? Is it his failing? Or is it something to do with Adebayor? After all, Villas-Boas is not the first manager to struggle to get to grips with him. Mancini, of course, had similar toils, but then that is no definitive argument. The Italian is just as prickly, just as obsessive and just as cold as Villas-Boas.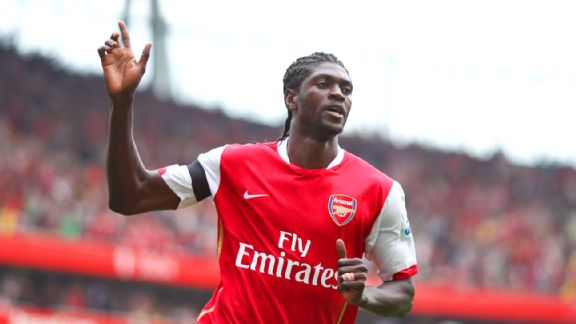 Chris Young/Getty ImagesOther clubs, like Arsenal, have had trouble with Adebayor too.

But what about Arsene Wenger, who noticed that the forward -- after his impressive 2008 season -- had allowed his performances to decline towards the end of the campaign? Or both his coaches at Monaco, Didier Deschamps and Francesco Guidolin, with whom he fell out before moving to England?

Not all of these managers are as distant as Villas-Boas. The common link in all of these cases is not some shortcoming on their part, but on Adebayor's. That has been largely forgotten in the telling of this most recent chapter in his story. He has been cast as the downtrodden, forgotten, exiled victim of Villas-Boas' iron fist.

Yet the reality is different, more nuanced: his career trajectory teaches us that. The version that sees Villas-Boas as the villain and Adebayor as the hero is a fairy tale, a story simplified to fit into the soap opera. The truth is far more complex. There are no good guys and bad guys -- just humans, flawed and weak.