Fergie spectre looms large behind Moyes
The whirlwind decline of Manchester United is the story of 2014 so far and it may yet dominate for the rest of the year. United fans watch in fading faith, while rival supporters' smirks turn to glee.

First came defeat to Tottenham on New Year's Day, next Swansea knocked them out of the FA Cup on Sunday and then came Tuesday's Capital One Cup semifinal first-leg defeat at Sunderland. All three games carried an unfriendly 2-1 scoreline.

Meanwhile, another poor performance may yet affect the club's ability to buy its way out of trouble. December saw the club's share price on the New York Stock Exchange drop more than 12 percent, wiping 220 million pounds off its value. January so far has seen no increase, either.

The stars are aligning for the type of disaster long predicted by those who suspected the alliance of Sir Alex Ferguson and the Glazer family.

As time ticked towards the inevitability of a third straight defeat in six days on Tuesday, TV cameras cut to David Moyes -- leant back in his seat, his blue eyes watery in a face that grows ever more grey. Only a lip-reading expert in Glaswegian might translate whatever invective was spilling out as Moyes muttered into what looked like thin air. This was powerlessness personified.

Meanwhile, up in the Stadium of Light directors' box, Ferguson looked on. If his black flat cap was a means of partial disguise, it didn't work. On the prematch checklist of any United live TV production is that cameramen must locate Ferguson in the stands. When a goal is conceded, or the match is lost, Fergie-cam fires up. He is not much good at hiding his emotions, either. Judging by Tuesday night, neither is Bryan Robson, or Sir Bobby Charlton, who looked especially distraught as he shook his head with resignation at the final whistle.

"Not at all," said Moyes after this latest defeat when asked whether his predecessor's ubiquity was becoming a problem. "I can only see Alex as a great sounding board. So is Bobby."

Charlton once provided that function for Ferguson, but January's evidence suggests neither has been much use to Moyes. Ferguson no longer keeps an office at Old Trafford nor at the Carrington training ground. Instead, Fergie & Son Inc. is based 10 miles away in Wilmslow. That keeps his involvement to matchdays, including those not at home.

Indeed, the former manager took in Christmas trips to Hull and Norwich that many supporters found logistically impossible. Getting out of Lady Cathy's hair has meant Sir Alex getting under Moyes' feet. His much-vaunted world travelling expeditions are yet to take flight, give or take a bookselling junket to the United States in October.

Many might believe Ferguson has earned the right to do what he wants, attend the games he likes, but his presence, by accident rather than design, is causing his successor an image problem. The comparisons are natural and become more painful every time Moyes breaks a new frontier of failure. Everton, Newcastle, Swansea and now Sunderland: all teams that mauled Moyes but always fell to Ferguson.

If Ferguson is reinventing himself as a home-and-away "never-miss" super-fan, then perhaps he should have to suffer like everybody else. He might consider his level of personal responsibility: his choice of successor, his team, with the same Glazer owners he has never refused the opportunity to praise. The Manchester United we have seen so far in 2014 is as much Ferguson's making as it is the fault of Moyes.

On Wearside, Tom Cleverley was utterly unable to fill the midfield black hole that Ferguson left his successor. That Ferguson had not purchased a central midfielder since 2007 has become a Mancunian mantra, yet the decay now stretches across almost every other department.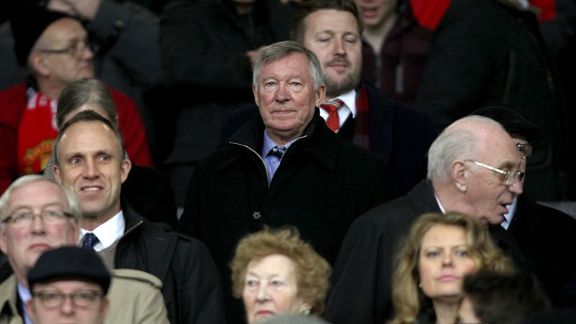 GettyImagesSir Alex Ferguson has been a regular observer this season.
The flanks were where Ferguson's teams used to take apart their opponents, but once Adnan Januzaj moved infield, 40-year-old Ryan Giggs and Antonio Valencia were the wide players. The Ecuadorian has forgotten how to cross, while the veteran achieved another career landmark with a first-ever own goal.

United's best player at Sunderland was Januzaj, who never played a game for Ferguson though was in his final matchday squad at West Brom. Beyond the teenager, and the ill-starred Marouane Fellaini, the squad should know how perfectly well how "to play like Fergie's boys," as the terrace anthem prescribes.

Moyes was the continuity candidate whom Ferguson saw as being able to continue on his values. The time to fairly judge Moyes is not yet upon us, though it arrives apace as desperate results pour in.

With disastrous substitutions, atonal tactics, and public pronouncements that often defy reason, Moyes has made undoubted mistakes, but Ferguson's old guard have not given their best either. Of them, only Wayne Rooney, a pinless grenade left to be defused, has starred for the current manager. Robin van Persie, Ferguson's final fling of a purchase, probably blew some of Moyes' future budget, as did Wilfried Zaha who cost 15 million pounds and has barely been offered a kick.

Perhaps Moyes' greatest mistake was to enter the club as a man in awe of his new surroundings. At times over the summer, and in the season's opening weeks, he looked rather too happy with his lot. Ferguson, of all people, knows that contented complacency is the greatest enemy of future success, yet the handling of Moyes' arrival provided just that.

Last summer's transfer window was disastrous. It paired a new manager previously used to being careful with his money with a fresh-faced CEO in Ed Woodward who had no experience of transfers. Neither Ferguson nor former chief executive David Gill -- both still on the payroll -- made interventions to make an imprint, while the club they still represent floundered.

On his sendoff from Old Trafford back in May, Ferguson issued instructions to the club's fans. "Your job now is to stand by your new manager," he ordered. The same ought to go for him, too. At present, the best help he can provide Moyes is step into the shadows and not attend United matches.