Five things we learned from the South American qualifiers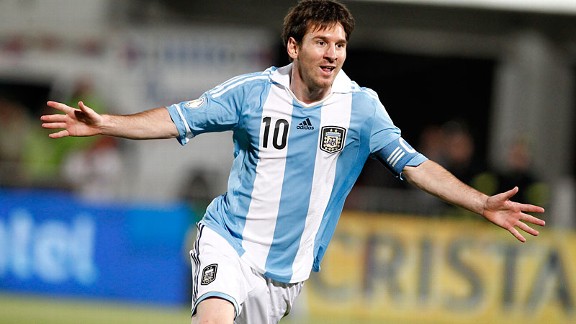 GettyImagesLionel Messi celebrates scoring the opening goal against Chile
1. Time to put to bed all that talk of Messi not showing his club form for his country

It's becoming out of date. After the slow, problematic start -- with the defeat to Venezuela and the draw at home to Bolivia -- this campaign looks like Lio Messi's breakthrough in the shirt of Argentina. In the last year, he has caught fire -- there have been hat tricks in friendlies against Switzerland and Brazil, and together with teammate Gonzalo Higuain he is the top scorer in the World Cup qualifiers.

He is now just one outstanding performance away from equaling the number of goals that Diego Maradona scored for Argentina. But it is not just his goal-scoring exploits, or even the chances he is setting up for his colleagues. It is the fact that, not unlike Maradona in his pomp, Messi's individual talent is now knitted in to a collective context.

Two things have happened. One is that he has grown up. For a while he was a Maradona of the PlayStation generation, seemingly locked in his own little world. At 25, he now looks comfortable with the burden of leadership. He will never be a yeller and a shouter. He leads more by example. But it was striking on Tuesday how he helped pull Argentina out of the fire when Chile were making things very hot in Santiago.

For the first few minutes Chile piled on the pressure. Argentina's midfield tends to be narrow, and the Chileans were having particular success slipping rampaging right back Mauricio Isla into space from which he could throw in some dangerous crosses. A goal for the home side looked a question of time.

Finally able to get on the ball, Messi slowed down the rhythm, orchestrating some passing movements that gave Argentina a foothold in the game. Then, in a stroke of unfussy, unflashy talent, he scored the opening goal himself.

The source was interesting -- a through ball played perfectly to him by Fernando Gago. So often it is Gago who is Messi's supplier. And so often Messi looks for Sergio Aguero for a quick exchange of passes. With Gago behind him and Aguero in front, Messi is turning on the style. Coach Alejandro Sabella is finding a blend.

2. Ecuador are well set to make it to their World Cup

Four points from the recent two rounds has lifted them to second in the table. It is highly likely that three wins from their seven remaining games will be good enough to secure a place in Brazil.

Ecuador, of course, are traditionally strong in their mountain kingdom of Quito. The altitude -- 2,800 metres above sea level -- makes life difficult for opponents who have not had time to acclimatize. Their athletic capacity is reduced in the rarefied air -- and spearheaded by Manchester United's Antonio Valencia, Ecuador have the speed, strength and skill to take full advantage. They have won all five of their home games in this campaign.

The good news is, though, that they are beginning to pick up points on their travels. Last month they were probably unlucky to come away from Uruguay with only a 1-1 draw. This time they will be happy enough to have achieved the same scoreline in Venezuela -- especially after going behind early to a spectacular goal from Juan Arango, the Venezuelan captain.

In August Ecuador showed the New Jersey public that they are much more than altitude specialists with a convincing 3-0 win in a friendly against Chile. They are starting to take that form into competitive games -- and after losing 4-0 to Argentina in June their defence has been looking much tighter.

3. Venezuela are in real contention to make their World Cup debut

Argentina collected the maximum six points from these two rounds, but there was another big winner. Venezuela played only once (they sat out Friday's round) and registered a draw at home to Ecuador on Tuesday. Even so, they had plenty to celebrate.

Going into these two rounds Venezuela were lying sixth, outside the qualification places. Despite adding a single point to their tally they are now fourth. The only South American country never to play in a World Cup has the right to dream about making the short trip to Brazil.

A large part of Venezuela's climb up the table can be attributed to the problems of others. Chile and Uruguay both suffered two defeats. All they have done over the last few days is worsen their goal difference.

But there is merit, too, in the fact that Venezuela's goal difference is superior to that of Chile and Uruguay. All have 12 points. Venezuela's rivals have conceded 18 goals in their nine games -- twice as many as the Venezuelans.

Fifteen years ago Venezuela was a nation more concerned with baseball and beauty contests. Their football team was merely making up the numbers. Things changed at the start of the last decade. The national team put together a few wins, and the fans came flocking in. Under coach Richard Paez Venezuela were a happy-go-lucky team, with moments of flair but defensively loose.

For all his youthful appearance, his successor, Cesar Farias, is made of sterner stuff. He has imposed his personality on the team in impressive style. Reducing the number of goals conceded was a priority, and he has made it happen. Whether Venezuela have quite enough to grab a World Cup place remains to be seen -- they cannot always rely on a slipup from their rivals. But they are certainly in the fight.

4. Nothing lasts for ever

World Cup semi-finalists in 2010, Copa America winners last year, Uruguay's form has hit an alarming slump. Last month they lost their long unbeaten run when they were thrashed 4-0 by Colombia, and then were fortunate to draw 1-1 at home to Ecuador. This month was even worse -- a 3-0 defeat to Argentina followed by a 4-1 loss to Bolivia. True, this was a tricky pair of away games. But it is impossible to imagine the Uruguay of last year caving in so meekly.

Coach Oscar Washington Tabarez began forming his group in the Copa America of 2007. Initially they struggled through the 2010 World Cup qualifiers -- Uruguay only made it to South Africa after playing off against Costa Rica. And then everything suddenly clicked.

It is not clicking any more -- and without changes it will not happen again. Five and a half years is a long time to keep a group together. In the long-term battle between time and athleticism, there is only one winner. Key figures in the team are in decline, and a rebuilding process has now become urgent. The only good news for Tabarez is that the next rounds are not until March, giving him several months to carry out a rethink.

5. No one is out of the race

Teams in the middle of the table have been losing, and those at the bottom have been picking up points. The outcome is that last-placed Paraguay are only five points off the qualification places. Bolivia and Peru have four points to make up. With seven games still ahead of them, that is not an impossible target. Everything is still to play for when the action resumes in March.