Window-shopping: What the Premier League's big clubs need
One Arsenal fan had brought a sign to the Emirates on New Year's Day. "Shopping list for Arsene," it read. "Diego Costa, [Edinson] Cavani, Jackson Martinez."

Welcome to the January transfer window, when common sense goes out the window and desperation prevails. This is football's maddest month, when the relative calm which descends on the game between September and December -- you know, when we actually think about football -- is cast aside, in favour of a frenzied celebration of the art of acquisition.

Expect this January, more than ever, to be the very essence of chaos, too. After all, rarely has the Premier League been so open, so democratic. There are seven sides who hold out hope of finishing in the Champions League places and, as things stand, each of them have probably not quite given up on the title.

The right buy -- a Luis Suarez (2011), a Patrice Evra (2006), a Nemanja Vidic (2006) -- could make all the difference, but so too could the wrong buy, such as a Faustino Asprilla (1996), a Fernando Torres (2011) or an Andy Carroll (2011).

Who, then, should these clubs go for? If each of the Premier League's top seven could make just one purchase, who would be the man to make the most difference?

And unlike the Arsenal fan who wanted to see his team -- top of the Premier League, remember -- add around 130 million pounds of attacking talent in one month, let's try to be realistic. Paris Saint-Germain will not be letting Cavani leave and Atletico Madrid would demand an enormous fee for Costa, if they would accept one at all. Let's keep our feet on the ground a little.

Arsenal: Forward-thinking

Conventional wisdom has it that Arsenal, if they are to have any hope whatsoever of winning their first title in almost a decade, need a striker. Arsene Wenger is told, presumably on a weekly basis, that if he does not find some cover for the overworked Olivier Giroud, his side will fall away as soon as the temperatures start to rise. That is what inspired "that" sign, inciting Wenger to sign three leaders of the line.

- Cross: Arsenal's January ins and outs

This logic is not quite true. Yes, things got so desperate for Arsenal against Cardiff on New Year's Day that Nicklas Bendtner had to score the winner, but Wenger was right to try and draw the sting from some of the criticism of Lukas Podolski, who had begun the game up front. It was the first time the German had started a game in four months, said the Arsenal manager. Grant him a little leeway.

Podolski is hardly the worst option to have behind Giroud. And then it should be remembered that Theo Walcott is strangely desperate to play up front as well -- he sees that as his natural position -- rather than the right wing. Add in Bendtner, if you really must, and suddenly Arsenal do not look quite so short.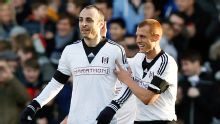 AP Photo/Sang TanIs Berbatov what Arsenal need?
That said, another body could not hurt. Dimitar Berbatov makes sense, at around two million pounds, to play what can be referred to as the "Karl-Heinz Riedle" role, as the experienced striker who can be called upon to relieve a little pressure on the front-line forwards. Kostas Mitroglou, of Olympiakos, would be more expensive, but could prove a better bet long term.

Manchester City: Defensive depth?

Among all of the elite clubs, Manuel Pellegrini has the strongest squad as he heads into a New Year in which City are expected to pull away from the pack. The Chilean has a wealth of attacking options, bolstered yet further by how easily Alvaro Negredo has taken to life in the Premier League, and his midfield is brimming with world-class talent.

- Mooney: Man City's January ins and outs

If City have any concerns at all, they are in defence. Matija Nastasic and Vincent Kompany make for a fine first-choice pairing but have had injury issues this season. Meanwhile, Martin Demichelis has struggled to adapt to the pace of the English game, while it seems as though Joleon Lescott may be allowed to leave on loan.

That places Pellegrini in a slightly awkward position. He requires a defender who can slot in when required, but does not need to go and spend the vast sums bringing in a player to be first choice. Perhaps Nicolas N'Koulou, of Marseille, would fit the bill, or perhaps Aymen Abdennour of Toulouse.

More likely, though, Pellegrini will hold his fire for the next four weeks. The word is that, when he met with City's hierarchy to discuss the month ahead, the general consensus was there was no need for signings unless a top-class player becomes available. That sounds remarkably sensible.

Chelsea: Buy Cabaye

Life must be very difficult for Jose Mourinho. Everything he says, somebody tells him he's playing mind games. Imagine how tough it must be at Christmas.

"What do you want this year, Jose?" his wife will ask him, early in December.

"An Xbox, a nice box of chocolates, and some new pyjamas," replies the Special One.

Fast forward to Christmas Day and Mourinho has an alpaca hat, a PlayStation 4 and vouchers for a spa weekend in front of him. "Where's my Xbox?" he asks, pleadingly.

"I thought you were playing mind games," his wife answers apologetically.

Much the same happens when Mourinho says something that is ostensibly, provably true, like "Manchester City are favourites for the title," or "Chelsea's squad isn't quite good enough."

He's told, immediately, that he is playing mind games. It must be so frustrating. Because, on this occasion, he isn't. Chelsea's squad is not good enough.

- Worrall: Chelsea's January ins and outs

Where Wenger and, particularly, Pellegrini, need just minor cosmetic alterations, Mourinho requires full-scale surgery. He has some players of enormous quality, some of lesser abilities.

He has some positions of tremendous strength, and some where Chelsea are surprisingly weak. He needs a forward, at least one central midfield player, a central defender, and a couple of full-backs.

He will not get all of that in January. He may not get any of it, on the grounds that he does have to sell before he can buy, though both David Luiz and Juan Mata could angle for a move.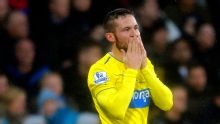 Christopher Lee/Getty ImagesCabaye continues to be linked with a move away from St. James' Park.
If he can only strengthen one position, instead of attempting to spend 50 million pounds on Gonzalo Higuain, he might be better served convincing Newcastle to part with Yohan Cabaye.

Liverpool: Look central, not wide

Brendan Rodgers seems determined to make Mohamed Salah, the Basel and Egypt winger, his first signing of a January that might bring as many as three new players to Anfield. On many levels, this makes perfect sense: Salah is rich in promise, quick and skilful and devastating on his day. He will, or at least should, be a fine signing.

- Usher: Liverpool's January ins and outs

It's just that, if you look at Liverpool's squad, it's rather full of quick, skilful, attacking midfield players already. There's Philippe Coutinho, Raheem Sterling, the on-loan Victor Moses, Luis Alberto and the young Jordan Ibe, who is highly regarded at the club. Suso is out on loan at Almeria, but will be back next season.

Salah is better than the vast majority of them, but it's hard to understand why Rodgers made strengthening an area in which Liverpool are well-stocked a priority, especially when there are parts of the team which are substantially weaker.

Central midfield, for example: if Rodgers really wants to have a major impact on his side's hopes, he could do worse than try and convince Southampton to sell him Morgan Schneiderlin this month, or asking Porto for Fernando.

Everton and Tottenham: Time is all they need

These two clubs have been grouped together because they are curious. They are curious because they are the two sides who, theoretically, should be most in need of strengthening this month, but who it is most difficult to identify exactly where they can be improved.

Everton have famously had a paper-thin squad for much of the last ten years and, though Roberto Martinez brought in a handful of players this summer, theoretically they should still require further reinforcement.

- O'Farrell: Everton's January ins and outs

Go through their side, though, and it is hard to see exactly where: perhaps another attacking midfield player, to supplement Ross Barkley, Kevin Mirallas and Steven Pienaar.

Maybe someone like Ryan Gauld, Dundee United's "mini-Messi", or Spartak Moscow's Aiden McGeady, who has been linked? But then they have Leon Osman, a stout servant, and the currently-injured Gerard Deulofeu in reserve.

Perhaps, should they sell Nikica Jelavic, they might require another forward, in which case they could do worse than ask West Bromwich Albion for Shane Long, who would fit in perfectly with the club's ethos. None of these players, though, are crucial. Everton's slow-burn success means they do not need to take a match to their side.

Spurs are much the same, yet also the complete opposite. Their season has been bitterly disappointing so far, though the upturn following Tim Sherwood's appointment points to a slightly brighter future. They should need to sign a raft of players to get over their early-campaign troubles.

- Crace: Tottenham's January ins and outs

But, whatever his other faults, there can be no question that former manager Andre Villas-Boas -- in tandem with technical director Franco Baldini -- left the club with a fundamentally balanced and enormously promising squad.

Spurs are considering a loan move for Joleon Lescott, and indeed central defence is one of just two areas where they look slightly short -- the other is left-back -- but the suspicion is that this is not a squad that needs more new faces. This is a side where the best addition is a little time.

Manchester United: Paging Vidal, paging Mr. Vidal.

Arturo Vidal: there's no point beating about the bush. Manchester United need not a central midfielder, but a central midfield, and that is precisely what Vidal is. He is a complete central midfield, wrapped up in one mohawked package. If David Moyes wants to have the maximum impact on his team as he tries to salvage some sign of progress from this stop-start campaign, he should go and sign Vidal.

- Payne: Man United's January ins and outs

It would cost a huge sum of money, but then Juventus do have Andrea Pirlo, Paul Pogba and Claudio Marchisio, so perhaps they would be tempted to take it, especially if United were to break the club's transfer record.

If that does not work, then the list of other players who would improve United's midfield is a long one that encompasses many hundreds of midfield players, seeing as, in many ways, United do not actually have a midfield.

Ajax's Siem de Jong would be a cheaper option, while Southampton's James Ward-Prowse is a longer-term bet. Either way, at least Moyes knows exactly what he must do this month, once he has finished trying to sign Leighton Baines.