Arsenal vs. Tottenham: FA Cup third-round preview
On the last possible New Year's Day return train to London, a group of Tottenham Hotspur fans were cracking bottles of champagne to celebrate victory over Manchester United, but their thoughts had already turned to Saturday. "Bring on the Arsenal," could be heard ringing down the carriages.

Chat with more sober supporters of either Arsenal or Tottenham, and they might tell you that the FA Cup draw they least desired was their North London rival. Especially now, too. Both clubs entered 2014 riding high. New Year's Day brought further optimism but Saturday's third-round tie could burst their bubbles, and perhaps even at the same time. Those who bemoan the fading romance of the FA Cup should look away now: neither will want a replay. At both clubs, resources have been stretched by the rigours of the festive season's grueling fixture list.

Even while failing to wipe a broad grin from his face after Tottenham's 2-1 victory at Manchester United on Wednesday, Spurs manager Tim Sherwood was bemoaning an injury crisis. "Every game we're picking a few more injuries up," he told the news conference. "None of our injured players are really close to a return."

Sherwood, though, has an unshakeable positivity. "It's a great opportunity for some of the young boys to come into the squad now," he said. "We're going at it with a team of 16 players; they've had to play every game. We have nine out injured, first-team players who would get in the team, but the boys are going at it with a very small squad."

Emmanuel Adebayor has become Tottenham's key man, but he left the Old Trafford field with cramps so serious that, according to his manager, the Togolese had "ice on every part of his body so we can't tell what is wrong with him."

The last time Adebayor played at Emirates Stadium for Tottenham, he scored early and dominated Arsenal's defence before disgracing himself with a lunge on Santi Cazorla that led to a straight red card. That all happened within 17 minutes, and Spurs fell apart at precisely at that juncture. Were Sherwood not such a brazen sort, he might beware of fielding Adebayor against Arsenal, his former club. After his move to Manchester City, in his first game against Arsenal in September 2009, Adebayor was suspended for three matches for a kick to Robin Van Persie's face.

If it were not Adebayor and Spurs, Arsenal manager Arsene Wenger might empathise. The Frenchman's own rebel prince has an injury. Following the doomsday scenario of an Olivier Giroud fitness blow, Nicklas Bendtner suffered a sprained ankle when he scored against Cardiff.

"I am very sad for us, but for him as well," said Wenger on Wednesday. Few could have predicted that being a popular sentiment just a few months back.

That leaves Lukas Podolski, back after four months out, and nursing his way back from a serious muscle problem. Theo Walcott is likely to find himself in the central role he usually enjoys, and from which, a year ago, he won a lucrative new contract. At least Giroud's own ankle problem is not too serious, but he will not be risked on Saturday. The same may go for Mesut Ozil as the German recovers from a shoulder injury.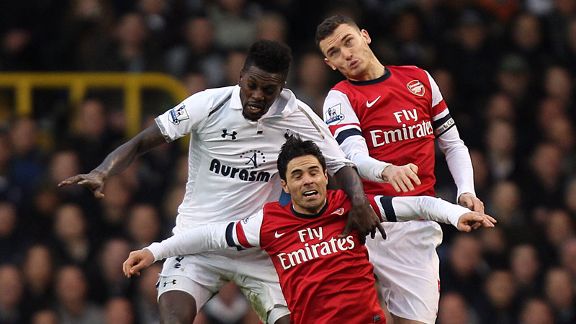 PA PhotosEmmanuel Adebayor left Arsenal for Manchester City in 2009.
The main reason for such caution is Arsenal's hair's breadth leadership of the Premier League. Such status comes against most preseason expectations. Most supporters would have entered the season hoping that an eight-year trophy drought could end; the FA Cup would have been seen as a prime target. The League Cup is already long gone, and further Champions League adventures rest on a daunting last-16 tie with Bayern Munich.

Christmas saw the Gunners rather grind through the gears, though 10 points from 12 is a fine return from the four matches that followed their 6-3 humbling at Manchester City. There is a definite resilience to Arsenal, and they have picked up the happy habit of beating lesser opposition, while still struggling with the Premier League's elite teams. Of their expected rivals, only Spurs and Liverpool (with the performance of the season so far) have been beaten.

Does Wenger prioritise the Premier League, or take another opportunity to restate his team's continuing superiority over their local rivals? Spurs have not beaten Arsenal in the FA Cup since 1991, a Wembley semifinal made famous by a Paul Gascoigne rocket free kick and his maniacal postmatch interview.

The clubs' only previous FA Cup meeting during the Wenger era was an Old Trafford semifinal in 2001, when Arsenal swept back from an early Gary Doherty effort to deservedly win through Patrick Vieira and Robert Pires goals.

Only one Tottenham manager of the nine permanent appointments Wenger has faced has managed to beat him at Arsenal's home, be it Emirates Stadium or Highbury: Sherwood's mentor, Harry Redknapp.

"Just let them have their head and go out there and enjoy themselves," said Sherwood at Old Trafford, explaining his football philosophy as if he were Redknapp himself. "We've all played in the street, and sometimes you need to take it back to that. I think football is sometimes too regimented."

Redknapp's first game in charge of Tottenham came at Emirates Stadium in October 2008, a match recalled as the best of a heady bunch of Premier League North London derbies. It ended 4-4 after two injury-time goals -- one each from Jermaine Jenas and Aaron Lennon -- pulled Spurs back in sensational style. Adebayor was among Arsenal's scorers that night.

Sherwood, the unabashed tactical naif, can only be expected to go for broke, in the finest traditions of both his club and the competition. Determined to prove he is the right choice after the December sacking of former manager Andre Villas-Boas, Sherwood refuses to hide his self-confidence. Tottenham's players have responded, with three wins from his four league matches in charge. Bring on the Arsenal indeed.