Top Tenner: High-scoring FA Cup third rounds

Ahead of this weekend's FA Cup third round ties, Nick Miller picks ten matches that are memorable for being goal laden.

10) Royal Engineers 7-0 Maidenhead -- 1874

The 1873-74 FA Cup was notable for being the first time that Wanderers, that famous old defunct club that brings to mind images of large men with large moustaches wearing large knickerbockers, lost in the competition. They had lifted the cup in its first two years, but this time were bested by the boys from Oxford University at the third round stage. That was a tight 1-0, but that other great side of yesteryear that is no more, Royal Engineers, gave Maidenhead a frightful 7-0 pasting, at that stage the record win in the tournament. Which admittedly was only in its third season, but still...

9) Chelsea 7-0 Ipswich -- 2011

This one was never going to be pretty. Ipswich had only just gathered themselves after a calamitous run of seven defeats in nine league games had finally seen off Roy Keane as their manager, the steel-eye Irishmen sacked and cast out for nearly two years in the wilderness known as 'punditry' just three days before their visit to Stamford Bridge. Chelsea were actually on a bit of an iffy run themselves, but that didn't stop them cutting loose on Ipswich, managed by coach Ian McParland, with Frank Lampard and Daniel Sturridge helping themselves to a brace each.

8) Fulham 6-2 Peterborough -- 2011

There may well have been something in the London water that weekend, as the day before Chelsea were giving Ipswich what for, Fulham stuck a hatful past Peterborough at Craven Cottage. Diomansy Kamara helped himself to three, which would turn out to be his last goals for the club -- he was loaned to Leicester a few weeks later then released at the end of the season. Rather terrifyingly, the Guardian report on the day claimed Fulham's victory "should have been even more emphatic."

7) Sheffield Wednesday 7-1 Grimsby -- 1997

A remarkable scoreline, for sure, but it is made more remarkable by what came a year earlier. In the third round in 1996, Grimsby handed out a 7-1 hiding to Luton with Ivano Bonetti (just weeks away from his famous disagreement with Town boss Brian Laws and a chicken leg) among the scorers. At the same stage, 364 days later, Grimsby were on the receiving end of their own spanking, by exactly the same score, to Wednesday at Hillsborough, with Ritchie Humphreys and Andy Booth bagging a pair each for the Owls. As if to add to the goal-rush serendipity, while Grimsby were taking their hiding from Luton, their victims a year earlier, were also being pounded on -- a mere 6-2 this time, by Bolton, so at least they were improving.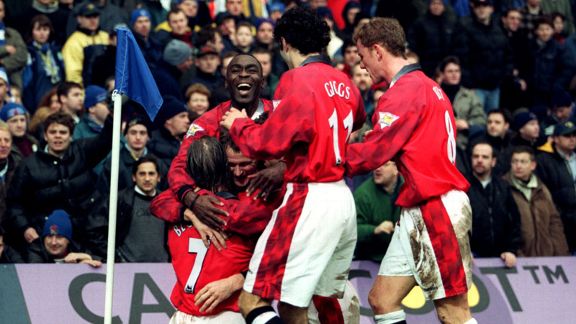 PA PhotosManchester United claimed a famous result at Stamford Bridge in 1998.
6) Chelsea 3-5 Manchester United -- 1998

The comeback that nearly was. As the defending FA Cup holders hosted the defending Premiership champions, it was United who tore into this game, going 3-0 up by half-time through David Beckham and Andy Cole, before Cole and Teddy Sheringham added another two just after the break. However, Chelsea staged something of a late comeback, with three goals in 10 minutes from Graeme Le Saux and Gianluca Vialli giving Chelsea a sniff of something quite remarkable, but it was not to be. Even more remarkable was Ken Bates' head gear, which can be viewed at around the one-minute mark of this clip. Oh, and you can see all the goals there too, if you find that sort of relatively minor detail more interesting than an old man wearing a hat with ears on it.

5) West Brom 2-4 Woking -- 1991

The brief for this column was to avoid discussing upsets, because you'll read and probably have read plenty about those, but this one was an upset stuffed full of goals, so it makes the cut. Woking were in the Isthmian Premier League in 1991, the division below the Conference (ask your dads, kids -- what you know as the Skrill Premier League), and travelled to play West Brom, at that point in the old Second Division. Gibraltar striker Tim Buzaglo scored a hat trick for Woking after the Baggies took an early lead, putting them into the fourth round and West Brom manager Brian Talbot out of a job. Indeed, West Brom's season would go into something of a tailspin after this game, falling from relatively secure mid-table to relegation at the end of the season, winning only four of their remaining 22 games.

4) Third round -- 1966

Not a single game, but a whole round of kerrrrr-aaa-zzeeee scorlines, no doubt scored amid a frisson of excitement about England's impending World Cup win. Among the big scorers were Burnley beating Bournemouth 7-0, a 5-2 triumph for Manchester United at Derby, Crewe beating Folkestone 5-1, and 6-0 successes for Leeds and Plymouth against Bury and Corby respectively. Eventual winners Everton had to settle for a relatively prosaic 3-0 win against Sunderland.

3) Liverpool 8-0 Swansea -- 1990

Third Division Swansea must have been pretty pleased with themselves when they earned a 0-0 draw with all-conquering Liverpool -- Ian Rush, John Barnes, Peter Beardsley and all -- in the 1990 third round. If that was possible, who knows what they might achieve in the replay three days later? Well, as it turns out, they achieved little more than being a punching bag, as Liverpool rattled in eight unanswered goals, with Barnes bagging two, Rush a hat trick and ESPN's own Steve Nicol rounding things off rather nicely with a delightful chip.

2) Wolves 8-0 Stoke -- 1890

This is cheating slightly, because in the early days of the FA Cup there weren't nearly so many rounds, so what was technically the third round in 1890 was in fact the quarterfinal. Still, on that technicality, this game remains the biggest-winning margin in a third round first game (as opposed to a replay), although it didn't do Wolves a huge amount of good because they lost to eventual winners Blackburn in the semifinal. While this wasn't a replay, this was actually the second stab at the tie, after Wolves won the first attempt 4-0 only for Stoke to successfully protest about the state of the pitch and have the match replayed. They probably shouldn't have bothered.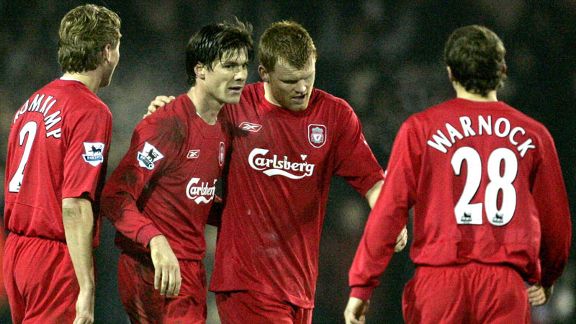 APXabi Alonso scored a remarkable goal as Liverpool beat Luton 5-3 in 2006.
1) Luton 3-5 Liverpool -- 2006

On the face of it, the reigning European champions sticking a few past a Championship side wouldn't be particularly interesting, but this game was notable for a couple of reasons. Firstly, there is the fact that Luton were actually 3-1 to the good after 53 minutes, giving Rafa Benitez's side a frightful scare. And secondly, there was Xabi Alonso's goal, from fully 70 yards to make it 5-3 in injury time, taking advantage of Luton pressing for an equaliser and the Hatters' keeper Marlon Beresford rather curiously loafing around on the halfway line as they took a corner, rather than actually throwing himself into the box. Alonso's goal won a Merseyside punter some 250,000 pounds, after he bet 200 pounds on the Spaniard to score from his own half at some point during the 2005-06 season. "When he placed the bet we thought it was the easiest 200 pounds we had ever made," said bookies Paddy Power, which should be your dose of schadenfreude for the day.