Rodgers still has much to learn
"Howard was excellent today," Brendan Rodgers said with no little irony.

Referee Webb had played a leading role in Liverpool's second defeat in three days. Chelsea had been lucky not to concede a late penalty for a foul on Luis Suarez, and that Samuel Eto'o was on the pitch to concede it.

Rodgers had left himself with nowhere to go, having cut himself off at the knees through post-match comments following his team's previous defeat. A geographical questioning of Lee Mason's origins leaves him with an FA charge, and at Chelsea, Rodgers knew it was pending. He had shot his bolt at Manchester City. At Chelsea, with much more reason to be angry, he had to take a back seat to Jose Mourinho's assumption of the leading man's role. In the post-match comments, Mourinho steered his way through the decisions of the day, awarding them all in his team's favour and smirkingly patting Webb on the back.

The likes of Mourinho have never feared an FA charge. Indeed, Sir Alex Ferguson joked about his many bans in his recent autobiography. Had they been "Webb-ed" in the manner of Rodgers, then they do not hold back, even if another charge was already pending. A further truth is that such managers choose their battles and words far more wisely than Rodgers did at City.

Calling Mason and his linesmen's performance "horrendous" was probably bad enough for the thought police, but to then quibble Mason's residence in Greater Manchester was plain silly. Despite Rodgers' later protestations, he was bringing the Professional Game Match Officials Board's referee selection into disrepute.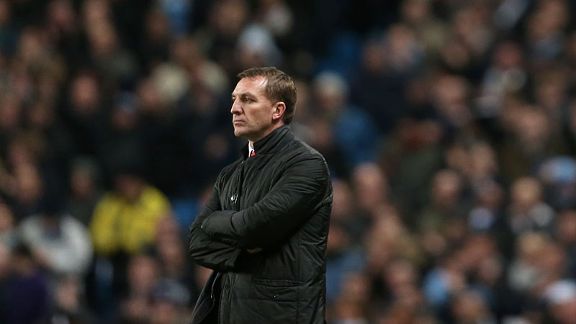 AllsportBrendan Rodgers' foolish comments show he still has a lot to learn.

It is correct to say that Bolton is part of the Greater Manchester conurbation, but a walk down that town's high street to question how Mancunian the locals felt would be met with considerable dissent. According to former referee Mark Halsey, Mason is a Bolton Wanderers supporter; Trotters fans are hardly known for their love of Manchester clubs.

Rodgers' use of the Wirral's Mike Dean was relevant, though cultural and footballing links between Wirral and Liverpool are far closer than between Bolton and Manchester. However, in practice, in this era of professional referees, the PGMO considers such ties irrelevant. All referees must be neutral or else they have no place being placed in charge of a game. Understandably, officials are not placed in positions where they might be compromised.

According to former referee Graham Poll's Daily Mail column: "Referees complete a form each season and on it, they declare any allegiance to a football team. It could be that they support them, used to be a member or their partner or close family's association means they don't feel they can referee any team impartially. They will never referee that team or one of their immediate rivals, i.e. a Manchester City fan would not officiate a Manchester United game either."

Rodgers' anger centred on the disallowed goal that Raheem Sterling scored in the first half on Boxing Day. That error was actually made by assistant referee Derek Eaton -- for the record, he hails from Tewkesbury in the West Country -- but the flag was up well before Sterling placed the ball in the net. By that time, City's defenders and goalkeeper Joe Hart had slackened off. Sterling might well have missed -- he did later on -- or Hart might have brought him down and been sent off. We shall never know.

What we do know is that Liverpool scored soon after through Philippe Coutinho, the deserved result of mounting pressure. Had they scored through Sterling, there can be no guarantee that they would have been 2-0 up. Liverpool's goal ultimately served to raise City's efforts, and from there Liverpool paid for mistakes of their own. A penalty might have been theirs, but Suarez, as perhaps at Stamford Bridge, was probably penalised for the theatricality of his reaction.

The same went for Eden Hazard on Sunday; it is noticeable that fouled players who accentuate an offence are now being waved away. There are questions of reputation. Suarez struggles to get decisions given in his favour while both Ashley Young and Adnan Januzaj had obvious fouls waved away by Webb when Manchester United played Spurs on Wednesday.

Rodgers' words at Eastlands were ill-chosen and unnecessary. His later explanation for his comments only played to the gallery. "I have to speak on behalf of the supporters of the club, a club that has an emotional investment for many many of millions of people throughout the world," he said in his pre-match news conference ahead of the Chelsea game.

Yet the Liverpool diaspora's statesman found himself gagged after the Chelsea game; Webb was the new pariah and all Rodgers could do was damn him with faint, sarcastic praise.

Criticising a referee is wholly valid in the light of a poor performance like Mason's. Another typical trick is to divert attention away from defeat by going for the referee instead, though with less tin-foil-hatted logic than Rodgers used in his half-baked Mancunian conspiracy. That misguided theorising only ended up putting pressure on himself, and at precisely the wrong time, too.

On Stamford Bridge's touchline, Rodgers was neutered alongside Mourinho, his one-time mentor. Roused by a contest for the first time in a while, Mourinho mounted a demonstrative campaign for his team to receive the big decisions. He was forever in the face of fourth official Mike Oliver. And it worked, too. The Portuguese feels no shame in doing so. Perhaps Rodgers' problem is that he still does.

"I'm not one that is berating referees after games, I'm always respectful and I ask my staff to be respectful, on the pitch we're never chasing fourth officials or anything on a match day," said Rodgers last week, an admirable and respectful path to follow.

Rodgers, a decent man and still a young manager, needs to choose his words and targets more carefully. If this was an attempt to join the school of Mourinho or Ferguson, it backfired badly.